On this page you will get access to lots of different kinds of holiday images.
This kind of holiday graphics is great for making custom postcards, letters and invitations. Yeah, and to use on websites, too.
I am trying to make pages for lots of holidays, Valentines Day and St. Patrick's Day , Ground Hog Day.
Taking it from the start, there will be pages for New Years Clipart, and later Easter Bunny Clipart, and there is also a page with Easter Clip Art.
For cards and invitations to Valentines day, you will find Valentine graphics, and over time there will be lots and lots of of clipart and drawings at Valentine Clipart, Valentine Bear and Free Printable Valentine Cards.
But before you find the overview of all the pages here with a holiday theme, take a look at this wonderful picture.
It has all the Christian or Western holidays described with children: New Year with the old angel and the child, Easter with the girl with the flowers, Valentine with the boy/cupid drawing hearts and his bow, Christmas wit the drummer boy and the Christmas stocking - and I am sure there are others I just don't recognize.
List of Holiday Clipart, starting from 1. of January: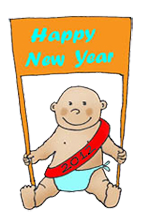 Drawings and photos from New Years Eve, with firework, Champagne, Happy New Year greetings, drawings of the old year man and the new year baby.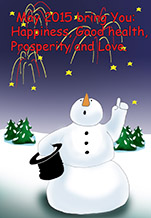 New Year cards, funny facts about New Year, New Year greetings and quotes, and the New Year greeting in different languages.
Next to New Year comes Groundhog Day the 2. of February, and I have made some rather funny and cute drawings, which you will find on the page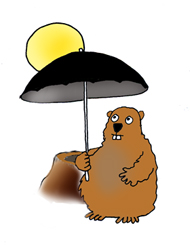 The story goes that when the groundhog comes out on Groundhog Day, you can tell what the whether is going to be like.
If it casts a shadow, it is going to be cold for one more month. If not, the weather might be wet, but mild.
Valentine images, love hearts, letters with love, cute animals with love hearts, and a lot more. Great to use for gift cards and on your website.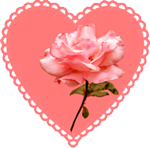 Lots of small cute bears kissing, bathing in red love hearts, bringing Valentine mail, giving gifts, giving flowers, all in all a lovely page with Valentine bears.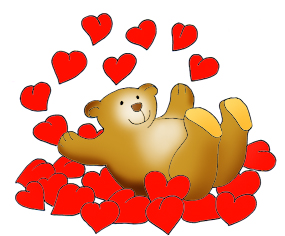 All this holiday clipart is great for gift cards, letters, Valentine messages.
FREE PRINTABLE VALENTINE CARDS:
A page with mostly Valentine cards I have created myself. With Valentine hearts, Valentine roses, Happy Valentine greetings and Valentine cards in Jugend style.
This Holiday clipart is quite unique, and I hope you will like it.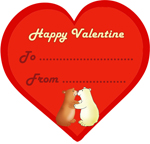 KIDS VALENTINE CARDS:
This is also a page with Valentine cards, but these are made mainly for children, to send or to receive (but of course you can use them, even if you are not a child :-))
You will find some old Valentine cards, and a lot of new kids Valentine cards, made out of some of my Valentine bear drawings.
VALENTINE GREETING CARDS:
On this page you will find some more modern Valentine cards, and ideas about how to create you own personal Valentine card with Valentine clipart.
You will also find Valentines Day Ideas of how to make memory Valentine greeting cards, and Valentine cards for parents and grandparents.
VALENTINE DAY ROSES:
A page, where you can find lots of beautiful Valentine day roses.
You can also read about the meaning of the different colors in Valentine roses, and how the rose became the symbol of love and affection.
VALENTINES DAY HEARTS:
Here you will find red love heart drawings, hearts as puzzles, hearts with arrows.
Also you can read about why we use the red heart as a love symbol, and I tell you how you can make your own Valentines day e-card.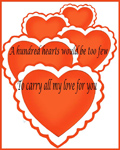 VALENTINES DAY CARDS:
On this page you will find 6 original Valentines day cards, and you can read about how the tradition of the Valentine card and the Valentine gift started.
You can also read about how the Valentine traditions are looked upon in different countries.
This page is actually the main page for all the Valentine stuff, you find on my website.
So here you will find a review of all the pages with Valentine cards, Valentine hearts, Valentine roses and more like that.
You will also find Valentines Day Ideas about Valentine Cards to that Special Someone, and some simple Valentine's Day ideas that kids will enjoy making.
VALENTINE'S DAY COLORING PAGES:

10 cute coloring pages with hearts (of course), a happy hippo and two monkeys.
Also cute kittens in a heart shape, and lots of butterflies with heart shaped wings.
Even a huge Tyrannosaurus Rex eating love hearts, if you get too much of all the cuteness.
After all these pages with Holiday clipart with lots of Valentine stuff, here comes a page about St. Patrick's day.
ST. PATRICK'S DAY CLIPART:
A page with Holiday clipart made of St. Patrick's day clipart: Leprechauns, shamrocks, rainbows with gold in pots, leprechauns with beer, dancing leprechauns - all very original and very cute.
ST. PATRICK'S DAY COLORING PAGES: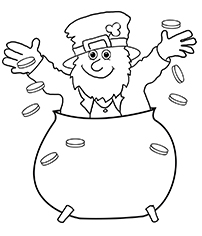 On this page with coloring sheets for St. Patrick's Day you will find drawings of funny leprechauns, shamrocks, Irish girls and other Irish motives
There are also a great deal of Irish proverbs and wishes.
EASTER CLIP ART:
For Easter you will find 4 pages here on this site, and Easter Clip Art is one of them.
On this page you will find Easter bunny clip art, but also more than that. Like chickens, hens, sheep, lambs, eggs, flowers, indeed everything that I myself think of as connected to Easter.

EASTER BUNNY CLIPART:
Easter bunny Clipart presents to you funny Easter bunny, Easter bunny graphics, all free clip art Easter bunny.
You can save the clipart and use it for invitations, cards, scrapbooks, place cards at the Easter dinner, mails, etc.
In my experience it is such a good idea to prepare for indoor activities when it comes to the different holidays.
If you have printed out some of these Easter coloring pages, or the Easter printables, then you are well prepared if there should be a need for a quiet time with the kids, when they wait for all the things the grown ups are concerned about.
This is a page, where you can find funny and original Easter printables.
There are some for indoor activities for kids, Easter printable kindergarten activities, and there are number coloring pages, dot to dot printables, mazes, puzzles and more, all connected to Easter, for preschool children and children in the 1. grade.
This year, 2019, Mothers day is in USA, New Zealand, Denmark and many, many other countries, celebrated on Sunday the 12th of May. In UK and the Republic of Ireland it will be celebrated on the Fourth Sunday of Lent, which in 2019 will be March 31th.
On this page Mothers day clip art, you will find lots of funny and sweet drawings to use for gift cards, and Mothers day cards.
I had a problem finding greetings for my friends on Mother's Day, so I made this page with some wonderful clipart greetings, which can also be used as cards.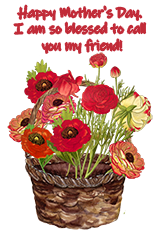 Also there are a lot of quotes and wishes and greeting for friends on Mother's Day.
This is the first of many pages with cards for different holidays, and you will here find 19 cards, free to use for celebrating your mother.
They are very different, all the size approx 9 x 12 cm (3,5 x 4,7 inches.)
HAPPY FATHERS DAY:
The date of Fathers Day is different for country to country, but most countries celebrate Fathers Day the third Sunday of June, which in 2019 will be June 16th.
There will be Fathers Day Images, and it will all be free Fathers Day clip art. You can use it for letters, invitations for Fathers Day, mails, Fathers Day greetings, place cards, scrap books, school projects, small notes for your father and a lot more.
FATHER'S DAY QUOTES: Here you find a lot of funny, loving quotes to use for Father's Day letters and gifts.

4th of July Graphics - 4th of July Clipart is a page with drawings and clipart to use for free in invitations, mails, letters table cards, scrapbooks.
Here on this page you will find fire woks, pictures of the American flag, pictures of the American bald eagle, BBQ's, Uncle Sam's hat with stars, balloons in the colors of the flag, and a lot more, to use for your celebration of Independence Day.
Over the summer I do not have many holiday clipart-pages, but you might enjoy the summer clipart you find on the page

SUMMER CLIP ART:
This page gives you a lot of funny and cute drawings all concerning the summer and the summer holiday.

SUMMER COLORING PAGES:
If you and the kids are tires after having been on the beach or on some kind of summer excursion, it will be so nice to sit down and have a quiet time coloring these printable coloring page.
And if the rain is pouring down, drawing and coloring is one of the best ways to spend the time with the family.

HALLOWEEN CLIP ART:
Halloween is a creative and funny holiday, and you can find clip art with witches, bats, black cats, pumpkins with all kinds of smiles and light, cute and scary ghosts, all these things great to use for invitations, letters, place cards and whatever you can think of.
HALLOWEEN DECORATING IDEAS:
One more page about Halloween.
On this page you can find original and funny ideas of how to make some very original place cards for the Halloween dinner, and how to make other cheap and easy Halloween decorations.

HALLOWEEN PICTURES:
Here you will find lots of funny pictures of pumpkin men and pumpkin women, dancing and having fun.
Some pictures are taken in daylight, some at night, where the pumpkin heads are filled with light.

HALLOWEEN COLORING PAGES:
Funny, cute and just a little scary drawings to color together with your children when you are waiting for the Halloween night to come.

HALLOWEEN PARTY IDEAS:
Why not make a Pumpkin Carving Party, a Monster Mask Ball or a Wacky Witches Party?
You can find so many great ideas for a Halloween Party on this page, also a Murder Mystery Party and a party with a Canni-Ball theme.

Funny and scary cards to send as greeting cards or invitations for a Halloween party.
With motives of spiders, carved pumpkin heads, owls and skeletons.

When you need a funny or cute or scary poem for your Halloween postcard, this is where you will find it!
Here there are Halloween sayings for all kinds of cards: About Halloween witches, about ghosts and goblins, black cats and scary pumpkin heads.
Borders and frames with skulls, pumpkin heads and ghosts.
There are simple borders, and some quite different and larger, even one vertical with a black cat looking at flying black bats.


THANKSGIVING CLIPART:
A page with free Thanksgiving pictures:
Thanksgiving clip art, Thanksgiving graphics and funny turkey bird drawings, all great clipart to use for place cards and invitations for Thanksgiving dinners.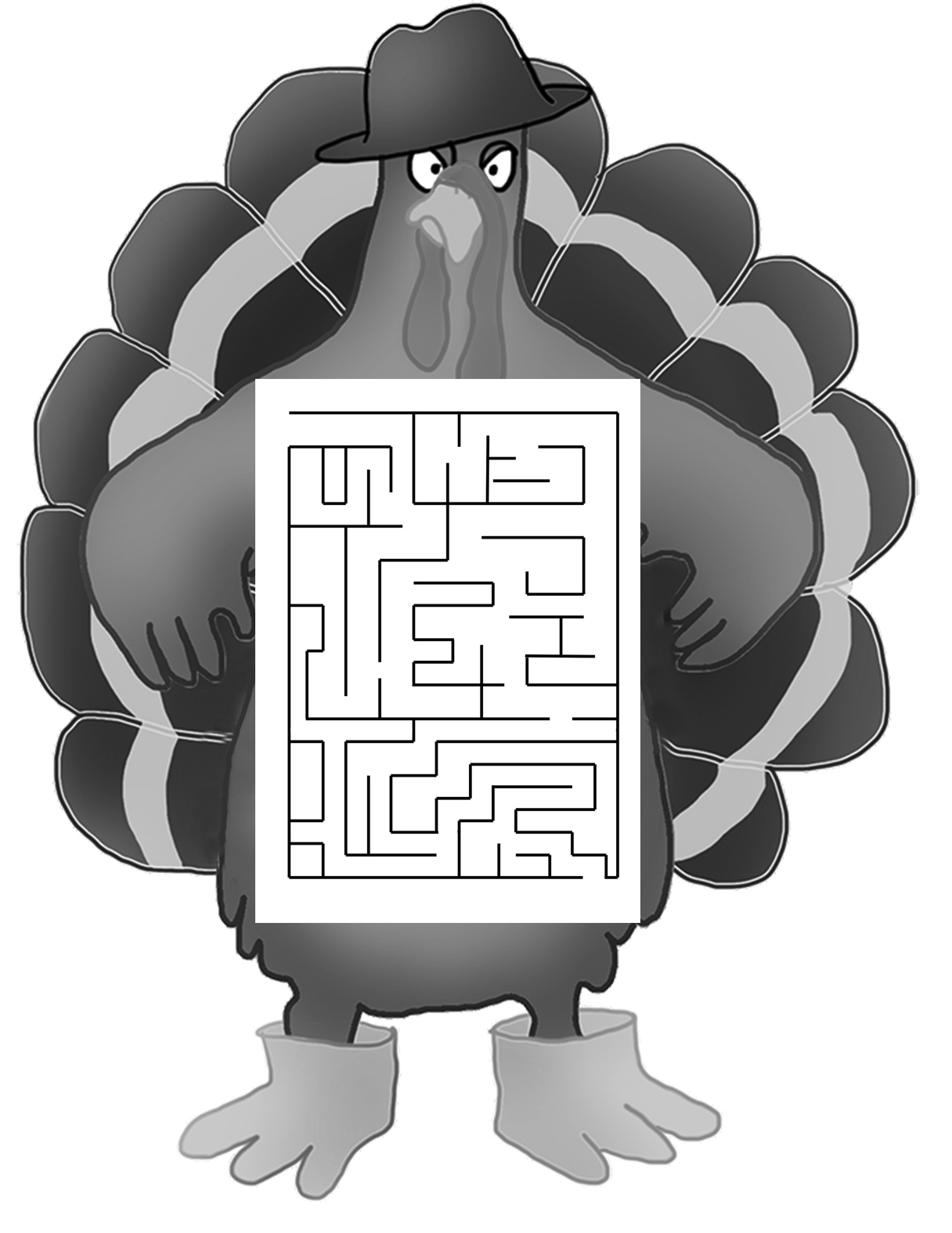 Here you find mazes for preschool kids, school kids and the whole family, to make sure there are mazes for all of you when you wait for the Thanksgiving dinner.

I have made some very funny and special Thanksgiving greeting cards for you.
Some of them has the motive of a turkey working as a detective, who shall solve the case with the many killed turkeys, some with a sheriff turkey not wanting to give up without a fight.
And then some more cards with vegetables, cute and simple.

These coloring pages to print are free to use for your family- or friend gathering at Thanksgiving.
They will be great to have when time is going too slow for the kids, then sit down with them and take your time to color these drawings, and talk about Thanksgiving.

This is a page I had a lot fun making. I love drawing these cute snowmen, and I think these snowman images, snowman family, a snowman lightning the stars, snowmen skiing, are so funny and heartwarming.
I hope you like them as much as I do, and I will soon make a page with snowman coloring pages.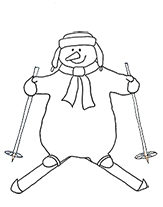 Now it is finally here, the page with snowman coloring sheets.
The snowmen here are mostly outlines of the snowmen on the page with snowman clipart, so if you like, you can go there to get ideas of how to color the snowmen, or you can just color them any way you like.
As my daughter said when I told her I was making snowman coloring pages : "well, snowmen? Aren't they mainly white?" but as you will see, with the hats and coats and scarfs, there are a lot to color.

With clipart of Christmas stars, Christmas elves, Santa Claus, Christmas trees.
Also of Christmas presents, snowmen, Father Christmas, Christmas tree decorations, and a lot more. Everything has to do with Christmas.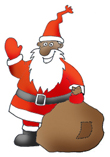 We all love Santa Claus, and I have made a lot, all original, drawings of Santa, or Father Christmas, as he is also called.
So here you will find clipart with Santa in the chimney, a thin Father Christmas, Santa Claus with the list of all the Christmas wishes, Santa Claus with the Christmas sack and the bell, and Father Christmas feeding the wild animals.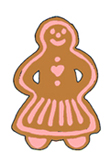 On this page you will find clip art of Santa Claus, of course, but also of gingerbread cakes, Christmas holly, photos of Santa dolls, Christmas borders made of small Santa drawings or holly, Christmas trees, and Santa Claus with a present.
So I think it should be possible for you to find just the Christmas clip art you want, if you search these pages with Christmas clipart.

Borders and frames with Christmas trees, holly, Santa drawings and Christmas swirls.
The Christmas swirls are simple and can be used as dividers, whereas the borders will be great to use for gift tags, gifts cards and just Christmas cards.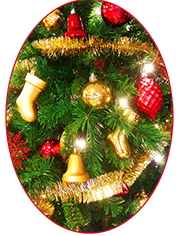 CHRISTMAS PICTURES:
The main page for all the great pages here with a Christmas theme, so this is where you can get the overview of all the Christmas pages.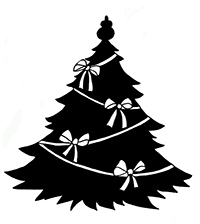 CHRISTMAS SILHOUETTES:
Beautiful black silhouettes of angels, Christmas trees, holy branches, stars, bubbles and everything else connected with Christmas.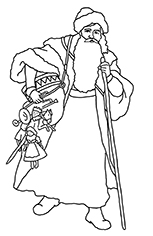 CHRISTMAS COLORING PAGES:
Both kids and grown ups will love these coloring sheets. Print as many as you like at spend some really nice time together coloring these Christmas motives.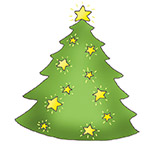 Here you will find Christmas trees of many kinds, with ribbons, ornamented balls, ginger men and Christmas stars.
You will also find some totally without decorations

Here you will find 6-10 different Christmas greeting cards to use for your own personal purpose, not commercially. But you can use them for free.
Wonderful and charming old clip art of snow men, Santa Claus, kids with presents, reindeer - all from "the good old days" when the world seemed innocent - well maybe not, because you will also find a very cruel Christmas clip art about what happens to naughty small boys among all the others.
But for now: Take a look at the pictures on this page. You can go to the pages shown on the buttons to the left, to see many more holiday clipart.
If you need more inspiration for the holidays, you might try visit this website, especially for information and ideas for Christmas and Valentine.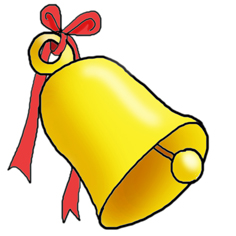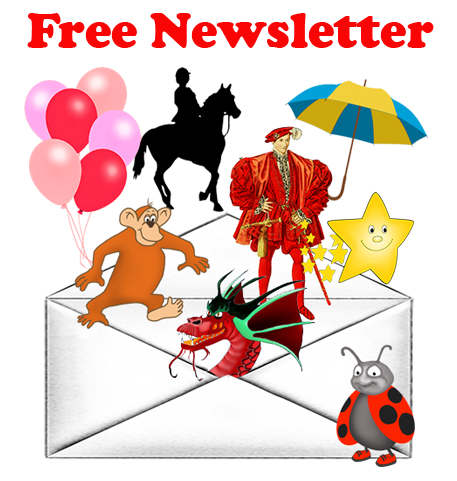 If you want to stay in touch and hear about new pages, tips and ideas about arts & crafts, please sign up for my newsletter. It is totally free, and you can unsubscribe any time!
____________________________________________________________________
Other Interesting and sometimes very funny sites about holiday:
On WikiPedia.org:
Holiday