I started out wanting to make some Thanksgiving cards for this website, like I have made Halloween greeting cards and other cards.
I had the idea to make these funny drawings of turkey birds into a small e-book together with all the best recipes for Thanksgiving dinner and had collected a lot of great recipes for Thanksgiving turkey (and there seems to be a lot of different ways to make that one), for mashed potatoes, different stuffing and cranberry sauce.
But I am afraid it will not happen in the nearest future, so here are my cards and a single recipe for Thanksgiving turkey.
All the cards here will be approx. the size 4.25 x 6 inches.
The cards here on this page are in a really high quality, so there should be absolutely no problem in making your own funny and beautiful cards for this holiday.
Thanksgiving Cards with Thanksgiving Humor:
Anyway - here is the first greeting card. I guess you will recognize the words if you have ever played Cluedo.
This one should be printed in 300 dpi.
Right click the picture and choose to see the card in a new tab, then save that one.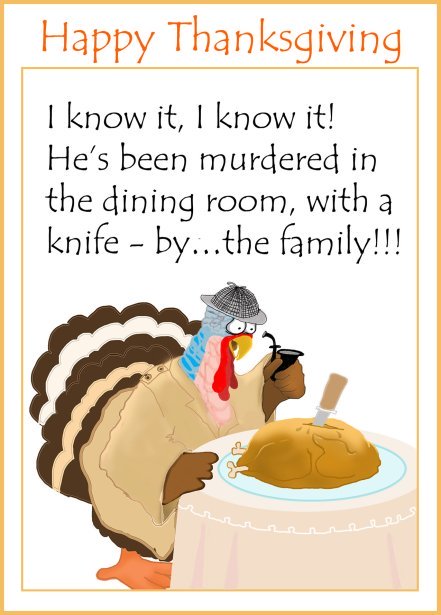 All these cards are in a way made as Thanksgiving cartoons, and I hope you like the idea of a funny Thanksgiving because you will also see that a lot of the clipart on the other page here on Clipartqueen has that twist of Thanksgiving humor.
I am quite fond of the thought of the turkey as a detective, trying to solve the sudden increase in the deaths of turkeys, so that is the motive for the next card as well:
This card should be printed in 200 dpi.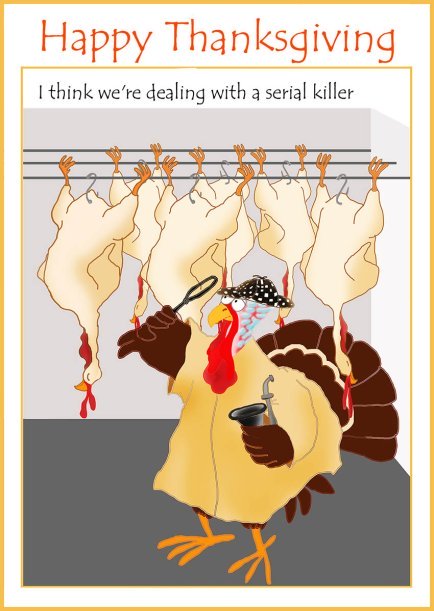 The next two cards are simple, but cute.
I think they will be great to send to kids in the family. They should be printed in 300 dpi.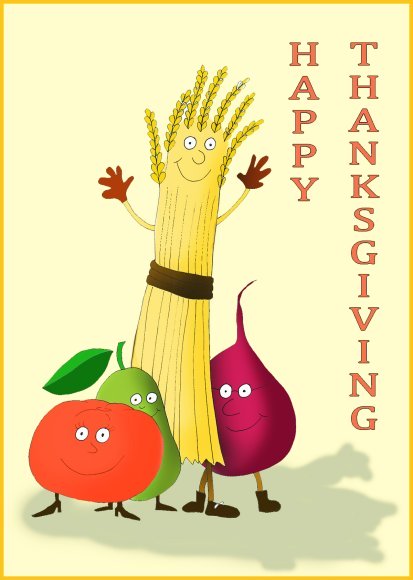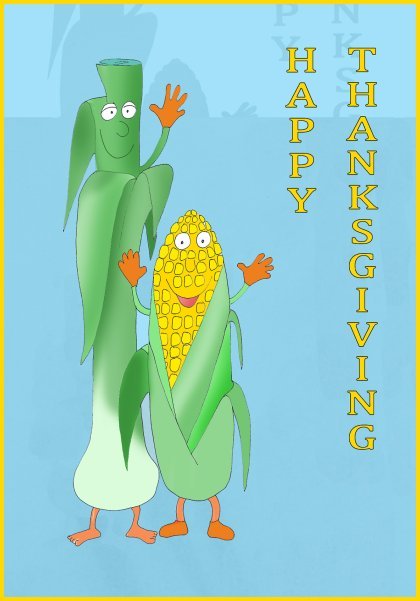 Two more funny Thanksgiving cards with a tough turkey Sheriff.
Print it with 200 dpi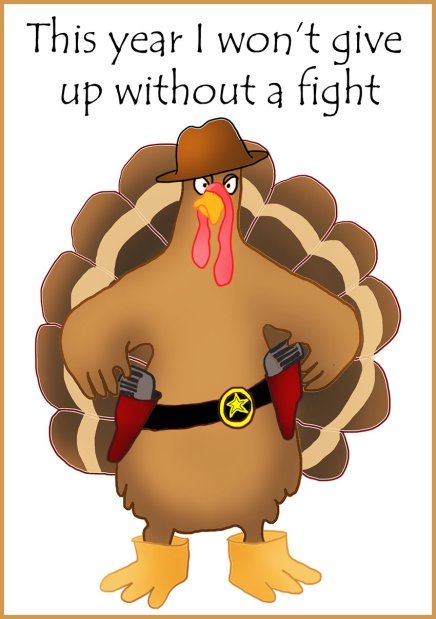 Another funny Thanksgiving card: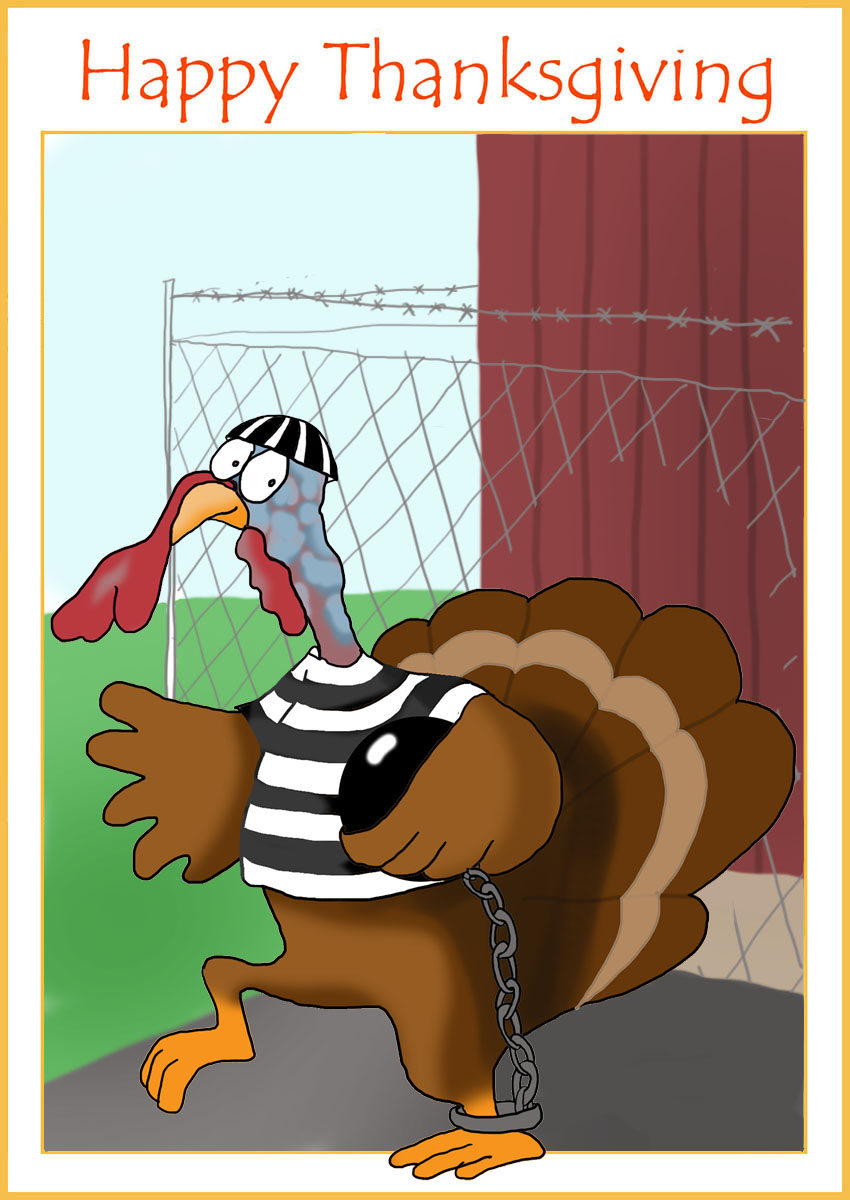 Some Thanksgiving poems and greetings to go with the cards:
To Greet You!
Dear Friend, if my good wishes for you came true,
you'd have a good reason for Thanksgiving
Best wishes for Thanksgiving

A peaceful Thanksgiving

May thy Thanksgiving be a joyful one

May you bump against a good time.

Thanksgiving greetings

To wish for your Thanksgiving day
peace and all prosperity

Good wishes for Thanksgiving Day

When the harvest time riches
strew out our way,
Let us all rejoice
on Thanksgiving Day.

Thanksgiving Day
Wishing you a Thanksgiving harvest
of good luck and happiness.

A Thanksgiving greeting to my friend
With these few lines I wish to send.
Greetings for Thanksgiving.
Thanksgiving Day:
Give Thanks:
For sweet hopes born
for sorrows dead.
For true songs sung
for fond words said.
For the ready cup
for the daily bread
May all your wishes come true
on Thanksgiving Day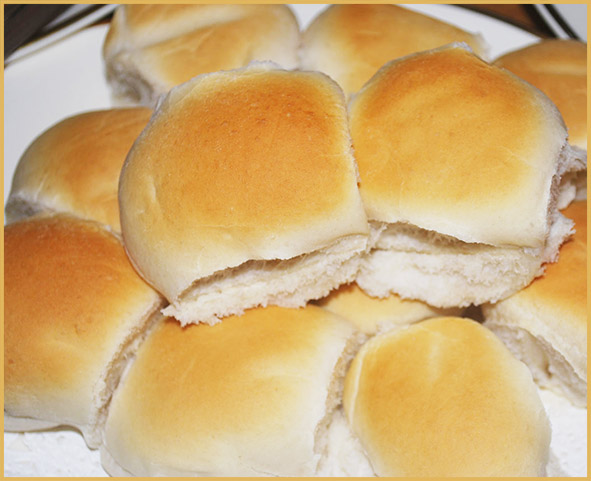 Best Wishes for a happy Thanksgiving...
Hope fruits as well as leaves and flowers
be yours this day.
Happy Thanksgiving
While we indulgre in the prosperity
and pleasures of the present,
let us have high hopes for the future.

Wishing you a Thanksgiving Harvest
of good luck and happiness.

May rich blessings, peace
and prosperity
be yours this Thanksgiving Day.
May the harvest of your efforts be abundant.

Thanksgiving Greeting.
I wish you today all that's good.

A peaceful Thanksgiving

May wealth be your best friend
and happiness without an end.

With a sober gladness the old year takes up
his bright inheritance of golden fruits.
- Longfellow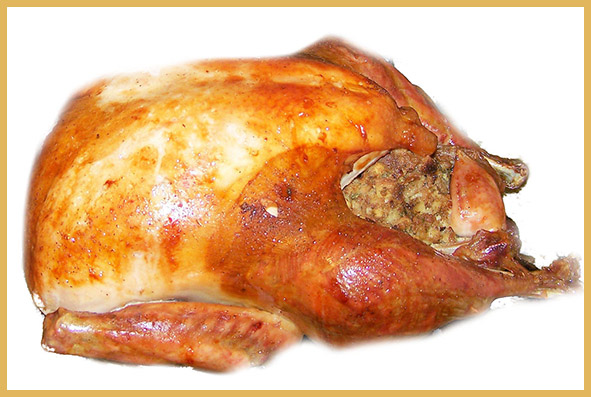 On this joyous feast day
Happily we'll sing.
Giving thanks for all things
Which the harvest bring.

A Joyful Thanksgiving:
There's so much to be thankful for
complain and grumble as we may;
We never stop to realize
the wealth that is ours today.
Thanksgiving day will soon be here
I hope to meet and greet you dear.

Best Wishes for a Happy Thanksgiving

To greet you
with all good wishes
for a pleasant
Thanksgiving Day.
Bearing a greeting to you of the Day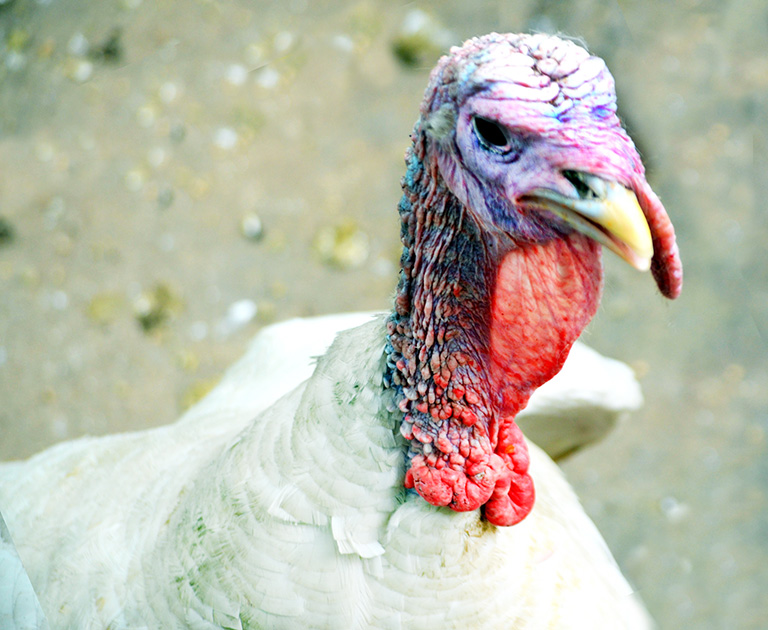 A Thanksgiving Wish:
May this day fill your heart
with contentment and peace.

May you have a good
old-fashioned Thanksgiving
A heart where peace has place
A hearth where joys abound,
So may you heart and hearth
On Thanksgiving Day be found.

Just a brief word
to make you remember
The happiest day
in all November.
Thanksgiving Greetings.
May the harvest
bring you happiness.

A Thanksgiving Wish:
May love and peace and plenty
within your house abide
and hope's illumination
be still your faithful guide.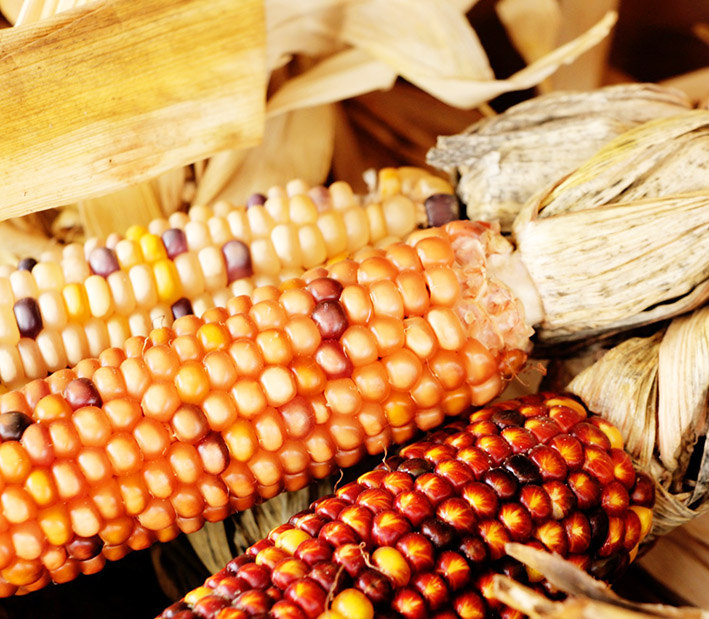 May your blessings outnumber
the autumn leaves.

Be thankful!
Life, labor, love and liberty,
Be thankful for these four.
And, I am certain, after that
You'll think of many more!
All kind thoughts and good wishes
for a very happy
Thanksgiving Day.
May wealth be your best friend
and happiness without an end.
On this joyous feast day,
Happily we'll sing.
Giving thanks for all things
Which the harvest brings.

A happy harvest
greet you
and prosperity
meet you.

May Thanksgiving bring to you
many blessings
and to your heart the true
spirit of Thankfulness.
Funny Thanksgiving Sayings:
My turkey, 'tis of thee,
"Sweet bird of cranberry,
Of thee I sing
I love thy breast and wings
Back, legs and other things,
I love thy good stuffings,
O luscious bird!"

"Said a pig to a turkey
that was passing his way
"I wish you
a Happy Thanksgiving Day"
"Alas, said the turkey
with no sign of laughter
Thanksgiving with me
is the day that comes after."
Hope your day after
will be a pleasant one."
"Dull clouds
may overcast the sun
the day be dark and murky
but you will find
if not too blind
sunshine
around each turkey."

"I'd rather eat some
turkey than to
be one, thick and fat
and so with all my heart
I'll thankful be for that."

"This Thanksgiving card
to you I've posted
to hope that your turkey
may be well roasted!"
"Thanksgiving Day is here again
and come this year to crown
Oh pray receive my wholesome wishes
for well prepared Thanksgiving dishes."
I found and restored two beautiful vintage Thanksgiving cards, and here they are.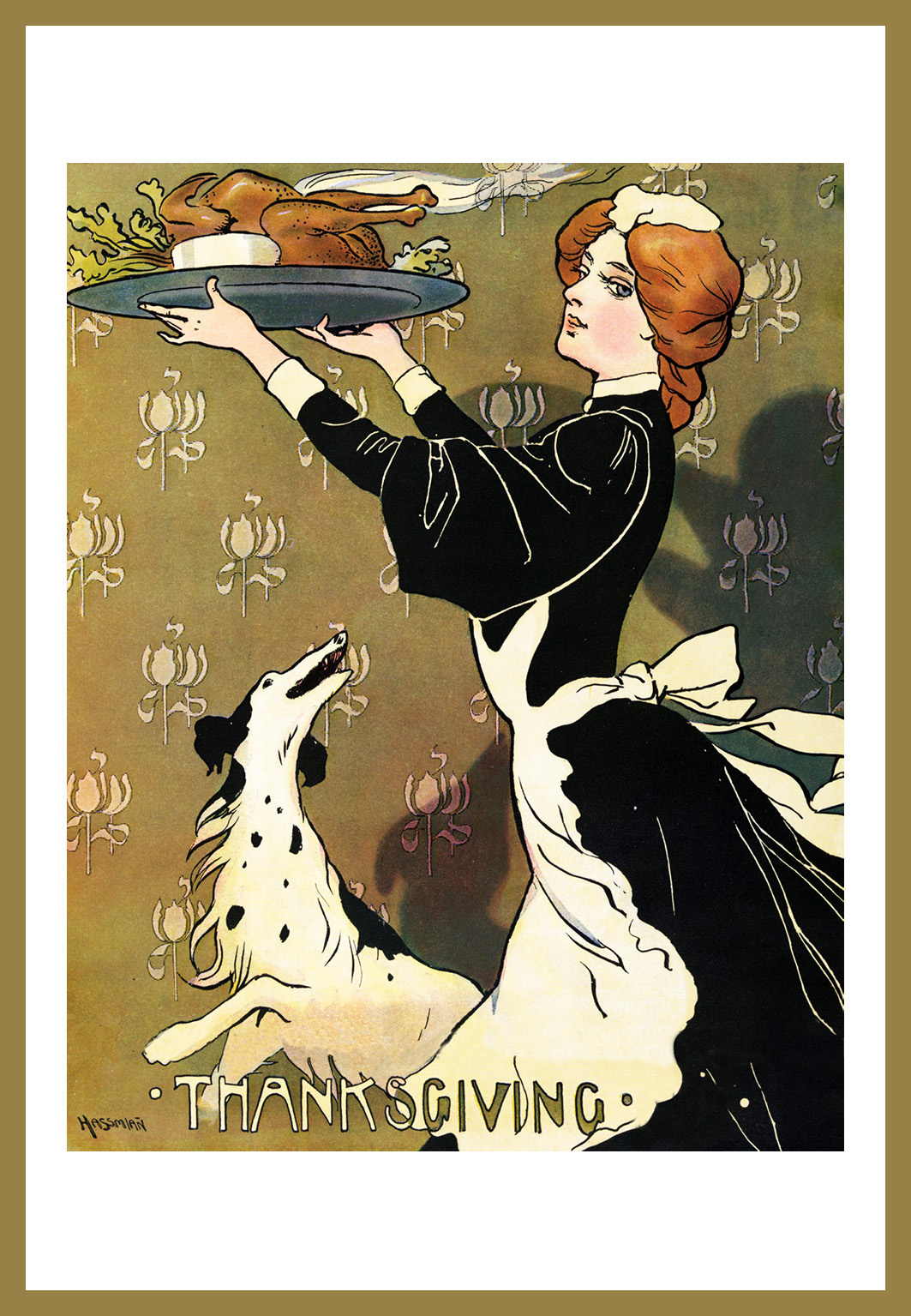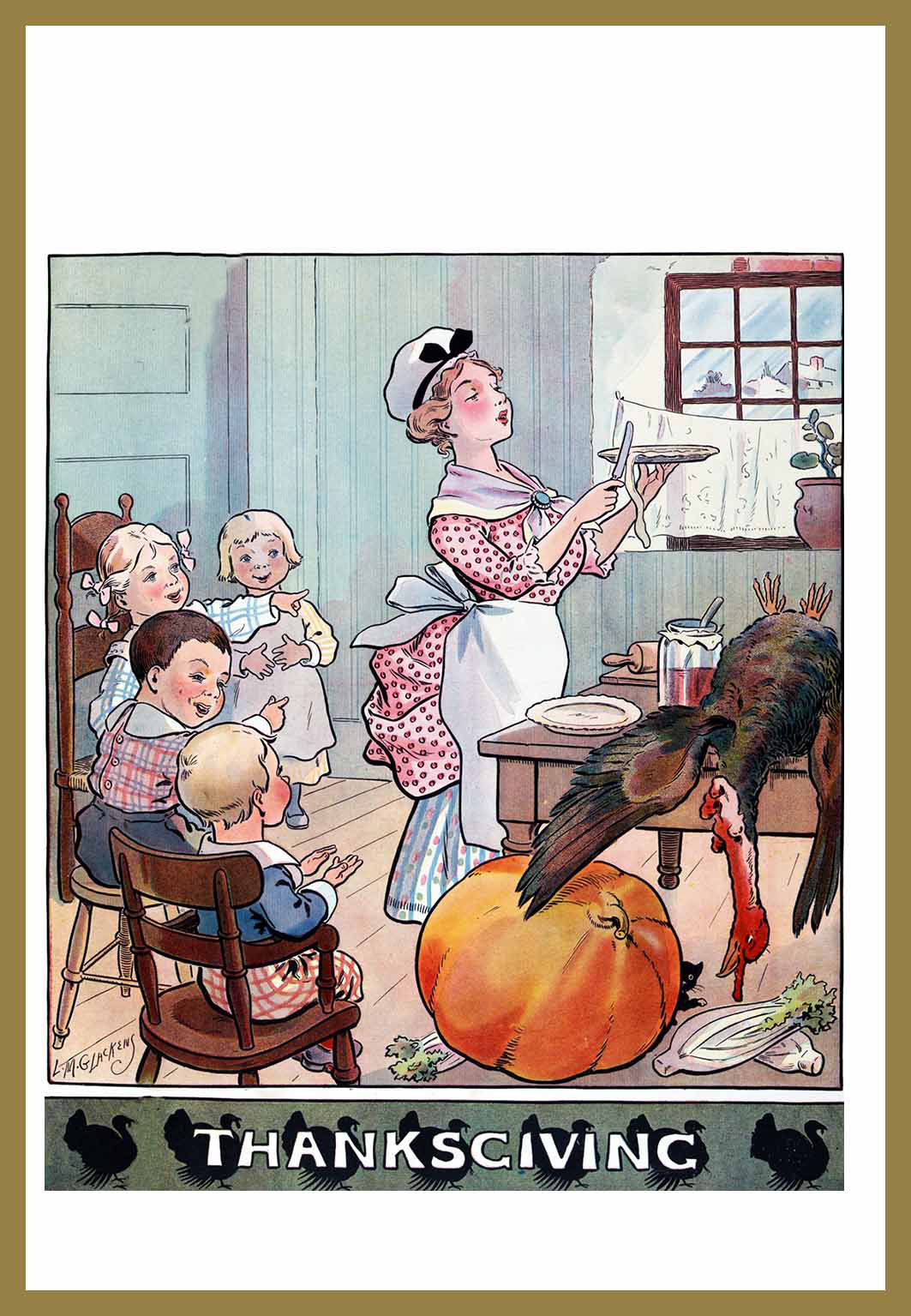 Where Would You Like to Go Next?
| | |
| --- | --- |
| | |
| Holiday Clipart: The main page for all the holiday clipart pages with an overview that makes it easy to find what you are looking for. | Turkey Clipart for Thanksgiving: All kinds of turkey-related clipart, realistic or funny or both. |
| | |
| | |
| Thanksgiving Mazes: Lots of fun for you and your family, with mazes with Thanksgiving motives, of different difficulty levels. | Free Clipart of Thanksgiving: The turkeys you find on the page mentioned above, all the other Thanksgiving clipart are here! |
| | |
| | |
| Thanksgiving Borders and Frames: Wonderful and special borders with Thanksgiving motives. | Fall Clipart: All kinds of fall pictures and fall greetings, funny and cozy. |
| | |
| | |
| Thanksgiving Coloring Pages: Great coloring sheets with Thanksgiving motives. | Fall Leaves Clip Art: Cut outs of red, yellow and green autumn leaves as well as drawings, easy to use because of the transparent background. |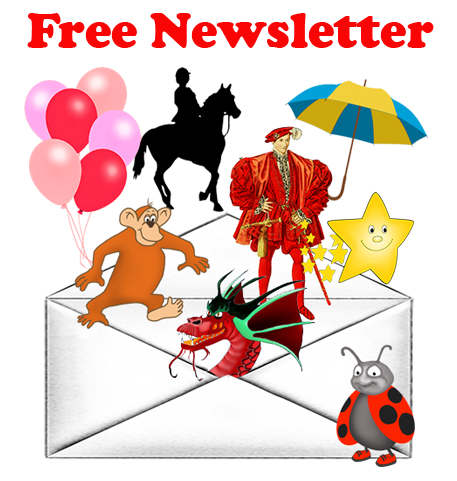 If you want to stay in touch and hear about new pages, tips and ideas about arts & crafts, please sign up for my newsletter. It is totally free, and you can unsubscribe any time!