Here you will find Groundhog Day printables like mazes and Groundhog Day clipart. There will even be a couple of Groundhog Day greeting cards.
Actually I don't think I had heard about the celebration of Groundhog Day before seeing the movie of that same name, "Groundhog Day", from 1993 with Bill Murray.
This movie made the day known worldwide, and a whole world has taken Groundhog Day to their hearts.
The Origin of Groundhog Day:
When you look into the history of Groundhog Day you find that celebrating the Groundhog Day started originally in ancient Europe, with similarities to an other weather lore where a badger or a bear would be the prognosticator of the weather to come.
Groundhog Day also share common ground with a Pagan feast "Imbolc", which was the seasonal turning point in the Celtic calendar, the 1st of February, and which also involved weather prognostication (I guess you will always want to know that the end of the winter is imminent, especially when you come to February and the winter seems endless).
The celebration of Groundhog Day the 2nd of February was brought to USA with the European immigrants, and is today celebrated mainly in USA and Canada.
Groundhog clipart

Now, because of the movie, it is a holiday that is part of many peoples awareness. 2nd of February, Candlemas Day, is the day when the groundhog peeps out of his winter quarters.
If he does not cast a shadow, (because the weather is cloudy) winter is coming to an end, and the groundhog stays out.
If on the other hand the groundhog sees his own shadow on the ground, he retreats to his cave, and the winter will go on for at least 14 days.
You can read more about the history of Groundhog Day here.
A groundhog dressed for winter PNG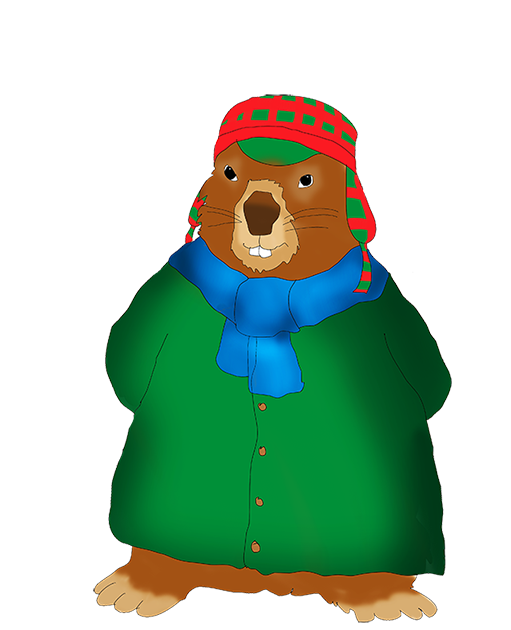 It's fun to draw groundhogs, so here you will find Groundhog Day Clipart to use for invitations, mails, scrapbooks, websites, school projects and a lot more.
The groundhogs you can see above and to the right and below are bigger in the original drawing, which you can find if you click the picture. This is the version you get when you use the download-button.

The one to the right and the one below are saved in PNG, with transparent background.
I will show you later how you can use this groundhog clipart for greeting cards or fun messages.


Cute Groundhog Day Clipart PNG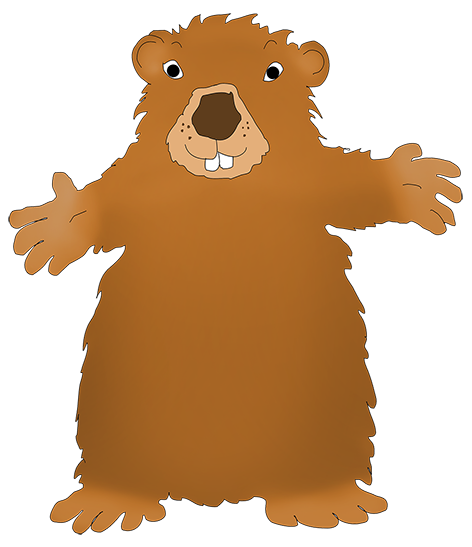 About the limitations for using my material, please go to Homepage. There are only two rules, and they are actually only common sense.
Groundhog Day Printables for Groundhog Day 2023:
| | |
| --- | --- |
| Spring is coming early groundhog clipart | Happy Groundhog Day |
| | |
| | |
| | |
| Groundhog Day Clipart | Groundhog Day Graphics |
| | |
| Groundhog removing shadow | Groundhog and no shadow |
| | |
| | |
| Groundhog Day Graphics | Groundhog Day Clipart |
| | |
| Groundhog cup cake | Groundhog looking at shadow |
| | |
| | |
| Groundhog Day Graphics | Groundhog Day Clipart |
| | |
| Waving groundhog | Groundhog with umbrella |
| | |
| | |
| Happy Groundhog Day printable | Happy Groundhog Day Greeting |
| | |
| | |
| | |
| Groundhog day printable with snowdrop | |
| | |
| | |
Groundhog Day Fun Sayings:
Here are two poems about Candlemas Day (Groundhog Day) and the prognostication of the weather, one made for the occas ion that the Candlemas day is sunny and clear, the other one taking into account both options:
"
If Candle-mas Day is bright and clear,
There'll be two winters in the year."


"If Candlemas be fair and bright, Winter has another flight. If Candlemas brings clouds and rain Winter will not come again."



If you are more into the Groundhog Day thing than the Candlemas Day thing, it should be very easy to change the words in the poems from Candlemas to Groundhog :-)
Funny Groundhog Day clipart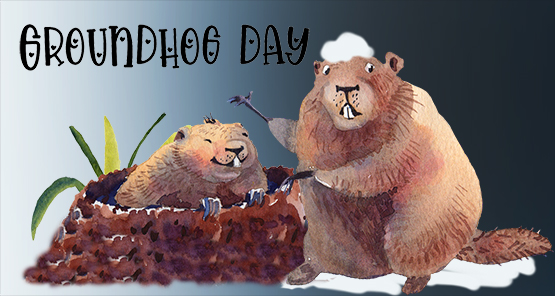 Groundhog clipart for Groundhog Day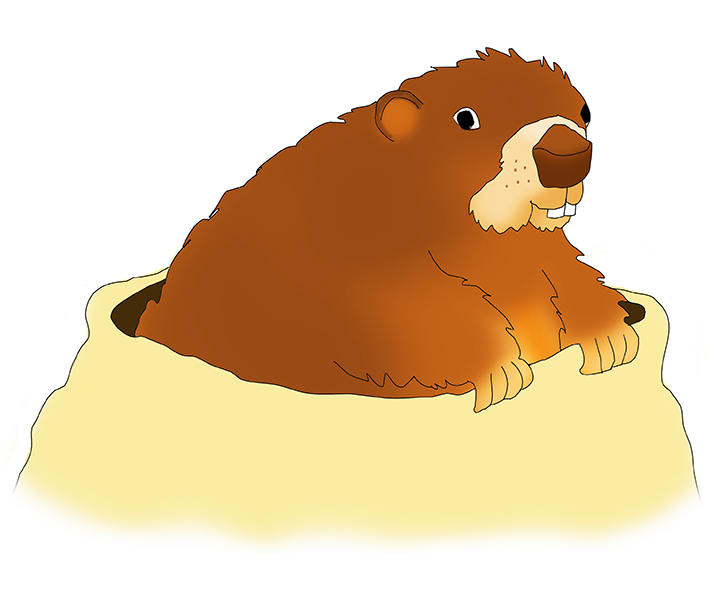 Groundhog popping up from the snow

Groundhog Day printable

The groundhog looks so nice and cute, but I don't think it would be such a good idea to try to hug it.
It should be possible to socialize groundhogs kept in captivity, but a zookeeper, Doug Schwartz, who is also a groundhog dog trainer in Staten Islands Zoo has said about the Groundhog:
"
They're known for their aggression, so you're starting from a hard place. Their natural impulse is to kill 'em all and let God sort 'em out. You have to work to produce the sweet and cuddly."


But as I said, they look so cute, and here comes a little cute poem to go with the pictures:

"I'm a little groundhog,
Fat and brown
I live in my den
Under the ground.
If I see my shadow,
Then I know
We'll have six more
Weeks of snow."
Groundhog Day Cards:
Here I have made a card out of the groundhog drawing above, and you can use it in the same way, or make the groundhog say other things. Use it in letters, with mails, and whatever you can think of.
Click the picture to see the larger version in another tab. Use the download button to save and then print it.
A Groundhog printable where there is no shadow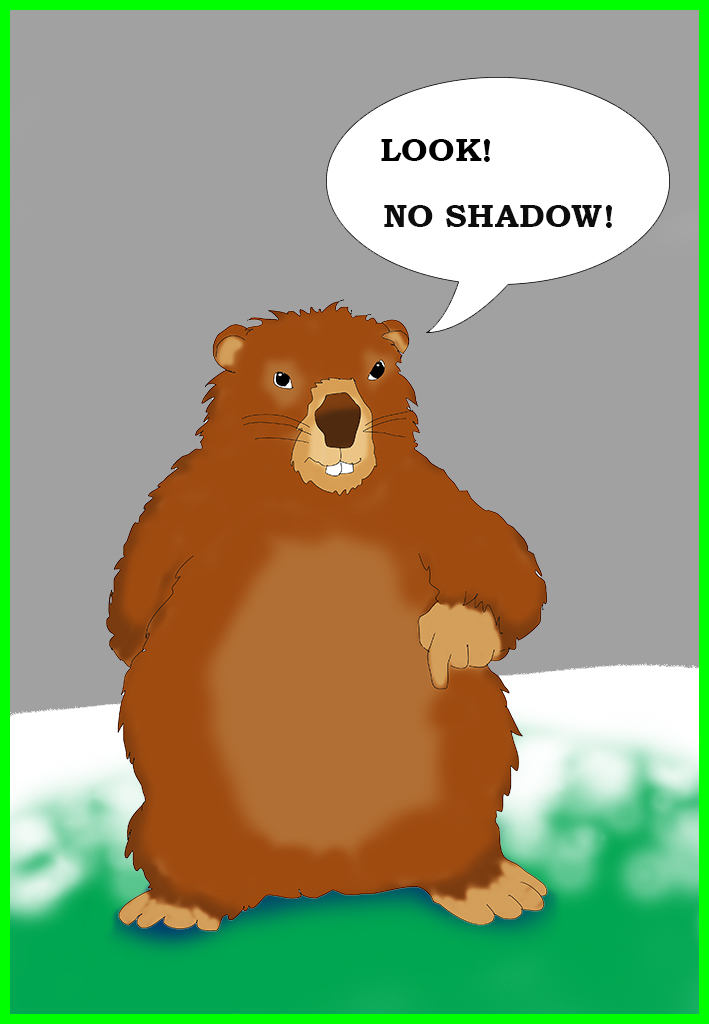 One more card you can send for Groundhog Day.
You might not have a tradition for sending cards for this Holiday, but then you can start now.
In this cold months it will get a warm welcome.
A cute and funny Groundhog day card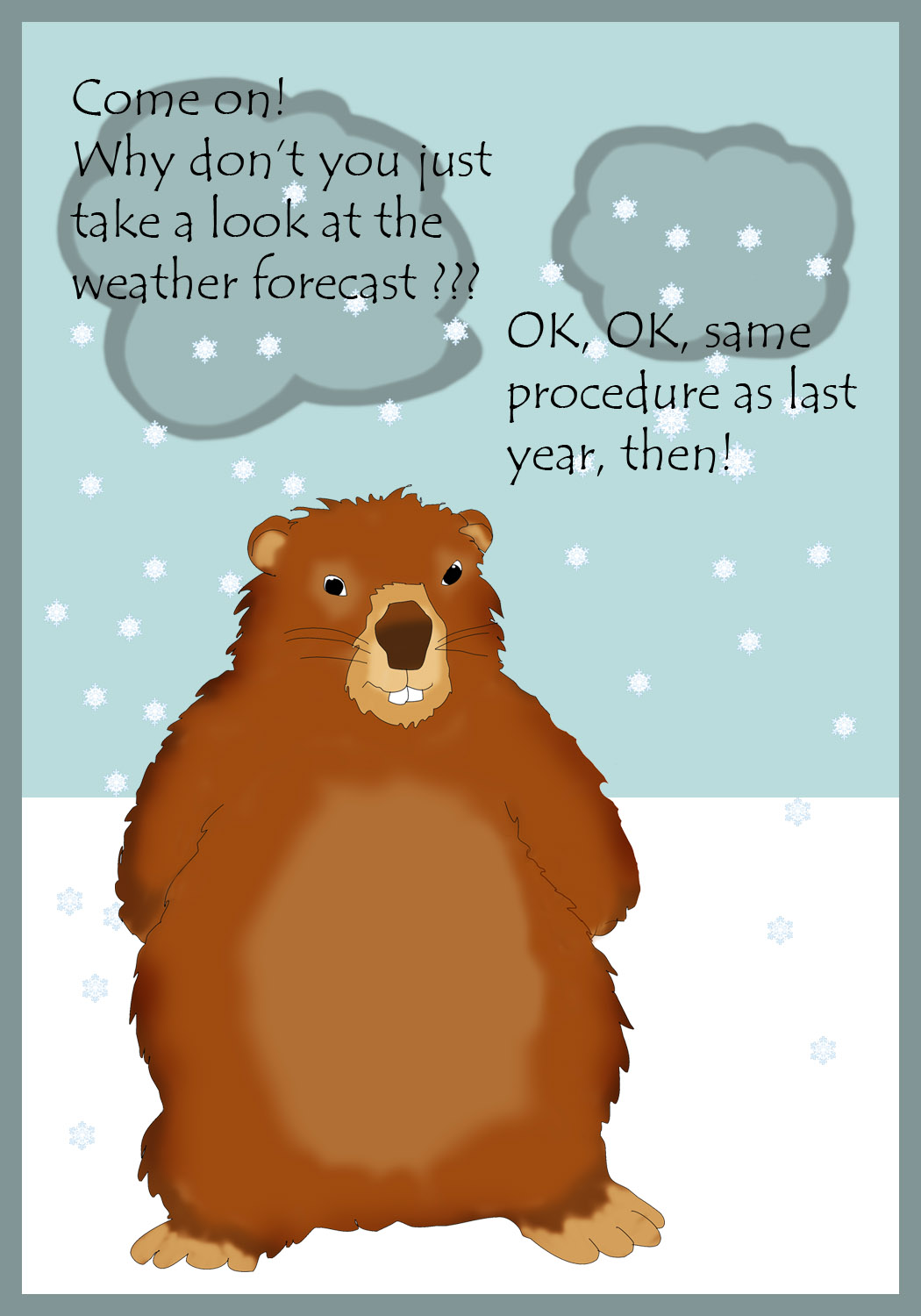 Why not use this Holiday, the Groundhog Day, as an excuse for inviting family or friends to a Groundhog Day dinner, or maybe even a party?
The weather is normally cold and wet and windy, so what is more appropriate than being together with friends in a warm home, sharing a meal, having a cozy time?
So here is a Groundhog Day Invitation you can use:
Free Groundhog Day invitation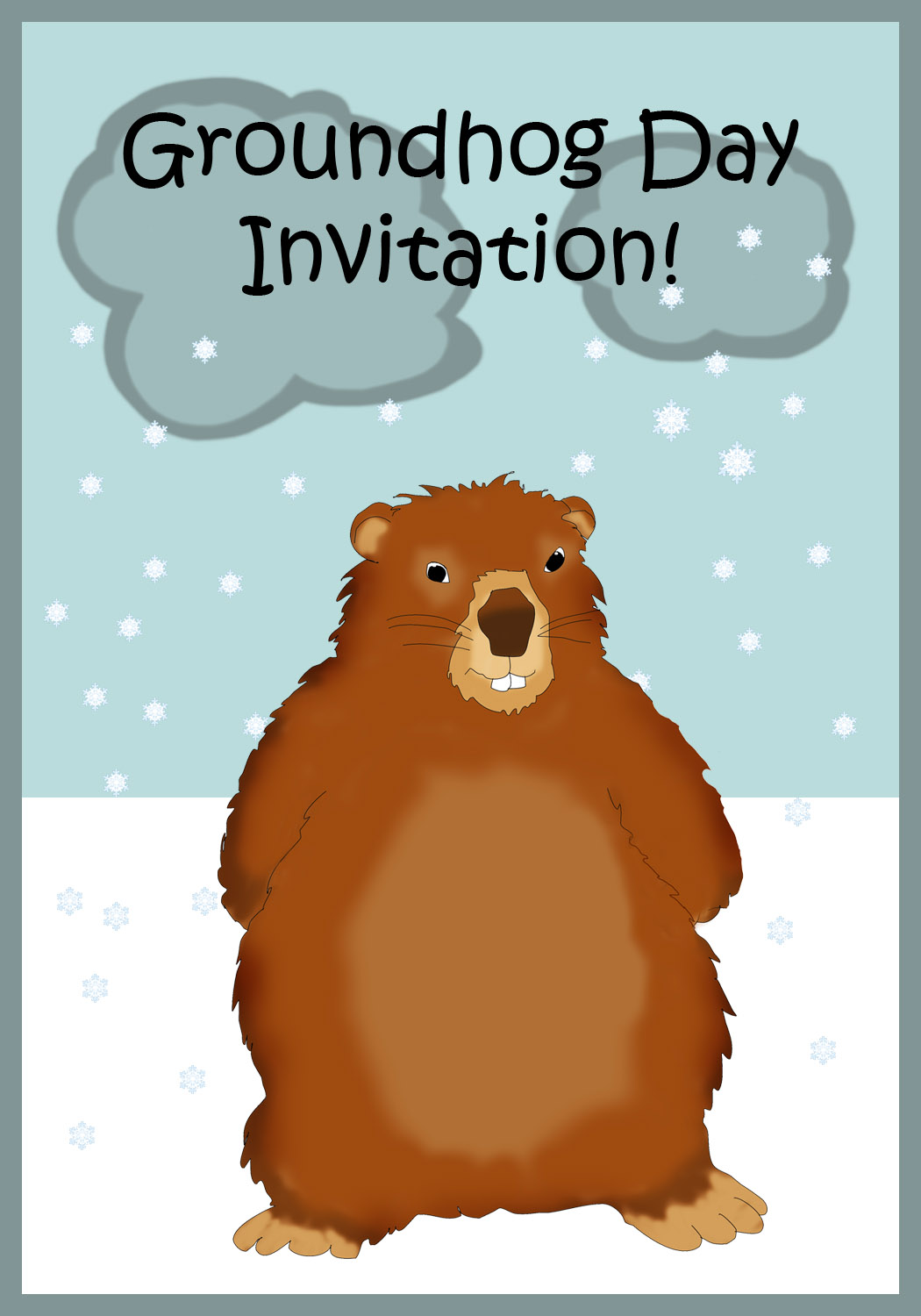 Groundhog Day Printables:
You will find a maze for Groundhog Day on the blog, and here are three other mazes.
If you print it in 150 dpi, it should fit the size of an A4 paper.
I think the round one is for older children and adults, the other two are for kids.
Click these mazes to come to the larger version in another tab, this is the one you get by using the download button.
| | |
| --- | --- |
| Groundhog Day Maze | Maze for Groundhog Day |
| | |
| | |
Happy Groundhog Day greeting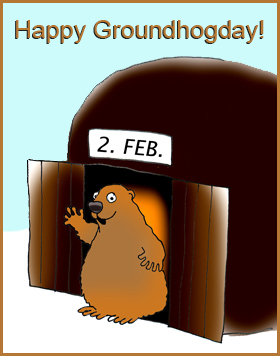 If You Like This Page, Maybe You Will Also Like These Pages:
| | |
| --- | --- |
| | |
| Holiday Clipart: The main page for all holiday themes pages, so if you want a clipart for a special holiday, this is where you go. | Animal Clipart: The main page for all the pages here with animal clipart with an overview to make it easy to find what you are looking for. |
| | |
| | |
| Valentine Day Ideas: This is here you find the overview of all the Valentine Pages here on Clipartqueen. | Spring Clipart: |
| | |
| | |
| Seasons of the Year: | Winter Clipart: |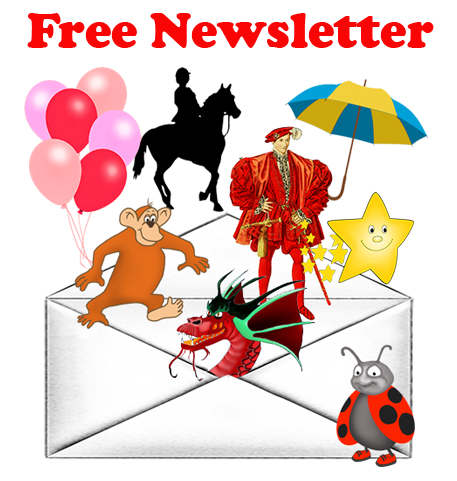 If you want to stay in touch and hear about new pages, tips and ideas about arts & crafts, please sign up for my newsletter. It is totally free, and you can unsubscribe any time!