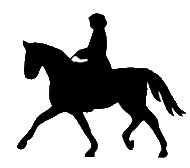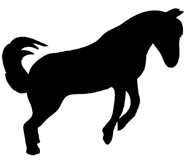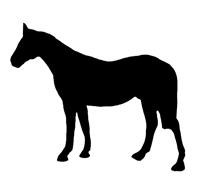 On this page, Horse Silhouette, you will find also horse head silhouette, and silhouettes of horses with their horseman or rider, horses standing, horses running, horses jumping.
Horses are beautiful, and making silhouette graphics of them is a pleasure.
I hope you will share my pleasure and find some silhouette clipart that will please you. They are great for letters, scrapbooks, art projects, school projects, mails, invitations etc.
They are free to use, and there are only two, very common sense limitations for using them: Do not overuse it, and do not use it in with any negative purpose. For further detail please have a look at my Homepage
To see a silhouette in the actual size:
Click the picture you like, and the silhouette will pop up in a new tab.
To save one of the horse images.
Click the "download" button.
The silhouette you save is always the best version of the horse clip art.

You will find links to my other silhouette graphics below on this page.
There is something elegant about horses, couple that with the simple style promised by silhouette graphics and you can see why using a horse silhouette for your craft projects is a popular choice with many.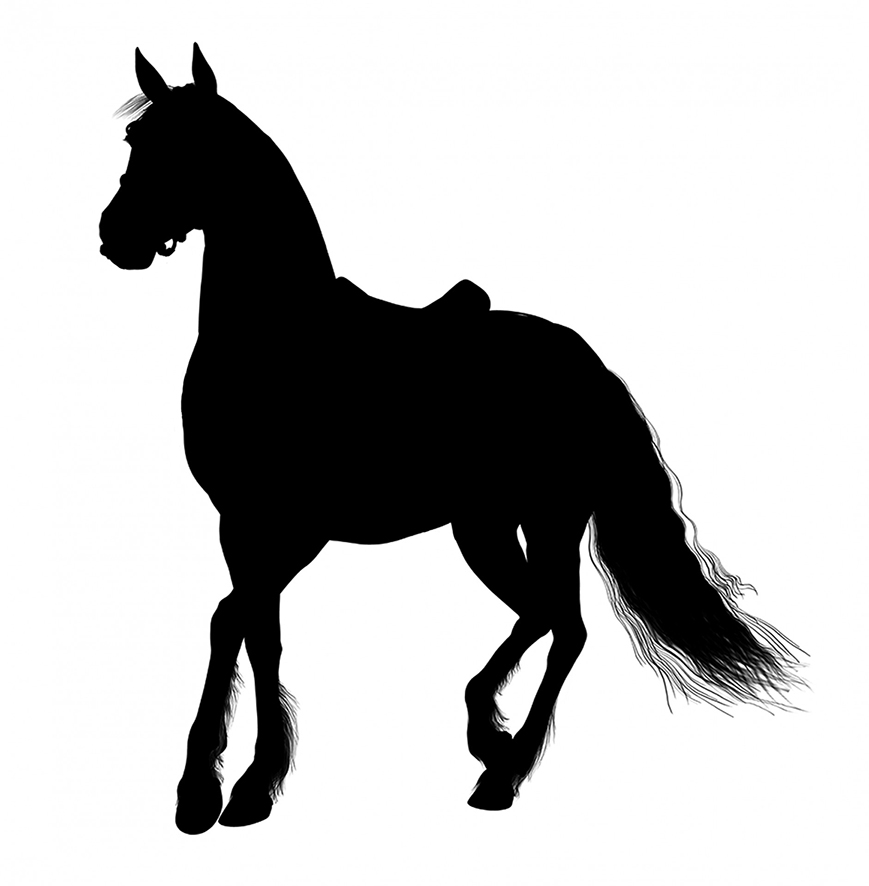 Horse and rider PNG


Horse and rider silhouette PNG


Black silhouette of running horse PNG


As well as hundreds of unique and completely free pieces of clipart, my website offers silhouette clipart, which includes those with a horsey theme. So, whatever you plan to create, the equestrian-themed silhouettes on my website are sure to get your creative juices flowing.
Horse silhouette:
| | |
| --- | --- |
| Silhouette clipart | Silhouette graphics |
| | |
| Horse and horseman | Rearing horse |
| | |
| | |
| Foal silhouette PNG | Silhouette of horse rider PNG |
| | |
| | |
| | |
| Silhouette graphics | Silhouette graphics |
| | |
| Horse with rider | Horse silhouette and horseman |
| | |
| | |
| Silhouette clip art | Silhouette clip art |
| | |
| Horse and rider in black silhouette | Standing horse |
| | |
| | |
| Mare with foal PNG | Horse silhouette PNG |
| | |
| | |
| | |
| Silhouette clipart PNG | Man with horse and dog PNG |
| | |
| | |
| | |
| Silhouette clip art | Silhouette graphics |
| | |
| Galloping horse | Show jumping horse |
| | |
| | |
| Black silhouette of horse PNG | Horse silhouette clipart PNG |
| | |
| | |

Handmade Good Luck Cards
Horses have long been associated with luck. Although many associate this with the winged horses commonly found in Greek mythology, it is much more likely to be a tradition originating from the Romany Gypsies, who have long been known for their love of horses.
Therefore, no good luck card would be complete without a horse picture. Simply choose which of the horse silhouettes you like the most, and print them off on your home computer at the appropriate size. You can add a large picture to your handmade card or use several pictures as small toppers instead. Depending on who you are sending the good luck card too, you may decide on a galloping horse, a horse with a rider or even a horse's head silhouette.
Couple your horse clip art with an appropriate good luck sentiment and you have a beautiful card you wouldn't be able to find anywhere in the shops.
Black horse drawing PNG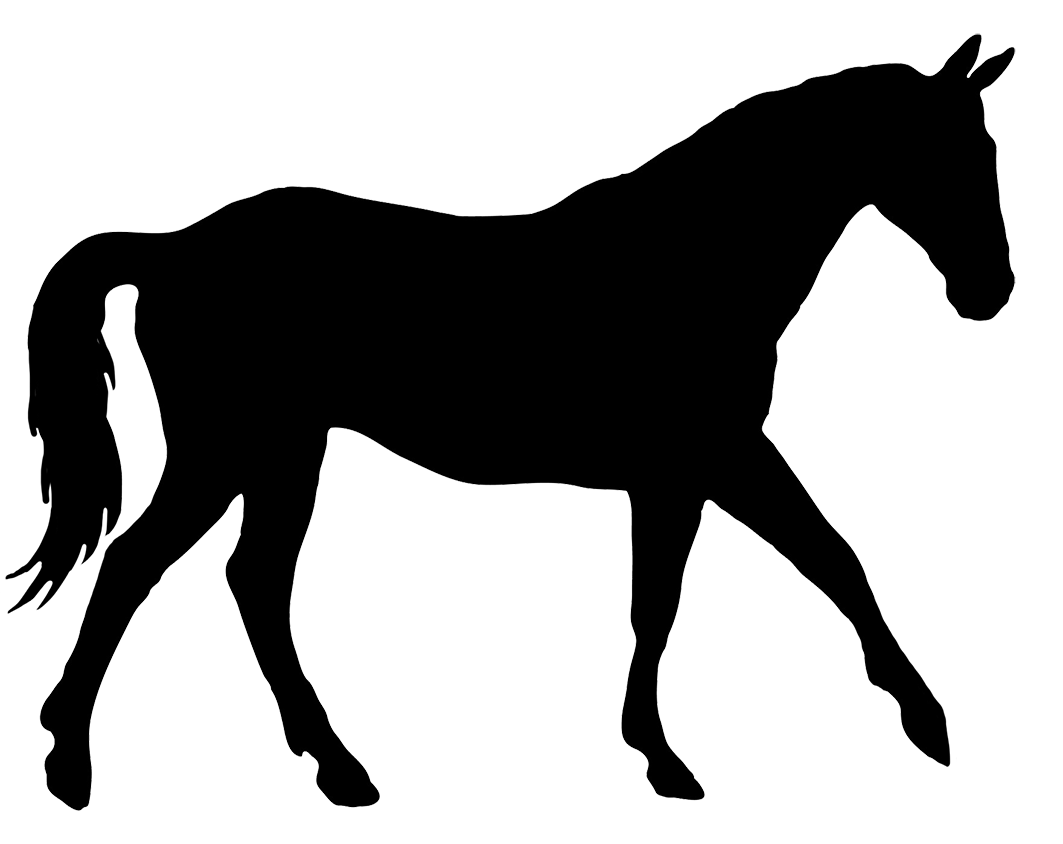 Printable horse silhouette PNG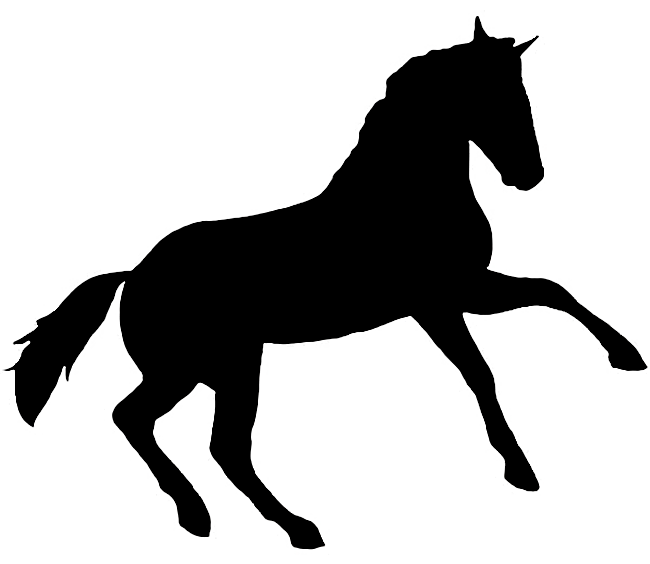 Running horse silhouette PNG


| | |
| --- | --- |
| Horse silhouette | Silhouette graphics |
| | |
| Grazing horse | Two stallions fighting silhouette |
| | |
| | |
| Silhouette clipart | Silhouette graphics |
| | |
| Silhouette standing horse | Horse and rider silhouette |
| | |
| | |
| Silhouette graphics | Silhouette graphics |
| | |
| Beautiful standing horse | Running horse |
| | |
| | |
| Standing horse silhouette PNG | Horse rider PNG |
| | |
| | |
| | |
| Horse jumping hurdle PNG | Woman on horse PNG |
| | |
| | |
| | |
| Horse clip art PNG | Grazing horse PNG |
| | |
| | |
| | |
| Rider and horse gallop PNG | Black silhouette horse PNG |
| | |
| | |
Framed Pictures
If you are struggling to find the perfect gift for your favorite horse-lover, then the silhouette graphics on my site are all you need to make the perfect present. And here is how -
• Visit your local dollar store or thrift shop and look for an inexpensive frame. It doesn't matter what type of picture is in it, as you will be replacing this, you just need the frame and the glass.
• Choose an appropriate horse silhouette, bearing in mind the person who is to receive the gift. For example, a simple horse fan may appreciate a galloping horse, where as a race horse fan will like the running horse complete with jockey.
• Print off your chosen silhouette, remembering to ensure it is at a size smaller than the frame. You will need to also account for the backing on which your silhouette will be placed.
• Glue the silhouette to a piece of A4 card or smaller if you have opted for a smaller frame. Because of the nature of the silhouettes, they are best backed on to bright white card but you could attach your chosen graphic to any color you desire.
• Place the card inside the frame and there you have it – the perfect gift for very little cost. The beauty of making this type of gift is two-fold, not only will the person appreciate you going to the effort of crafting your own gift, the present is also completely unique so the person will not receive anything like it.
Don't feel you are restricted to framed pictures when making handmade gifts using these horse silhouettes. Here are just a couple of ideas where you can make your own gifts and incorporate some horse clip art into it.
Decorated Muffin Tin
– Use any old tin you can find. If you don't have anything suitable in your home, you can usually find something appropriate in thrift stores. Cover the entire tin with plain paper, an off-white or beige will be ideal. Next choose several of the silhouette horse graphics you like and print them off at a size that will enable them to be stuck to the tin. Once you have decorated the tin with the clipart, you can then fill it with your own choice of handmade cookies or muffins. This is an ideal gift for someone close to you, either for a special occasion or just to show you care.
Horse with jockey in full gallop PNG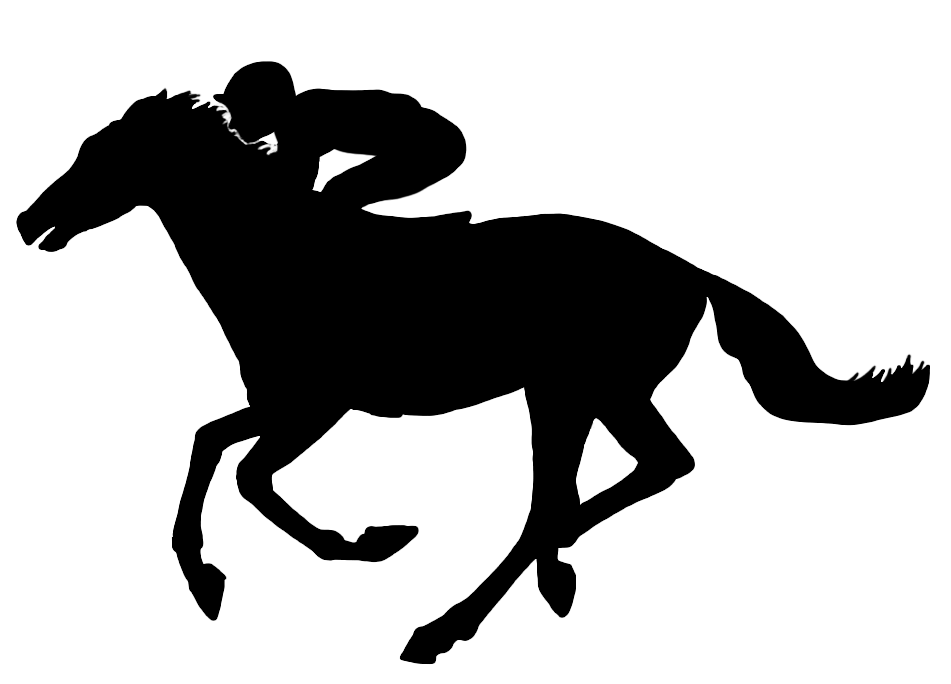 Silhouette of horse in nature PNG


Horse and rider silhouette PNG


Bottle Label
– Add something horsey to your a friend or family member's favorite bottle of wine using the horse silhouette clipart available on my website.
Simply print your favorite picture, one of the horse's head graphics will probably work best for this craft project. Ensure you print off your choice at an appropriate size for the bottle.
Once printed, you can add your chosen sentiment to the piece using a gold or silver glitter pen. How you attach it to the bottle is up to you. Punching a hole in the top of the card will allow you to thread craft wire or thread through it and hand it around the bottle's neck. Alternatively, you can simply stick it over the wine bottle's existing label. Whoever receives the gift will appreciate the handmade twist you have added to their present.
Horse Head Silhouette:
| | |
| --- | --- |
| Horse head silhouette | Horse head silhouette PNG |
| | |
| Horse head bowing | Cute horse head silhouette |
| | |
| | |
| Black silhouette | Horse silhouette |
| | |
| Black horse head | Horse head black |
| | |
| | |
| Horse head silhouette | Silhouette graphics |
| | |
| Head of running horse | Dressage horse |
| | |
| | |
| Silhouette clipart | Animal silhouette |
| | |
| Running horse | Dressage horse silhouette |
| | |
| | |
| Silhouette graphics | Silhouette clipart |
| | |
| Head of horse black | Horse head |
| | |
| | |
| Head of foal PNG | Silhouette of horse head JPEG |
| | |
| | |
Wrapping Paper
– Not quite a stand alone gift but you can print several of your favorite horse silhouettes onto plain craft paper and use it to wrap gifts you have bought from a shop. Ideal for horse lovers and this idea also cuts out the expense involved in buying wrapping paper – which can be annoying considering it ends up ripped apart and in the bin.
Don't worry that making your own gifts will make you look like a cheap skate.
In horrible economic times, the fact you have gone to the trouble to provide a gift at all will be appreciated by the recipient.
Homemade gifts also tell a person you have dedicated time and energy into thinking of and making the perfect gift – completely personalized too. Teamed with a homemade card and you are sure to receive praise no matter what sort of occasion it is.
Pferd silhouette PNG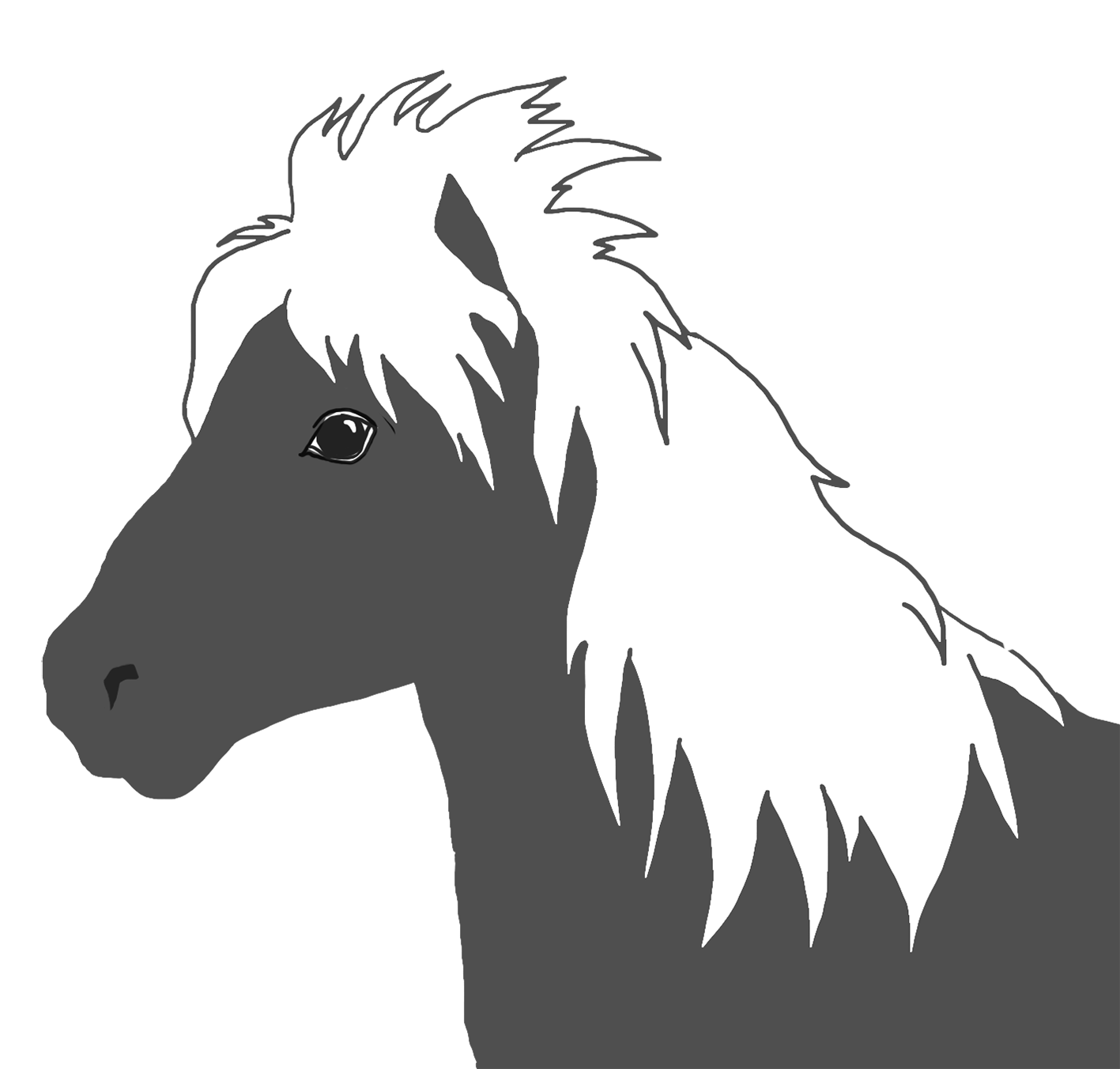 Horse and horse rider silhouette PNG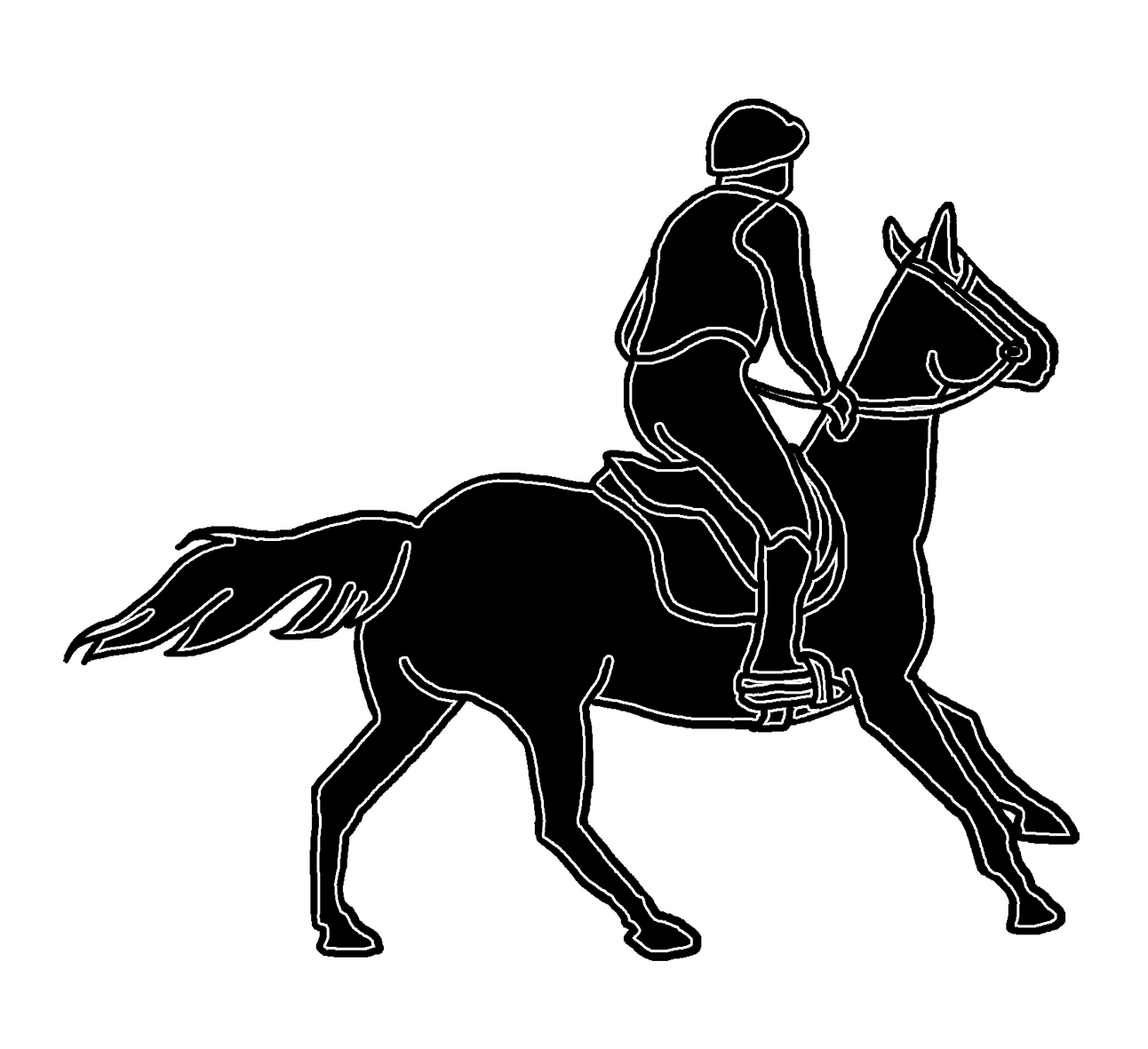 Black silhouette of horse and rider PNG


All the above silhouettes of horses and horse heads are all new and pretty big, so you can use them for framed pictures and cards. Of course you can also save them and print them in a much smaller scale.
The silhouettes below are of different sizes, some very big, some smaller. But I think they are all beautiful and I hope you will find a horse silhouette you like among all these black silhouettes.
To see the size of these horse silhouettes you have to right click the picture to see it in a new tab.
You also save the picture by right clicking it.
Also you here can get an idea what it will look like if you put them together for wrapping paper or patterns.
Versatile Clipart Images
Anyone who makes cards or who likes to scrapbook will confirm that finding something to fit a male theme is almost impossible. The horse silhouettes I have available on my website are ideal for men, especially those who are into horse racing or riding.
The silhouette graphics are also ideal for children, especially children who are at the funny "tween" age, where they are not quite children and not quite teens. The silhouettes can also be printed to any size you please, meaning the quality of the image won't be compromised at all. Whether you plan to use them for handmade cards, scrapbook pages, handmade gifts, bookmarks, gift tags and more, the free horse silhouette graphics are versatile enough to match any end product.
Unicorn Silhouette:
Yes, yes, I know unicorns don't exist and even if they existed they wouldn't be horses.

But today, where so many little girls play with "My Little Pony" and many of these ponies are actually unicorns, I find it quite appropriate to add a silhouette of a unicorn.
One of my granddaughters, age 4, tried for the first time in her life to sit on a horse, only it wasn't a big horse but a pony.
She looked really puzzled, and after a while turned to her mother and said: "but it doesn't have a horn???" To her a pony must have a horn, otherwise something is wrong.
***********************
In order to enable me to keep providing high quality images such as the ones you have viewed on this page, I ask that you please pay attention to my very lenient usage instructions. Thank you for taking the time to look around my clip art website and happy crafting!!
If You Like This Page, Maybe You Will Also Like These Pages:
| | |
| --- | --- |
| | |
| Silhouettes of People: A page with silhouettes of business people, of happy people, sad people and people in love. | Silhouette Graphics: Silhouettes of cow boys, cars, trees and butterflies. |
| | |
| | |
| Silhouette Clipart: The Main page for all the silhouette pages here, with an overview so you can find exactly what you are looking for. | Victorian Silhouettes: Beautiful old silhouettes of Victorian men, women and children playing with old toys. |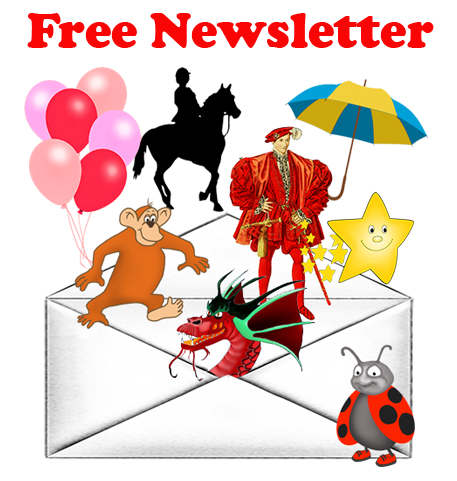 If you want to stay in touch and hear about new pages, tips and ideas about arts & crafts, please sign up for my newsletter. It is totally free, and you can unsubscribe any time!