This page on Clipartqueen has a lot of different silhouettes with Christmas motives, like Holly, reindeer, Santa and his sledge.
They are all free silhouettes, and you can use them as you like, as long as you take care to follow the two very simple rules for using my material. These two rules you can find on Homepage.
If you want Christmas drawings in color, I suggest you visit some of the other pages on this site with
Christmas clip art.
You will find these pages listed on the page
Christmas pictures
.
No other celebration during the year calls for reams of decorations quite like Christmas does. While you may decorate for Halloween, birthdays and even Easter – it tends to be Christmas when people go all out decorating everything from their homes and offices, to their cars and even outside yards.
The beautiful Christmas silhouettes available on this page will enable you to make stunning and complete unique Christmas decorations for your home and wherever else you choose to display them. Of course, you don't need to let your creative stop you there – why not use these free silhouettes on Christmas cards, as gift tags or as place settings on your traditional Christmas dinner table.
The only limit is your imagination, so go on – use these black silhouettes to make sure you have a truly memorable festive season.
Christmas Silhouette of Santa Claus with his reindeer, PNG


Santa with his sleigh and reindeer PNG

Santa with Dasher, Dancer, Prancer, Vixen, Comet, Cupid, Donder, Blitzen PNG


Christmas silhouette Santa and his sleigh PNG


Santa with sleigh and unicorns PNG

Christmas silhouette Santa sleigh reindeer PNG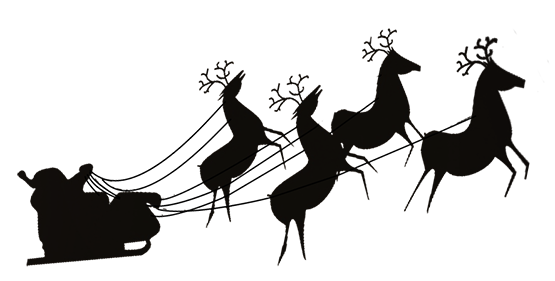 Christmas border silhouette PNG


Happy reindeer and Santa on sleigh silhouette PNG

Christmas Silhouettes:
| | |
| --- | --- |
| Silhouette of Christmas candle PNG | Christmas ornament Santa PNG |
| | |
| | |
| | |
| Angel etching PNG | Modern Christmas tree silhouette PNG |
| | |
| | |
| | |
| Christmas clip art | Black Silhouettes |
| | |
| Silhouette of Christmas tree with star | Christmas tree silhouette |
| | |
| | |
| Black silhouettes | Christmas clip art |
| | |
| | |
| Christmas tree star PNG | Snowman with shovel and broom |
| | |
| | |
| Free Silhouettes | Christmas clip art |
| | |
| Christmas tree with white ribbons | Ginger bread woman black white |
| | |
| | |
| Christmas clip art | Black silhouettes |
| | |
| Ginger bread man silhouette | Shining Christmas star |
| | |
| | |
| Christmas sleigh silhouette PNG | |
| | |
| | |
Make Your Own Decorations
Making your own decorations is not nearly as difficult as it sounds and all you need is card or paper, a printer, string and maybe glitter or confetti – to give your decs a truly Christmas sparkle. So, here goes, learn how to make simple, yet striking, streamers -
1. Choose the Christmas silhouettes you like the best. There is a whole host of pictures to choose from including, festive wreaths, reindeer, bells, holly, stars, baubles and more. Choose a couple of designs, so you can alternate them on your streamers.
2. You will need to print off several copies of each image you have chosen. The beauty of these Christmas silhouettes is they look great large or small. Aim to print at A4 size and if you have two designs, print eight of each one. If you have chosen four designs, you will need to print two of each one and so forth.
3. Measure a piece of craft string, using a ruler or tape measure, making it as long as you want – this will obviously be dictated by where you plan to hang your streamers such as, your walls or ceiling.
4. Using a hole punch or the tip of a sharpened pencil, make a hole in each of your silhouette print outs, this will allow you to thread each one on to your string.
5. Remembering to alternate each design, gently thread each silhouette on to the string. Tie a knot in the string after each one to prevent movement and try to leave an even gap between each one.
6. Once all your silhouettes are on the string, you will have a streamer you can proudly display along a wall or across a ceiling.
Top Tip
– Once you have printed your Christmas silhouettes, why not embellish them a little with glitter, sequins or Christmas-themed confetti all of which will add a little sparkle to your creation. Alternatively, if you fancy a little color along with your black silhouettes, you will find plenty of free colorful Christmas clip art images on this website.
I like very much this Santa's Sleigh with two cute reindeer in front.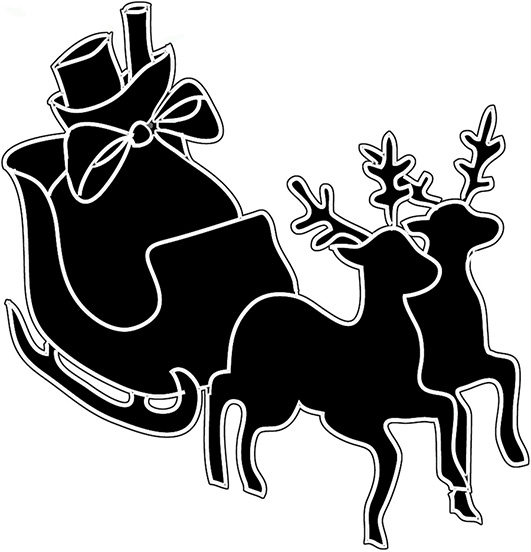 Mistletoe silhouette PNG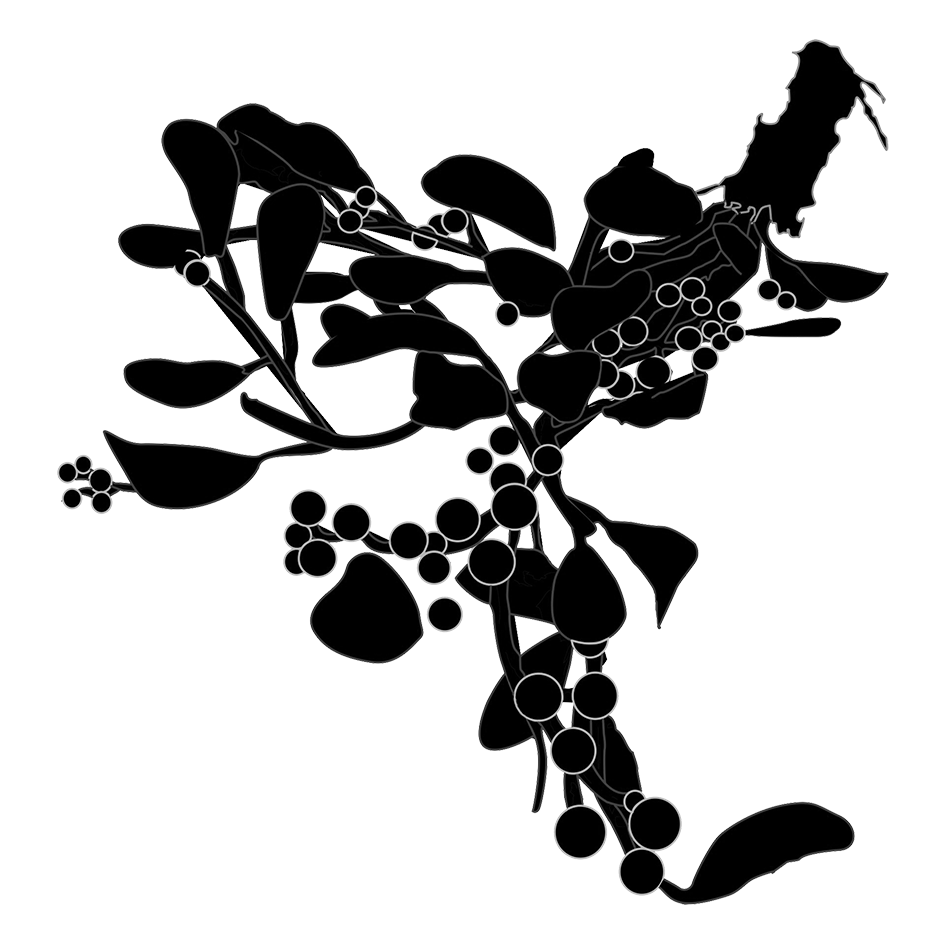 Reindeer and sleigh waiting for Santa and Christmas PNG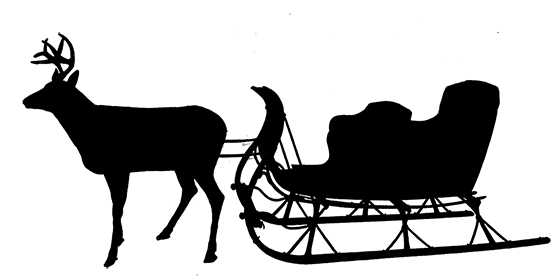 Make Your Own Christmas Cards
Christmas is an expensive time of year, what with gifts, food, drink and all the other trimmings, therefore, cutting down on expenses during the festive season can only be a bonus. Many people who have never made their own cards before may think the process sounds tacky but it is amazing what you can create with just a few pieces of card stock, clip art and other embellishments.
In fact, the intended recipients of your cards are likely to be more impressed with a handmade Christmas card than they would be an expensive shop-bought alternative.
The beautiful Christmas silhouettes on my website really lend themselves well to cards, so why not try it out for yourself and give your nearest and dearest a card to remember this year.
1. Choose your silhouette designs. An elegant Christmas wreath is ideal for older adults, while Santa's sleigh or a cute gingerbread man will look great on cards for children.
2. Print off your chosen designs, using either card or paper. You can then add the cut-outs to a prefolded piece of card stock in whatever design you like. If you want greetings and sentiments to appear on the front and inside of your card, you can print these onto the card before you add your silhouette clipart. Alternatively, you can add text to your card using a colored glitter pen.
3. You can jazz up your cards even further by adding glitter, buttons, confetti or other embellishments to the card alongside the cut-outs.
Christmas silhouette of the three wise men PNG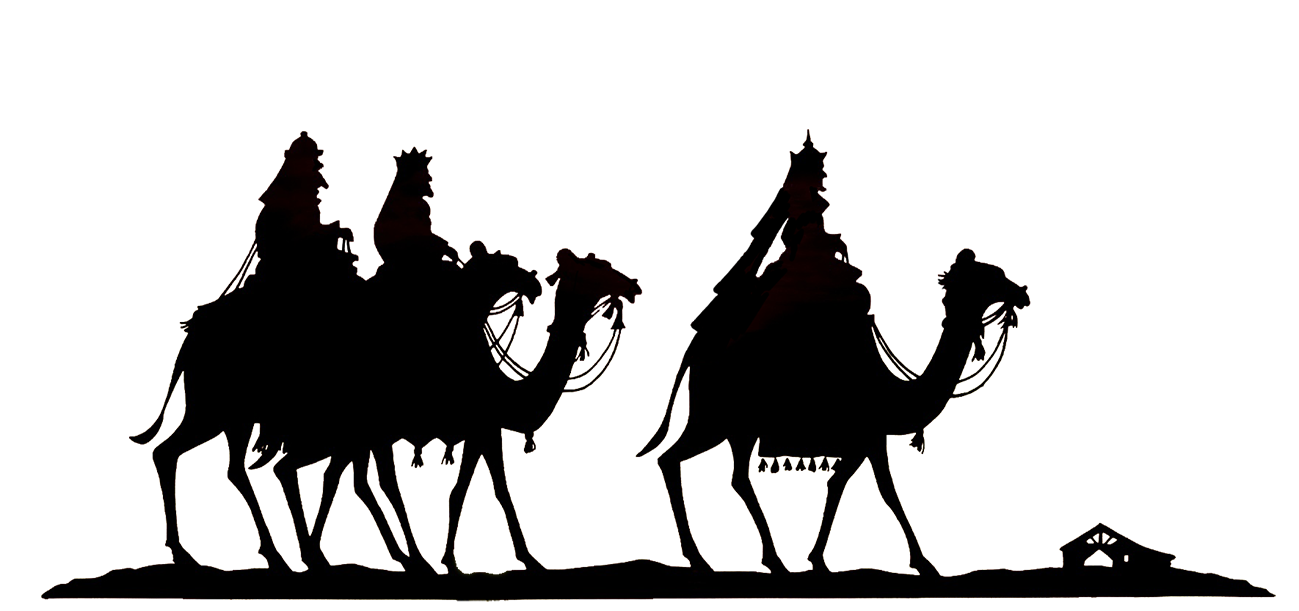 Silhouette of an angel carrying a Christmas tree PNG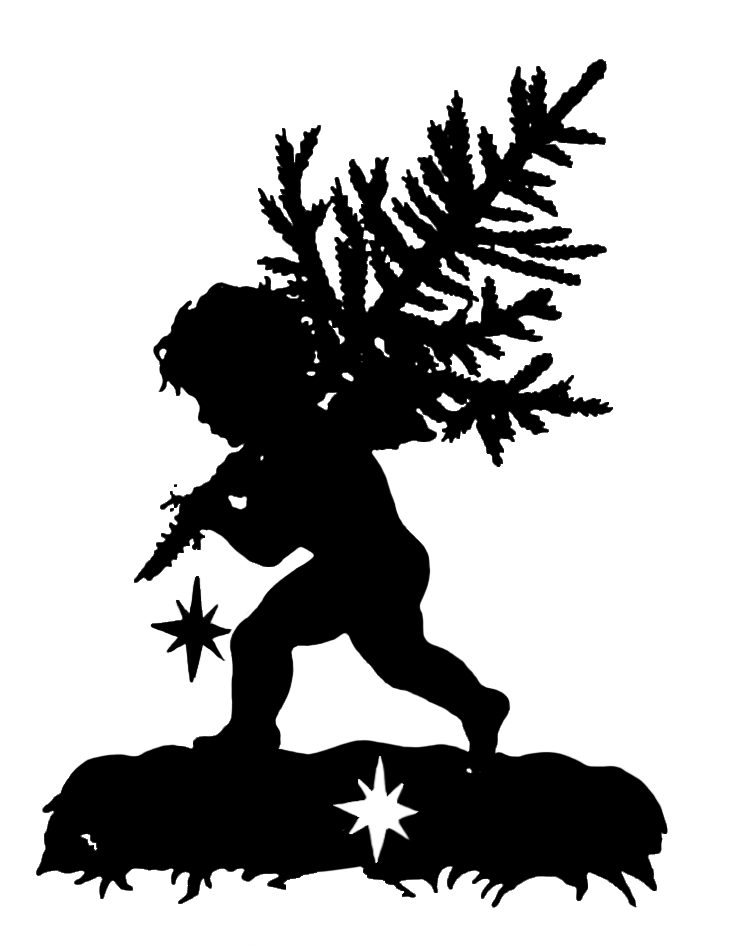 Silhouette of The Three Wise Men at Bethlehem PNG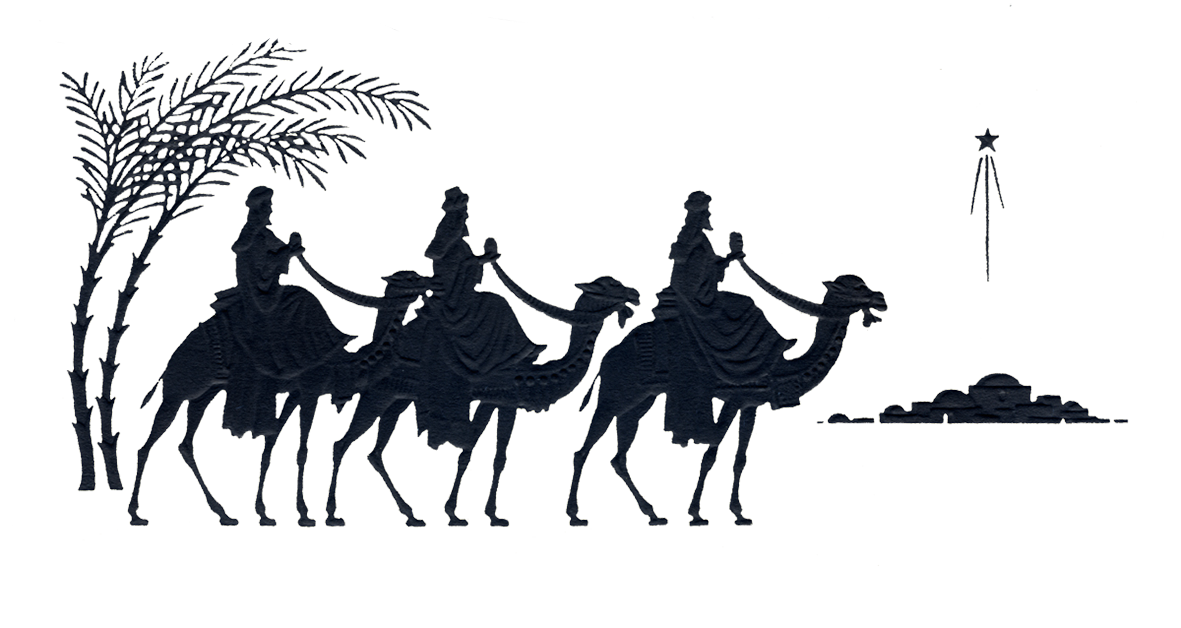 Top Tip
– If you print several copies of the same design, such as a Christmas tree, you can create a 3D effect (known as decoupage) by stacking your tree in layers using double-sided foam squares or glue. This Channel Four website (http://www.channel4.com/4homes/how-to/craft/how-to-decoupage) has an interesting and easy-to-follow tutorial on making decoupage, which will really make the most of your Christmas silhouettes.
Free Silhouettes for Christmas:
| | |
| --- | --- |
| Santa Claus silhouette PNG | Reindeer silhouette PNG |
| | |
| | |
| | |
| Black silhouettes | Christmas silhouette |
| | |
| Christmas silhouette tree decorations | Black and white silhouette decoration |
| | |
| | |
| Silhouette of Christmas bell PNG | Car with Christmas tree PNG |
| | |
| | |
| | |
| Christmas clip art | Black silhouettes PNG |
| | |
| Reindeer head silhouette black | Christmas tree decoration |
| | |
| | |
| Free silhouettes | Christmas clipart |
| | |
| Christmas stocking silhouette | Christmas bell with bow and ribbon |
| | |
| | |
| Christmas clip art | Black silhouettes |
| | |
| Sugar stick for Christmas tree | Christmas star |
| | |
| | |
| Free silhouettes | Reindeer silhouette |
| | |
| Christmas tree smiley decoration | Cute reindeer |
| | |
| | |
I have made this drawing of a reindeer after a photo taken in the zoo in Copenhagen.
I think this photo must be taken before Christmas, because the reindeer looks as if is could need some exercise, if it has to pull Santa's sleigh all over the planet.
Easy-to-Do Gift Tags
Gift tags allow you to let your gift recipients know exactly who gave them that particular gift, as well as including a greeting. As well as making your own Christmas decorations and cards, you can use the top-quality selection of Christmas silhouettes on this website to create your own personal gift tags. This is a really simple process but the end result is beautiful.
1. Choose which of the free silhouettes you want to use as gift tags. Although completely your choice, you may find that the Christmas tree, stars and baubles are ideal for this project. You will need to print them out on to black or white card, which ever you believe suits the picture best. Don't forget to make them a fairly decent size, so you can fit on names and a greeting.
2. Once printed off, use a hole punch or a sharpened pencil to make a hole at the top of each Christmas silhouette. You can then thread through string or yarn, if you want the tags to look particularly glam try using silver or gold yarn.
3. You can then add your chosen wording, using a silver or gold gel pen for those on black card- this will improve visibility of your salutation. You can keep the tags plain or bling them up a little with colored glitter. The end result will be completely unique gift tags, your family and friends will love.
Top Tip
– Why not match up your cards and gift tags, by using the same Christmas silhouettes on both your Christmas cards and gift tags.
More Christmas silhouettes:
| | |
| --- | --- |
| Christmas ornaments black white PNG | Santa Claus head silhouette PNG |
| | |
| | |
| | |
| Reindeer silhouette | Reindeer silhouette |
| | |
| Reindeer silhouette | Free silhouette of reindeer |
| | |
| | |
| Christmas clip art | Christmas clip art |
| | |
| Christmas wreath silhouette | Wreath silhouette |
| | |
| | |
| Christmas silhouettes | Santa's reindeer silhouette PNG |
| | |
| Leaves of Holy | Reindeer silhouette |
| | |
| | |
| Angel silhouette PNG | Christmas angel PNG |
| | |
| | |
You can find more angel silhouettes on this
page.
A Polite Message
Thank you for visiting my website, I hope you have enjoyed looking through my selection of Christmas clip art. I encourage people to use as many of the silhouettes as they wish, as often as they would like – However, I do have two small requests in return.
• Please do not reproduce any of the silhouettes, passing them off as your own, on any other website or offline publication.
• A small acknowledgement that I own copyright for the art is most appreciated, either by naming my website or offering a link back to it.
If you have any questions or requests regarding usage of my Christmas silhouettes, or indeed any of my other clipart, please feel free to contact me and I will do my best to help you.
Where Would You Like to Go Next?
| | |
| --- | --- |
| | |
| Holiday Clipart: The main page for all the holidays, so whether you are looking for clip art for Easter, Halloween or Christmas, this is where you can look for it. | Christmas Pictures: Main page for all the Christmas pages here, with an overview to make it easy to find exactly what you are looking for. |
| | |
| | |
| Christmas Tree Clipart: All kinds of free clip art with Christmas trees, decorated or jus natural. | Christmas Clipart: Such lovely clip art of Christmas presents, Christmas socks, candles and more. |
| | |
| | |
| Free Christmas Clipart: If you didn't find what you were looking for at the page with Christmas Clipart, then I guess you will find it here. | Santa Claus Clip Art: Santa pictures and Santa drawings, all kinds of Santa images to use for the holiday invitations and decorations. |
| | |
| | |
| Vintage Christmas Clipart: Find your cute Christmas clip art for your greetings and cards here. | Christmas Coloring Pages: Lots of printable coloring pages with holy, cute animals, Santa Claus, Christmas trees and presents. |
| | |
| | |
| Christmas Borders and Frames: Borders and frames with holy, Christmas trees and more. | Snowman Coloring Pages: Funny and wonderful coloring pages of snowmen and snowwomen. |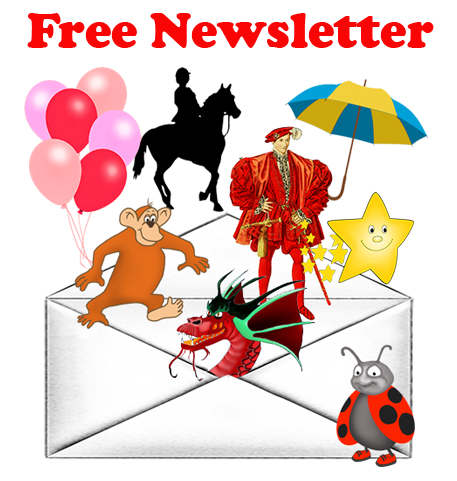 If you want to stay in touch and hear about new pages, tips and ideas about arts & crafts, please sign up for my newsletter. It is totally free, and you can unsubscribe any time!