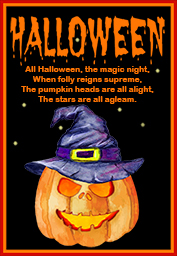 Halloween! The most spooky time of the year. A great occasion for sending Halloween greeting cards to friends and family.
It is actually quite easy to make your own personal Halloween cards with just some Halloween clip art and either a drawing program on the computer or scissors and glue.
You will find a lot of clip art with Halloween motives here on my page Halloween Clipart, and below on this page you will find picture links to all the other pages here concerning Halloween.
Well, that should be about it, if you would like to make your own Halloween cards.
But if you are in a hurry, or lack ideas, you can find some cards here for Halloween, ready to print or send from one of the sites where you can make your own on-line postcards.
Click the card you like, and you will see it's actual size in a new tab. This is what you get when you use the down-load button.
About using my material, please go to Homepage to read the two very simple rules, but as long as you only use the cards for your own personal use, you can use them for free and as many as you like.
Printable Halloween Greeting Cards
| | |
| --- | --- |
| Funny Halloween greeting card | Halloween greeting |
| | |
| Pumpkin man Halloween card | Card with moon, witch, bats and poem |
| | |
| | |
| Funny Halloween card | Scary Halloween card |
| | |
| Trick-or-treat candy and pumpkin basket | Cool card with a spider |
| | |
| | |
| Happy Halloween card | Halloween party invitation |
| | |
| Cute Halloween greeting card | Halloween invitation with an owl |
| | |
| | |
| Scary Happy Halloween greeting | Happy Halloween card template |
| | |
| Card with ghosts, graves and moon | Card with lots of bats, tree and grave |
| | |
| | |
| Funny and cute Halloween card | Trick-or-treat Halloween card |
| | |
| Cute cat in a pumpkin | Card with candy corn cartoon and candy |
| | |
| | |
| | |
More Halloween Cards
Happy Halloween card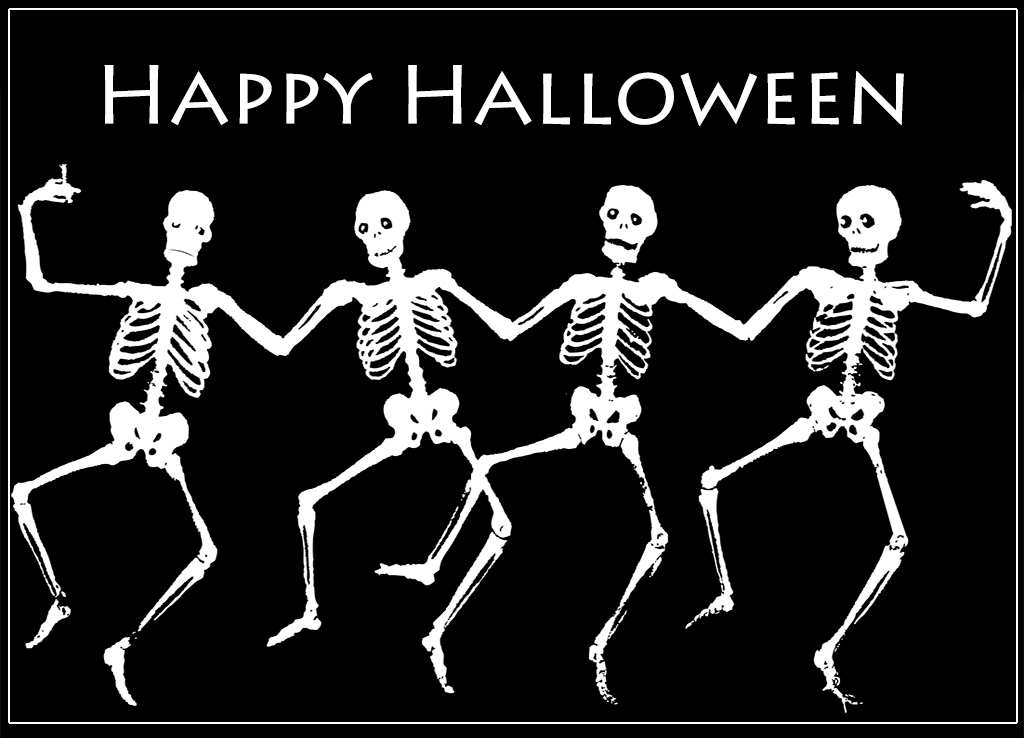 Halloween card with dancing skeletons

Here comes the the same card as a party invitation card
Halloween party invitation

Well, those cards are a bit spooky, aren't they?
So I will make a more cute card here, with a cute booing ghost: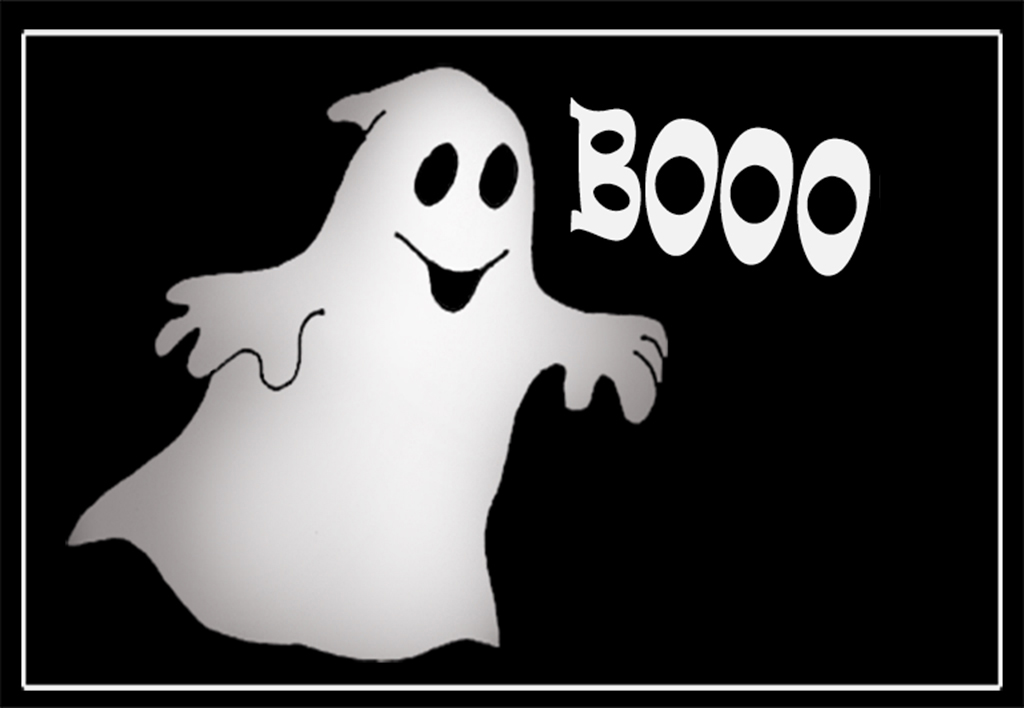 Happy Halloween card
A sweet Halloween card with a pumpkin house at night

If you need a poem or a saying to write on the back of the card, here are some ideas:
First a very simple one:
"Eat, drink and be scary."
The next ones are longer:
"As spirits roam the neighborhoods at night,
Let loose upon the Earth till it be light....... " ~Nicholas Gordon~
"Pixie, kobold, elf and sprite,
All are on their rounds tonight;
In the wan moon's silver ray,
Thrives their helter-shelter play." ~Joel Benton~ Halloween Greeting Cards
Printable Halloween Cards
| | |
| --- | --- |
| Printable Happy Halloween card | Halloween card with a poem |
| | |
| Funny card with eye balls and cupcake | Halloween card with poem and pumpkinhead |
| | |
| | |
| Watercolor greeting card for Halloween | Halloween poem greeting card |
| | |
| Cute and funny scarecrow card | Halloween card with cat, pumpkin, moon |
| | |
Here comes a couple of Halloween greeting cards with pumpkins:
Greeting card for Halloween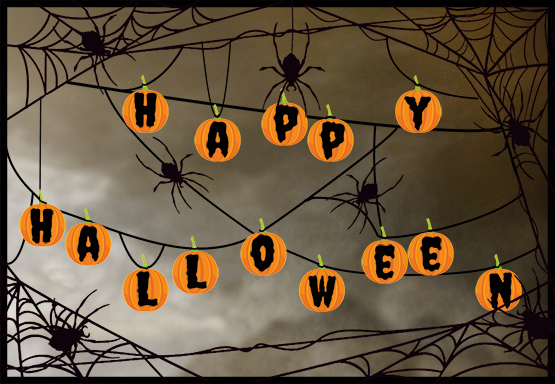 Spider web with pumpkins spelling Happy Halloween



Witch House Halloween card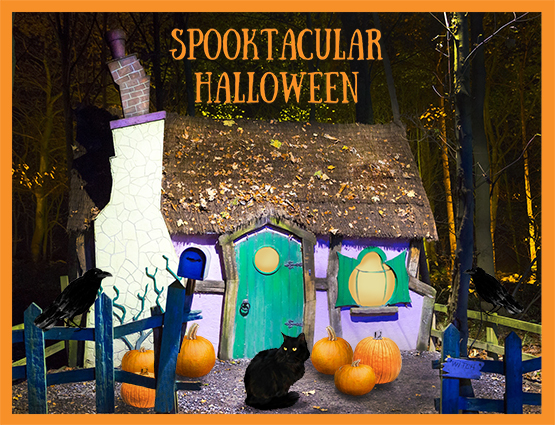 Witch house in forest with black cat, pumpkins and ravens

I have helped some of my friends restoring old vintage postcards, and I found some that I liked so much that I simply had to keep them for this page with Halloween greeting cards.
You can call them vintage or Art Nouveau, I am not sure which is most appropriate.
Anyway, I find them simply adorable and have restored them so you can print them with 300 dpi, and the size will be 9 x 13 cm (approx 3,5 x 5 inches).

Click the picture (not right-click, just click) and you will get the original size in a new tab.
Actually I have recently added a new page to Clipartqueen.com with Vintage Halloween Postcards!
Where Would You Like to Go Next?
| | |
| --- | --- |
| | |
| Cute Halloween Clipart: Funny and cute Halloween images for kids. | Halloween Clip Art: All kinds of drawings and cut-outs for Halloween greetings and invitations. |
| | |
| | |
| Halloween Borders and Frames: Borders with skulls, witches, cats and more, and also some Halloween frames. | Halloween Sayings: This is where you find the perfect Halloween quote and saying for your invitations and greetings. |
| | |
| | |
| Happy Halloween Images: Halloween images and clipart with a greeting | Halloween Pictures: Original photos of Halloween themed decorations with lots of pumpkin men and witches. |
| | |
| | |
| Halloween Coloring Pages: Find and print these great coloring sheets with Halloween themes. | Halloween Decorating Ideas: You will love these Halloween plates and table decorations. |
| | |
| | |
| Vintage Halloween Cards: If you don't find the card you are looking for here, maybe you should take a look at this page? | Bat Clipart: Wonderful images of bats of any kind as well as bat silhouettes and Halloween bats. |
| | |
| | |
| Halloween Party Ideas: A page where you can get ideas and descriptions of different games to play at Halloween. | Cat Clip Art: Lots of cat clip art, and you will also find black cat silhouettes to use for your invitations and decorations for Halloween. |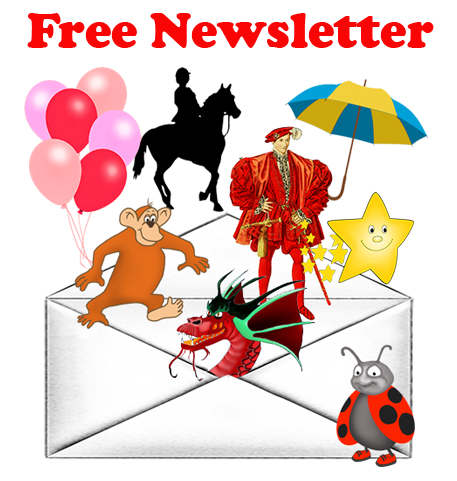 If you want to stay in touch and hear about new pages, tips and ideas about arts & crafts, please sign up for my newsletter. It is totally free, and you can unsubscribe any time!