I like birthdays. Now you know.
I have made a lot of pages about birthdays, you will be able to find an overview of all these pages on the main page Birthday Ideas and if you look at the bottom of this page you will also find links to all the pages.
You will also be able to find a page here with ideas about how you easily can make your own cute and funny birthday invitations for a child's first birthdays, with motives like a train, a helicopter, an elephant and stuff like that. Click here.
On this page I will, over time, give you a lot of free birthday cards, and I am sure you will find one you like.
These are my own original cards, so please only use them for personal use. Apart from that, go to Homepage to read about the very simple limitations for using my material.
Printable Birthday Cards:
First birthday card is here, with a tired and maybe a little depressed elephant celebrating one more birthday.
Funny printable birthday card with an old elephant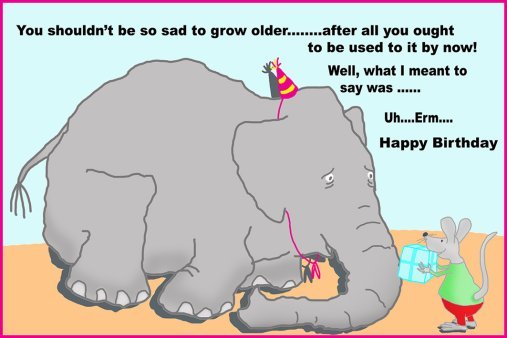 The next of these printable birthday cards is here, and it is actually a card to send, after you forgot the birthday :-)
It has the text: "I am SO sorry I forgot your birthday. (But how to you expect me to remember your birthday when you never look any older????)"
The size is approx 9 x 13 cm printed with 200 dpi, and that goes for most of the cards on this page.
A funny birthday card, to send when you forgot to send a card on time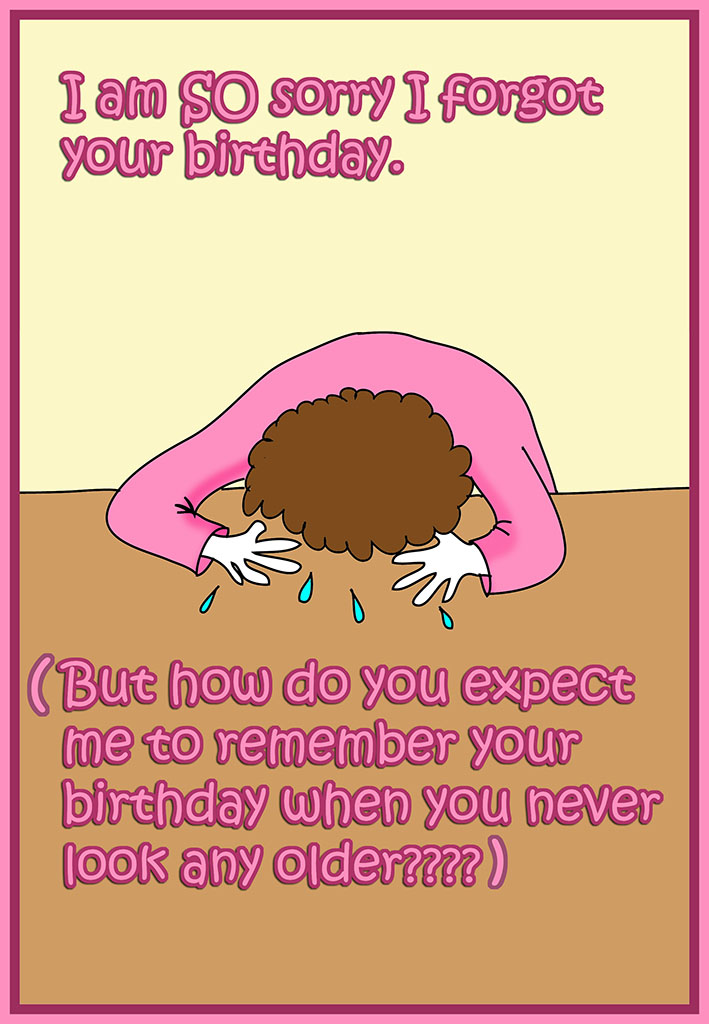 The next card measures approx 9 x 15, which means it is a bit taller than the others. It just seemed it had to be that way. Sorry.
The text says:
"Middle age is when your age starts to show around your middle. Bob Hope. (Happy birthday)"
and is meant as a funny birthday message for a good friend turning 40 or more.> You will find that these first cards will be great to use for friends and family members turning 40 or more. I have found some funny birthday sayings to use for the cards.

I have never had problems with birthdays and getting older (it kind of just show's you are alive) and I have tried to find sayings that are funny together with the drawings, but not in a negative way.
A funny birthday card about middle age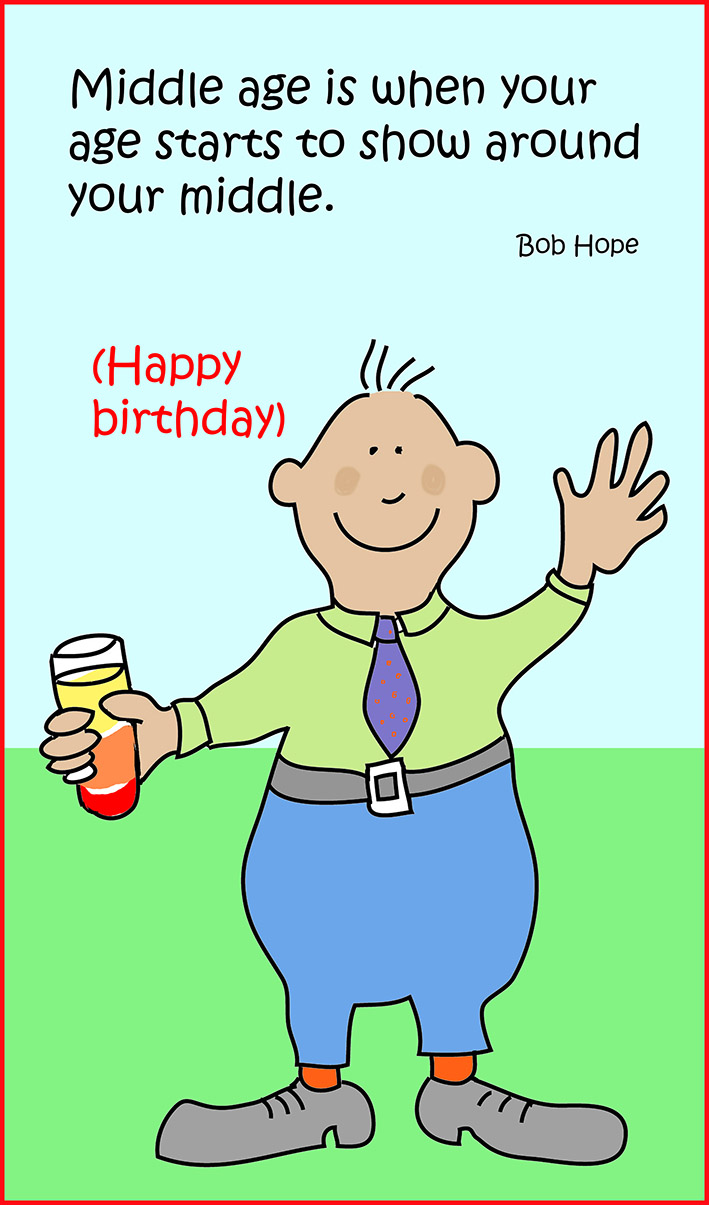 The following printable birthday card comes in two versions: One for men and one for women.
The text says:
"Happy Birthday. You know you're getting old when you and your teeth no longer sleep together."
Printable birthday card with a woman and her fake teeth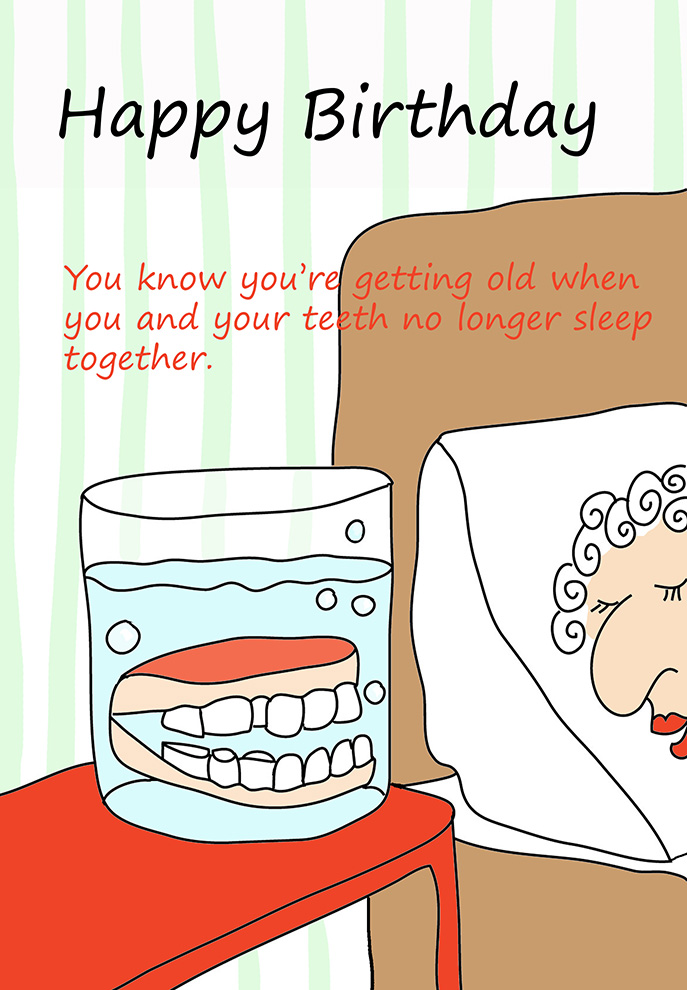 And here comes the version for men:
The text here is the same as above.
Happy Birthday card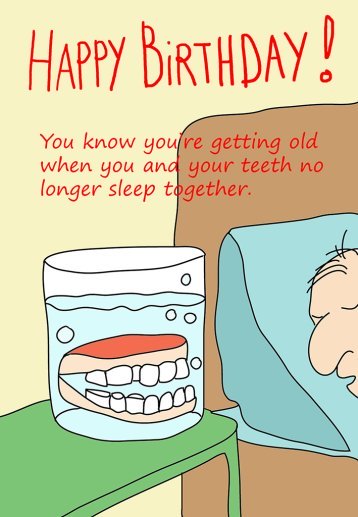 Another printable birthday card about getting older, with the funny birthday message:
"Happy birthday. You know you are getting old when the four-letter word for something two people can do together in bed is "read".
Printable Happy Birthday card about getting older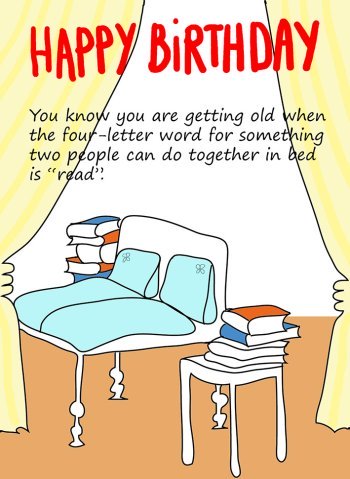 The next card wishing a happy birthday in a funny way, for you:
"As you get older, three things will happen.
first, your memory goes.
Then -- I can't remember the other two"
You can find a lot more funny birthday quotes and sayings on the page Birthday Quotes.
A birthday card about getting older and forgetting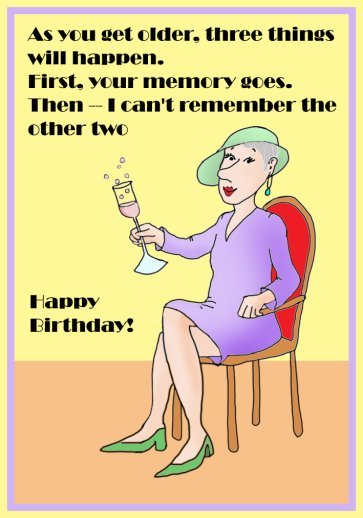 Two printable birthday cards are here, made out of a vintage poster and a little cute monster.
Click the card you like to go to the lager version in a new tab.
Then right click that one and save it, then print it.
These two cards are, when you print the large ones, 3,5 x 5 inches printed with 300 dpi.
The text on the birthday card with the little funny monster says:
"I wish you a super-duper fantastic hilarious enjoyable gigantic funny and happy Birthday!!!
The text on the next card, which is actually an invitation to a surprise party, says:
"Shh!! You are invited to a Surprise Party !! "
A funny greeting card with a small monster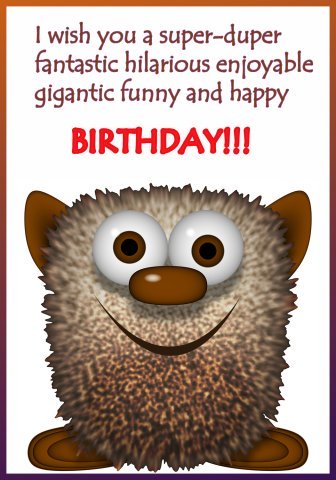 A surprise party invitation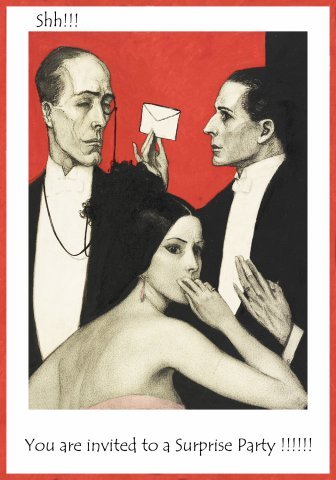 Finally again a printable birthday card with one of my own drawings.
"Don't you just love the smell of the birthday cake in the morning?"
Birthday card with a funny twist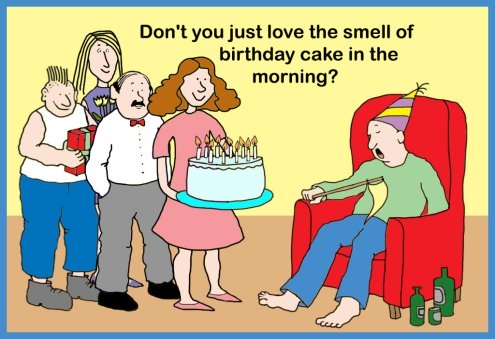 Printable Birthday Card with a Gorilla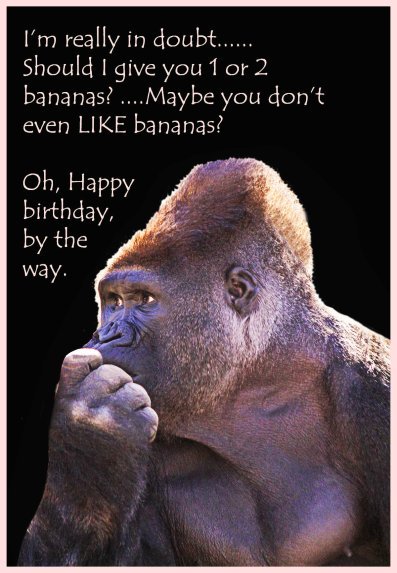 Above you find a wonderful free birthday card with a thoughtful gorilla.
"I'm really in doubt....
Should I give you 1 or 2 bananas?.....
Maybe you don't even LIKE bananas?
Oh, Happy birthday by the way."
One more birthday card with an animal, but this time it is with one of my tiger drawings. You will soon be able to find some more on a new page with birthday cards for kids.

On this funny greeting card you can see the tiger reading a birthday card with a picture of a tiger reading a birthday card with a picture of a tiger .......
These tiger birthday cards a some of my own favorites, so I hope you will like them.
Happy Birthday Tiger!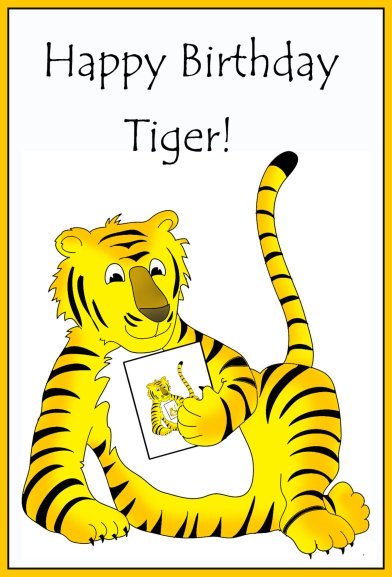 Well, it seems the animal birthday cards are here to stay.
Here is a birthday card for you friend, with penguins and balloons.
Funny happy birthday greeting card with penguins and balloons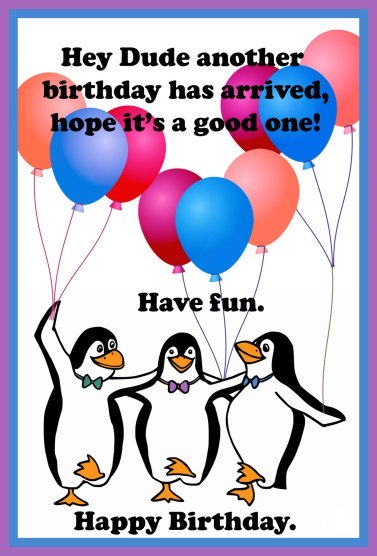 If you want ideas for celebrating birthdays, please take a look at some of all the birthday pages on this site. See below:
Where Would You Like To Go Next?
| | |
| --- | --- |
| | |
| Birthday Ideas: This is the main page for all the pages here with birthday related topics. Find what you are looking for in the overview on this page. | Birthday Clipart: All kinds of wonderful birthday clipart, with balloons, flowers, gifts etc. |
| | |
| | |
| Birthday Card Messages: If you are in need of a birthday message and a birthday greeting, try visit this page. | Birthday Coloring Pages: Funny and cute birthday drawings to color. |
| | |
| | |
| Printable Cards: This is the main page for all the pages here with printable cards, with an overview. | Birthday Card Sayings: Sayings for cards and greetings and even birthday speeches. |