Useful in birthday speeches or as birthday card messages, birthday quotes contain funny, inspiring, sentimental, or practical ideas about birthdays and growing old.
They can provide people with a laugh when they need it the most or advice regarding the benefits of birthdays and the wisdom we gain with each passing year of our lives.
Most of these happy birthday greetings are quite short and will work well for happy birthday SMS messages.
You can also use them on the cell phone together with a flower clipart, or a birthday clipart, instead of making a call or sending a birthday card.
I have chosen all these funny birthday greetings and quotes, all of them makes me laugh, and I would love to receive one of them as a birthday greeting on my own birthday.
Quotes and Sayings for the Mature Set
Many quotes about birthdays come from famous people:
• And in the end, it's not the years in your life that count but the life in your years.--Abraham Lincoln
• A friend never defends a husband who gets his wife an electric skillet for her birthday--Erma Bombeck
• A diplomat is a man who always remembers a woman's birthday but never remembers her age. --Robert Frost
• All the world is birthday cake, so take a piece, but not too much. --George Harrison
From birth to age eighteen, a girl needs good parents. From eighteen to thirty-five, she needs good looks. From thirty-five to fifty-five, she needs a good personality. From fifty-five on, she needs good cash. --Sophie Tucker
• You know you are getting old when the candles cost more than the cake. --Bob Hope
• Please don't retouch my wrinkles. It took me so many birthdays to earn them. --Anna Magnani (Italian actress).
• With mirth and laughter let old wrinkles come. --William Shakespeare
• Age is strictly a case of mind over matter. If you don't mind, it doesn't matter. --Jack Benny
• After 30, a body has a mind of its own. --Bette Midler

Happy Birthday Song:
Well-known happy birthday sayings include the lyrics from the traditional "Happy Birthday" song:
Happy birthday to you
Happy birthday to you
Happy birthday dear (name)
Happy birthday to you.
From good friends and true,
From old friends and new,
May good luck go with you,
And happiness too.

Funny Birthday Sayings:
Prominent comedians often invent funny birthday quotes and become famous for saying them, such as:
• For my birthday, I got a humidifier and a de-humidifier... I put them in the same room and let them fight it out. --Steven Wright
• I'm sixty years of age. That's 16 Celsius. --George Carlin.
• Looking fifty is great--if you're sixty. --Joan Rivers
• My grandmother started walking five miles a day after her 60th birthday. She's ninety-seven now, and we don't know where the heck she is. -- Ellen DeGeneres
• As you get older, three things will happen. First, your memory goes. Then--I can't remember the other two. --Norman Wisdom
• When I was young, I was called a rugged individualist. When I was in my fifties I was considered eccentric. Here I am doing and saying the same things I did then and I'm labeled senile. --George Burns

40th Birthday Quotes
Birthday quotes regarding someone turning 40 usually talk about middle age woes and the fact that they are now leaving their younger years behind.
Humorous, inspirational, including 40th birthday quotations, or funny birthday sayings in a speech or card is an excellent way to enhance both items and make the birthday honoree feel recognized.

• Life begins at 40--but so do fallen arches, faulty eyesight and arthritis, as well as the tendency to tell the same story to three or four different people. --Helen Rowland (writer).
• At the age of 20, we don't care what the world thinks of us; at 30, we worry about what it is thinking of us; at 40, we discover that it wasn't thinking of us at all.--Unknown
• What most persons consider as virtue, after the age of 40 is simply a loss of energy--Voltaire
• Forty is the old age of youth; fifty is the youth of old age. --Victor Hugo
• I'm not 40, I'm eighteen with 22 years experience. --Unknown
• Forty isn't old--if you're a tree. --Unknown
• By the time you reach 40, you've met so many people that every new person you meet reminds you of someone else. --Ogden Nash
• Turning 40 means having a choice between two temptations and choosing the one that'll get you home earlier. --Dan Bennett

Homemade Birthday Card with Happy Birthday Qoutes:
Making a homemade birthday card and writing happy birthday quotes in the card shows the recipient you have put a lot of thought into their birthday.
Here are instructions to make a birthday card using cardstock and clipart from Birthday Clipart:
Materials you will need:
• Black cardstock (or any color you want for the actual card)
• Appropriate clipart
• Decorative scrap paper
• Glue or rubber cement
• Craft knife
• Ruler
• Self-adhesive foam squares or dots to add dimensional qualities to some collage pictures
Find the Birthday Clipart you want to attach to your card, print them and cut the images according to their shape or as circles or squares.
One idea to create a more artistic card is to print out your clipart images on sketchpad paper. This way you could paint them using watercolors, such as brown to give your card an antique appearance.
Arrange your collage using scrap paper pieces and clipart the way you want them on cardstock before pasting them.
Attach foam to the back of some clipart to add depth to the card.
Tear the sides of the card with your fingers to design an "old" look or embellish edges with lace, sequins or beads.
Add birthday quotes after glue has dried using white ink and a calligraphy pen.

50th Birthday Sayings
The 50th birthday is famous for being an "Over the Hill" birthday celebration. Many 50th birthday quotes are quite funny, such as these by famous and not so famous people:
• Fifty years old, 212 fights, and I'm still pretty. --Mohammad Ali
• I have everything now I had twenty years ago—except now it's all lower. --Gypsy Rose Lee
• Now that I am 50, I love everything that's old: old friends, old times, old manners, old books, old wines. --Oliver Goldsmith
• Happy 20th anniversary of your 30th Birthday! -- Anonymous
• You're not 50, you're 49.95, plus tax! --Anonymous
• Don't worry about avoiding temptation once you turn 50. As you grow older, it will avoid you. --Anonymous
• After fifty, everything that doesn't hurt doesn't work! --Anonymous

Funny Happy Birthday Card:
Here is a thoughtful yet humorous card you can make for someone celebrating a 50th birthday:
Create a blank card out of any color of cardstock you wish.
Using colored pencils or thin-tipped markers, think of 50 different words that describe the birthday boy or girl and write them all over the card.
Leave room in between the words to paste Birthday Clipart.
Resize the images if you have to in order to make them fit among the words.
Enhance the card with a decorative border consisting of stickers, stamps or paper lace. Write meaningful birthday quotes or birthday sayings inside the card.
Try making one up that refers to the person's hobbies or something for which he or she is known.
For example:
Jane likes her garden
She's always weeding or hoeing
But now that it's her 50th birthday
She might have to take up sewing!

60th Birthday Quotes
At this age, people turning 60 look forward to many laughs and jokes at their birthday parties, so don't disappoint them by providing a chuckle with these funny birthday sayings:
• One starts to get young at the age of sixty and then it is too late. -- Pablo Picasso
• Wow! It only took you sixty years to look this good! --Unknown
• The trouble with turning 60 and retiring is that you never get a day off. --Abe Lemons
• After a man passes sixty, his mischief is mainly in his head. --Washington Irving
• At 60, you at least have excuses! --Unknown
• You know you're getting old when you get that one candle on the cake. It's like, see if you can blow this out. --Jerry Seinfeld

Funny Birthday Jokes about Getting Old:
Here are some funny "you know you're old" birthday quotes that could be used to liven up a speech or if you are roasting the birthday guy or gal:
You know you're old.............
• When you are sleeping, people worry that you're dead.
• When your friend is going out with someone half their age--but they aren't breaking any laws.
• When you wear socks with sandals.
• When you idea of a "night out" is sitting on your front porch.
• When getting lucky means you finally found your car in the mall parking lot.
• When you've forgotten it's your 60th birthday party.
• When your joints are better at predicting the weather than the National Weather Service.
• When you are proud of your lawnmower.
• When you learn where your prostate is located in your body.
• People call you at 9 P.M. and ask, "Did I wake you?"

Happy Birthday Greetings:
Nice, friendly happy birthday sayings for people with whom you do not know well enough to share a "getting old" joke includes these generic but safe birthday card messages:
• On this special day, as you celebrate your birthday
Here's wishing you much happiness and sweet surprises
And a joyous happy birthday!"
• For your 60th birthday--
Wishing you a life filled with love, joy, peace and health.
Today and all year through
• A happy birthday greeting!
Here's wishing you all the special things in life
That bring you happiness.
Have a lovely day!

Instead of spending hours at the mall searching for the right card, create your own card by printing Birthday Clipart and using craft items such as cardstock, markers, foam, glitter glue, beads, ribbon, lace, stencils, stickers and rubber stamps and the right birthday quotes.
Or............ find a birthday card here, on this page Funny Birthday Cards.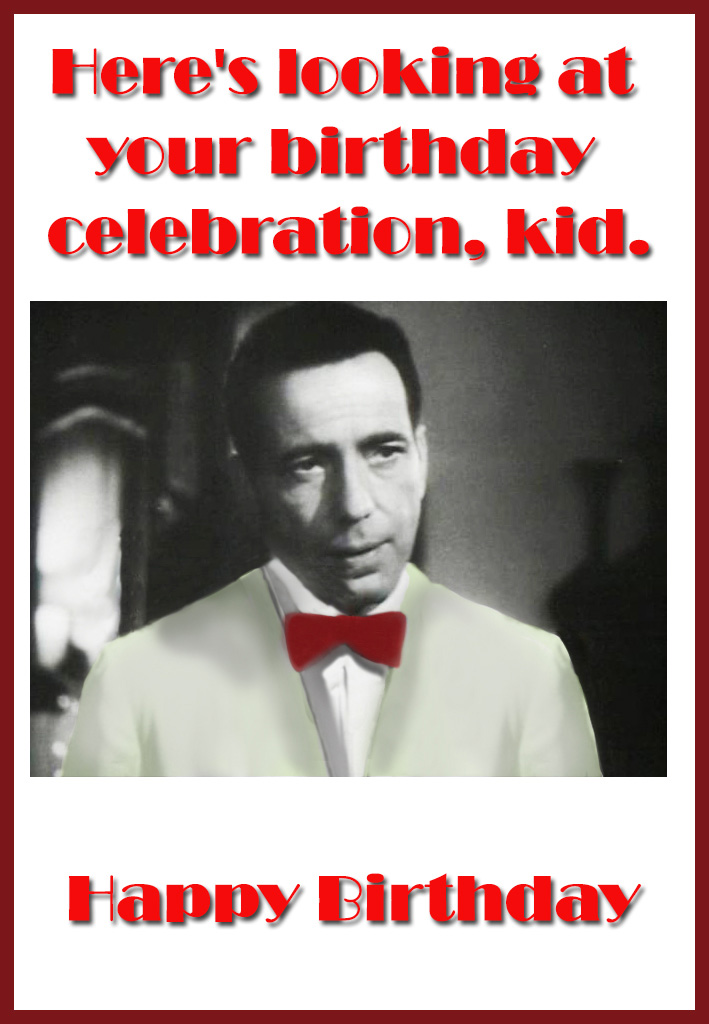 Unconventional Birthday Quotes
These funny birthday sayings will complement any off the wall gift or card you choose to give to the birthday honoree. Based off famous movie sayings and slightly altered to present humorous birthday quotes, these happy birthday sayings will compliment playful birthday cards:
• "What we've got here is--failure to celebrate enough for your birthday."
• "Here's looking at your birthday celebration, kid."
• "Fasten your seatbelts. It's going to be a bumpy birthday celebration."
• "Don't you love the smell of birthday cake in the morning?"
• "It's time to celebrate your birthday--And we're not going to wait anymore!"
• "There's no place like your birthday party."
• "You've got to ask yourself one question--do you feel lucky because it's your birthday?"
• "It's elementary, my dear (name) because it's your birthday."

You can also print banners containing funny birthday quotes using your computer, banner paper and Birthday Clipart.
Insert an image of the birthday honoree at both ends of the banner and hang it over the doorway leading to the main party room. Decorations, as well as cards, can be fun as well!
The number of original cards you can create is endless with the availability of clip art and birthday quotes. With some thought and a little time, you can create a special message that the birthday person will always treasure.

Where Would You Like To Go Next?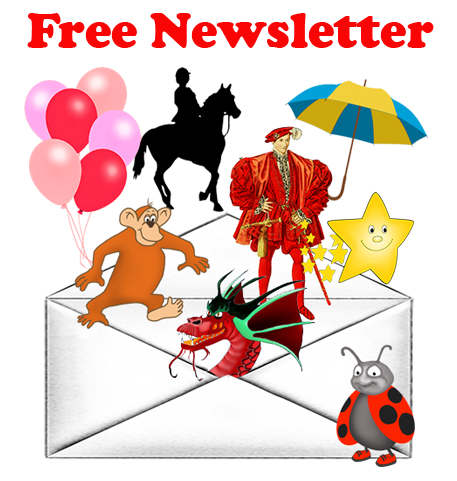 If you want to stay in touch and hear about new pages, tips and ideas about arts & crafts, please sign up for my newsletter. It is totally free, and you can unsubscribe any time!