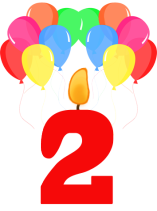 Your little one is turning 2, you are arranging a birthday party and so I hope you will find a lot of useful 2nd birthday party ideas here on my website.

These years in the child's life are amazing and wonderful to follow. In the last year the child has gone from taking her or his first step to walking safely beside you, and your child even wants to go exploring.


This also means that a 2nd birthday party can be quite different from a 1st birthday party. The birthday child will enjoy the attention (though not too much of it, attention can become rather tiresome in large doses), he or she can now play with other children, or at least stand watching each other playing, and the child can even take part in decorating for the birthday party.
Ideas for birthday presents for 2nd birthday party:
If you are the parent of the birthday child, most likely you know what kind of present the child would like. Still, you might get some new ideas looking at these pictures. And if you, like most parents, get the question again and again: "What does he/she want as a birthday present ?" then you can give them a link to this page.
That the birthday child is turning two means that all gifts that helps the little one explore the world indoor and outdoor will be great. Balance bikes, swings, toy cars and little motor bikes you can move with your legs, balls.
But also books, you can read for the toddler, with lots of pictures and maybe even books that make sounds!
At least, but not last, everything they can use to stable and build and make move and then topple, and then they can stable and build and make move and so on........
I'll show you some pictures of presents that would be great for a 2 year old child:
2nd birthday present ideas, balls, puzzles, dolls and a toy stove
A Bicycle is the perfect birthday gift for kids. You
can start with a balance-bike which is a really great
way tor your child to improve their sense of balance,
and they will love to be able to get around fast.

A bicycle not only helps your child to work on his or her
balance, but will help them to develop their muscles from an
early age, fight off obesity, and get them out of the house.
The little ones just love to play kitchen, serving you all kinds of funny food
Everything connected to water will be a great 2nd birthday present, as well as everything you can build and stable and topple and build and change.....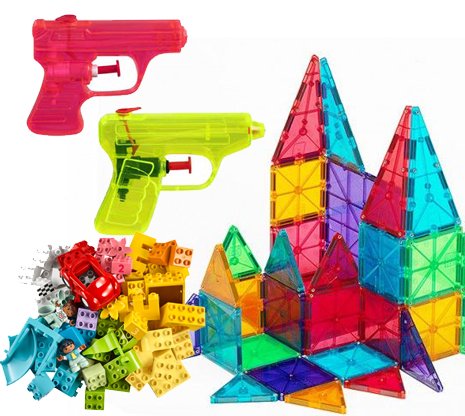 Books, to help the little one relax when she or he is tired after climbing and running around.
Books is really one of the great ideas for birthday presents, almost at any age, but now turning 2 the little one will love to hear bed time stories.

It should still be books with pictures and only a little text, and the child actually needs the grown up to read lots of stories to learn all the words he or she shall use in the years to come.

It can be books where there is a picture of all the everyday thing a girl or boy will do, like getting up, brushing teeth and so on.
It can also be books with simple songs, maybe some of the songs the child also learns in kindergarten, and it can be books where the child can press buttons and it makes a noise.
You can find specific
educational toys
for toddler, but actually all the toys you could think of as a birthday present will be educational, be sure that the toddler herself will take care of that!
Printable Happy 2nd Birthday Card and 2nd Birthday Wishes
Here on this page you find 11 free second birthday cards, with dinosaurs, monkeys, teddy bears and cute little kittens.
There will even be some birthday cards with funny pirates and a pirate ship.
In between all these birthday cards you find lots of 2nd birthday wishes and poems, and here comes a couple more:
"Two is a special number – we all have two ears, two hands, two feet and two nostrils. And
guess what? You are two today! Happy 2nd Birthday!"
"Congratulations for turning 2. Now you are old enough to eat your birthday cake all by yourself. Happy birthday. "
Happy 2nd birthday card with two dinosaurs

Two of each kind, 2nd year birthday card with apes and elephants

Cute elephant birthday card girl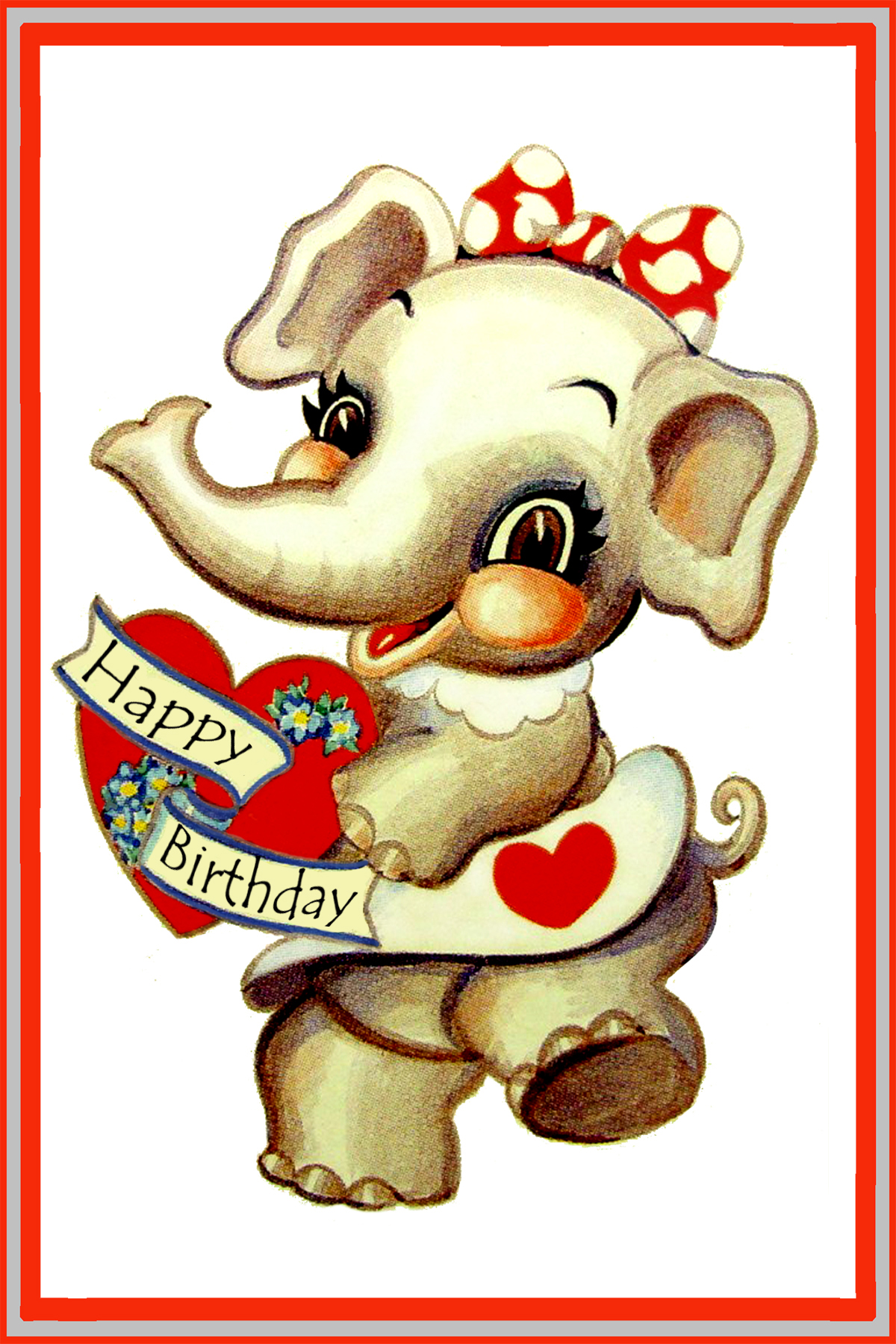 Happy birthday greeting card for 2nd birthday

Gorilla wishing you a happy birthday card

Free 2nd birthday party invitations
Here you find 10 free printable 2nd birthday invites, together with some other, funny and cute invitations wordings for the birthday.
Here are a couple more:

"Ahoy Matey
Ye be invited to
xxxxxxx's 2nd
birthday party!
Join us at your own risk"

"Ice cream, cake and fun with you.
xxxxxxxxxx is turning two"
Now when your toddler is turning 2, you'll need some 2nd birthday invitations, and maybe some birthday invitation wording for the invitations.
You can start having themed birthday parties now. Most toddlers will be happy to have any kind of birthday theme, as well as a birthday without a theme, but for the fun of you and the guests there are a lot of themes you can choose.
To go with the different themes of course you will have to send out birthday invitations that fits the theme.
Here are 10 free invitations for 2nd birthday party. Some of them are invitations you will also find as 1st birthday invitations, just a little different (the text, of course :-)), but I have also made a lot of new 2nd birthday invites for you.
Funny 2nd birthday invitation apes having a party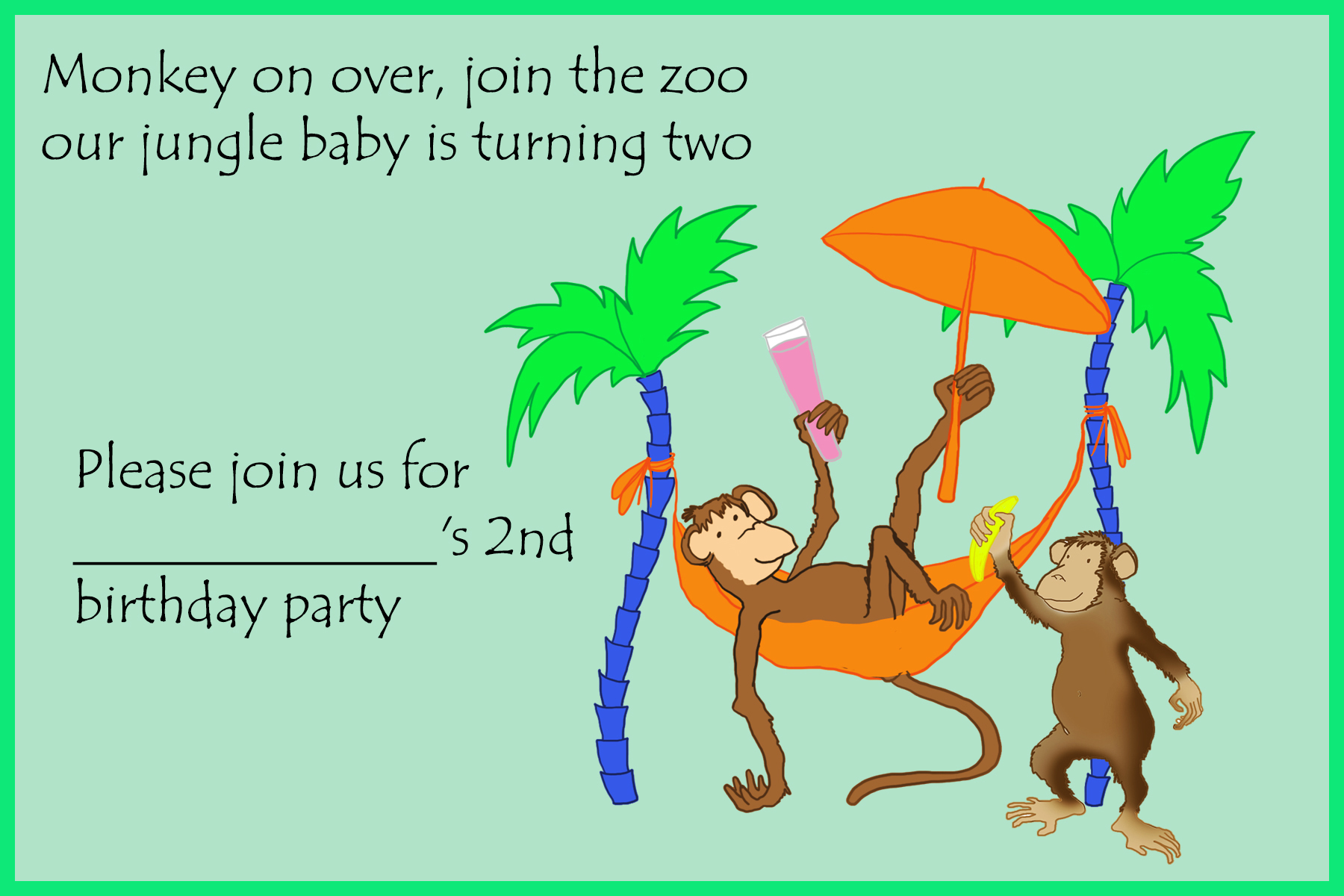 Birthday train invitation for second birthday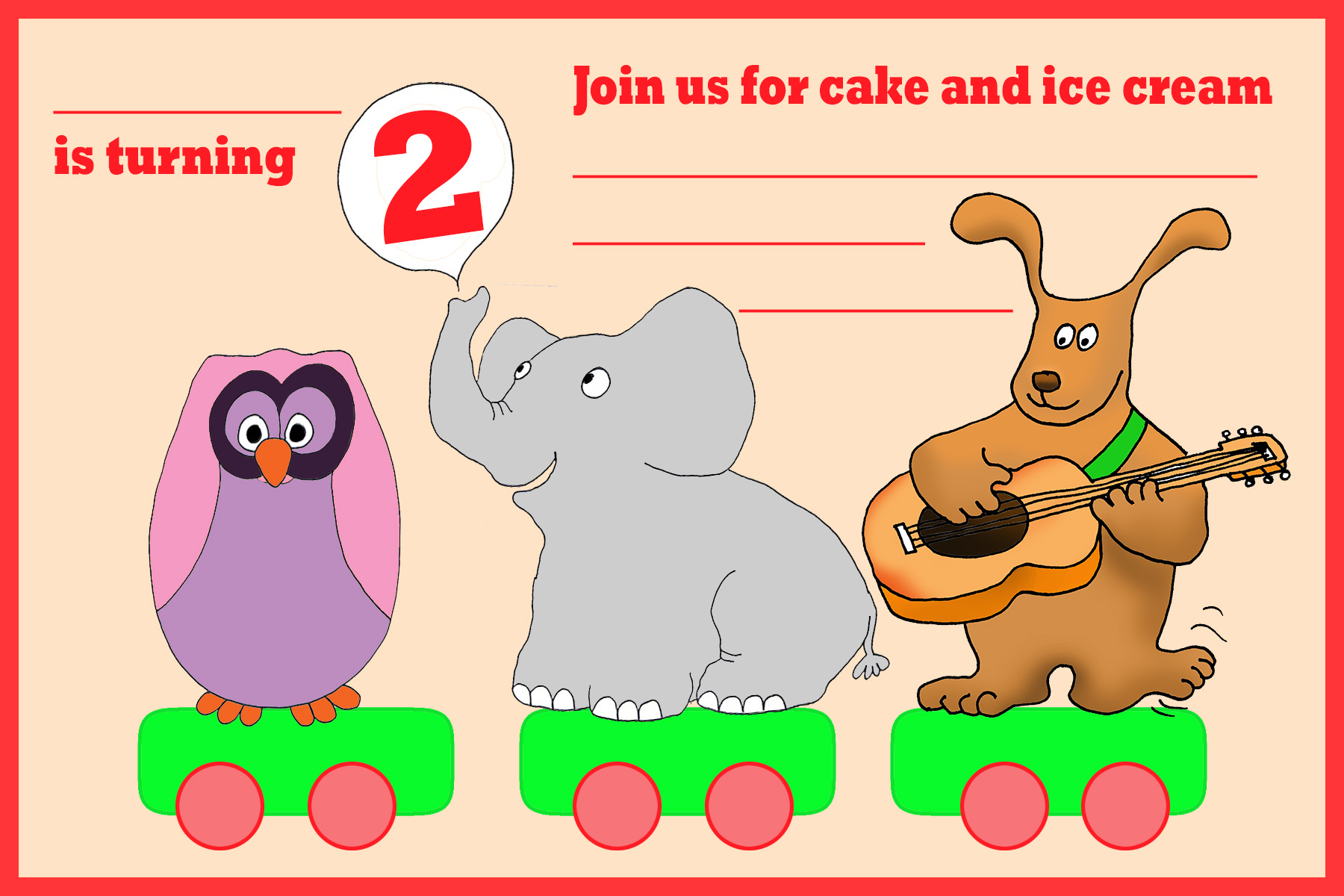 Dog musicians playing 2nd birthday invitation or card

| | |
| --- | --- |
| Cute vintage birthday invitation | 2nd birthday invite |
| | |
| | |
| | |
| Printable birthday invitation | Ball theme birthday invitation |
| | |
| | |
| | |
| Girl birthday invitation 2nd birthday | Printable cheap birthday invitation 2nd year |
| | |
| | |
As you might have noticed I have used different 2nd birthday invitation wordings on these invitations. If you want to add something on the back of the card, or just are looking for a birthday wording, here are some you could use:
2nd Birthday Invitation Wording:
"Our little monster is turning 2
Join us to celebrate xxxx's birthday"

"Someone special is turning two
and he wants to party with you"

"Someone sweet is turning two
We're having a party, and we need you!"

"Our little girl is turning two!
We can't wait to celebrate with you....
We'll have ice cream and cake!
It's a birthday party we hope you can make"

"A pink cupcake is
waiting for you....
Join us to celebrate

xxxxxxxxxx turning TWO!"

"Toot the horn! Bang the drum!
It's a party! Can you come?
xxxxxxxxx is turning 2"
2ns birthday ideas for cake:
Take a look at the cakes I suggest for the 1st birthday, those would also be the ones I would suggest for the 2nd birthday.
2nd birthday party themes
Turning 2 the birthday child will be old enough to enjoy a birthday theme, like a pirate theme, a dinosaur theme or a princess theme.
Other than that, I can imagine a superhero theme would be great, or a theme where they could dress up as knights? Animal costumes are always cute and funny, and if you need a theme for that, maybe a jungle theme, or a zoo theme.
For other theme ideas, take a look at the page, picture link below, for kids' birthday party ideas.
Where would you like to go next?
| | |
| --- | --- |
| | |
| Birthday Clip Art: All kinds of birthday graphics to use for your invitations and table cards. | Birthday Ideas: If you are in need of an idea for arranging a birthday party, here is where you can find it. Take a look at the overview. |
| | |
| | |
| Kids' birthday party ideas: This is the page where you find an overview of all the great pages here with kids' birthday themes, birthday cards, invitation and a lot more. | Birthday coloring pages: Here you find lots of funny and cute coloring pages with a birthday motive. |
| | |
| | |
| Pirate party ideas for kids: Lots of great ideas for arranging a pirate party | First birthday party ideas: Even if your kid turns 2, you can get a lot of ideas from the page as well |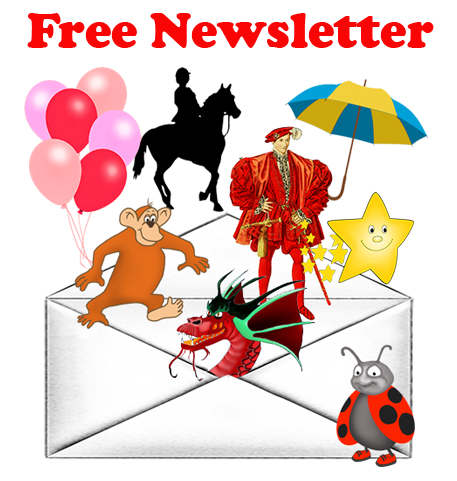 If you want to stay in touch and hear about new pages, tips and ideas about arts & crafts, please sign up for my newsletter. It is totally free, and you can unsubscribe any time!