Here on the page with pirate party ideas you will find a lot of great stuff and ideas for a pirate themed birthday party for kids of age 1 to 14 years.

You can by a lot of pirate costumes, pirate flags and lots of other stuff for the pirate birthday, as well as a treasure chest for the hidden treasure, and you can find ideas for pirate food on the internet, but on this page you will find free, great pirate themed birthday party invitations with Blackbeard, girl pirates, child pirates, pirate ships and treasure chests.
Also lots of ideas for some great and funny pirate games, templates for a pirate map and ideas for some decorations for the pirate themed birthday.

Pirate Party Invitations for Kids:
Pirate themed invitations with pirate ships, pirate girls, treasure chests and parrots. What more can you possibly want?
These pirate party invitations for kids are genuine and you can use them all for free for your own private use. If you want to use them for anything not-private please go to Homepage to read about the rules for using my material.
All these pirate themed birthday invitations are 4 x 6 inches printed with 300 dpi, which is a really good quality. Save them and print them, and where it is needed add the information by hand. Otherwise save them, and print the information in a drawing program of some kind. On some of the cards you will have to add the where and when on the back of the card.
| | |
| --- | --- |
| Blackbeard pirate invitation | Girl pirate birthday invitations |
| | |
| | |
| | |
| Girl pirate and boy pirate invitation | Birthday pirate invitation with parrot |
| | |
| | |
| | |
| Ahoy Matey birthday invitation | Ahoy there Matey! birthday invitation |
| | |
| | |
| | |
| Pirate themed invitation for party | Pirate themed birthday invitation |
| | |
| | |
| | |
| Pirate party invitation with pirate ship | |
| | |
| | |
Pirate Party Games for Kids' Birthdays:
If you are arranging a pirate themed birthday for your child, then of course you will have to think of some pirate games.
If possible a pirate treasure hunt is a must, read suggestions for that
on this page
and below.
Apart from the treasure hunt I have collected some very funny birthday games with a touch of pirate and dangerous times :-) As I guess you can see, almost any party game can be changed into a game that has something to do with different themes, but I think the games I describe here are really great for a pirate party birthday.
I have tried to make notes of which age, number of participants, what you need and for some games that they are certainly best outdoor, but it is just an advice.
Pirate Party Games:
1st. pirate game: Lined Up to Walk the Plank
Age: 6 and more. Number of participants: 3 and more You need: A scarf for each kid
You know, when you read a story with pirates, there is almost always someone who has to walk the plank. Wendy had to, but was saved by Peter Pan, and your pirate guests can be saved as well.
Be sure there is enough space where the game shall take place, the more kids the more room is needed to avoid kids bumping into furniture and stuff.
Now you tell the guests that they have been take prisoner and they are on a pirate ship where they have to walk the plank, all of them. So they will have to line up in a row to go to the plank.
The only way they can avoid that is if they can manage to make the row with the smallest (lowest) child first, then the next and so on, ending with the tallest child. The difficult thing is that they have to do it blindfolded, and without saying a word or sound!
All the kids get blindfolded, and you blow a whistle or shout "start the row for the plank!". Now they shall get hold of each other, feel the height of the other and themselves, then make a row with the tallest child in the back and the smallest child in the front.
Hopefully they can make the row with the right height difference, (maybe with a little help) so they can be saved from the terrible fait of walking the plank.
2nd pirate game: Topple Tins
Age: 7 and more Number of participants: 2 and more You need: 10 - 15 empty tins (be aware there are no sharp edges) or plastic cups, foam balls (or water balloons if outside, or any soft balls) Build a pyramid out of the tins with either 4 or 5 at the bottom.
Make a line a little away from the tins. Now the kids shall throw the ball, each kid has 3 -5 attempts, and gets 1 point for each toppled tin. Build the pyramid again for the next kid to throw.
This is a really fun birthday party game, and to make it fit the pirate theme you can decorate the tins with black paper with a white scull and bones, or white paper with a face of a pirate. Painting the pirate faces on the tin can be part of the game.
When this game is played at a 10 year birthday and if the kids are really great at throwing the ball, you can add the rule that they have to throw the ball with the left hand, if they are right-handed and vice versa.
3rd pirate game: Getting Warm
This well known children's game can easily be combined with the pirate theme.
Age: 4 and more Number of participants: 2 and up to 6 You need: 2-6 big cardboard keys, a treasure chest (you can easily make it yourself of a cardboard box) and a treasure (candy, cakes or something like that)
I would play this game with the children at the birthday party if I didn't make a treasure hunt.
A pirate treasure chest has been found, but the pirates will have to find all the keys to open it. You have already placed a number of big cardboard keys different places in the room/rooms. (If you like you can use this template for the keys.
Now the first pirate child has to find a key. You are the only one who knows where it is, and tell the child: "It's getting hot" "It's getting hotter" and so on, as long as the child gets nearer to the key you have decided on. "It's getting cold" "Oh, it's really getting colder" when the child moves away.
When the first pirate child has found the key you will lead the next child to another key, until all the kids have found a key. If the children are very young, and if there are more than 5 children, I suggest you make them search for keys two and two, holding hands.
Now you pretend to use all the keys to open the treasure chest, and the children will get their pirate treasure.
Printable treasure chest key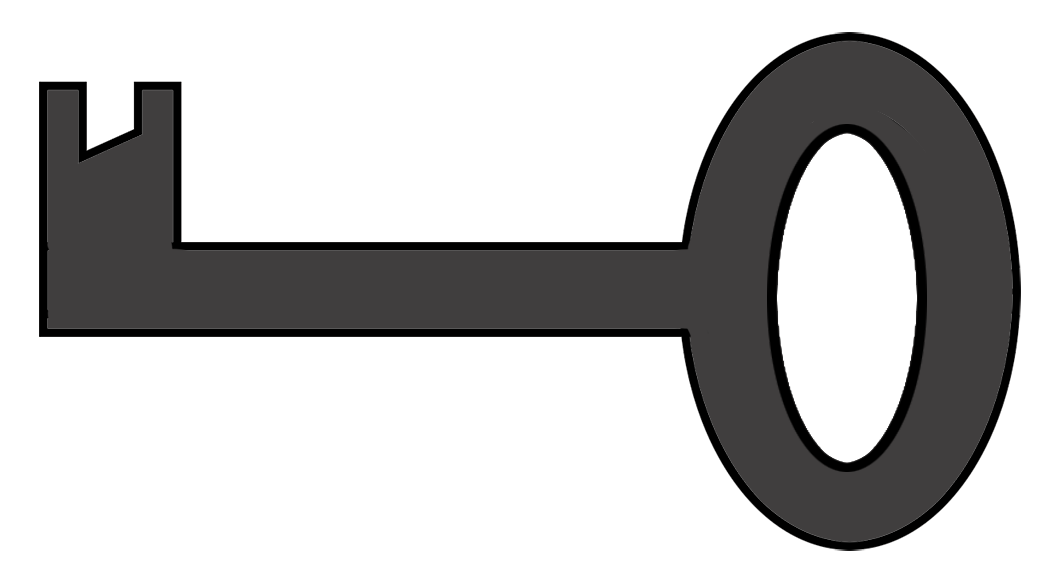 4th. pirate game: Fetch Drinking Water for the Pirate Ship:
Age: 4 and more Number of participants: 6, but more is better Where: Outdoor You need: Two small buckets and two similar glasses
All the pirates will have to practice to fetch drinking water for when their pirate ship abut on a deserted island, so they should stand in two rows.
The first in each row is handed a bucket filled with water. Now the child with the bucket hands over the bucket to the next in the row, who hands it over to the next and so on. When the last child in the row gets the bucket, she or he hands it back, which goes on until the bucket gets to the first child again.
The children have to do it without wasting too much water, but also fast, because you never know if there are any natives who might want to come and steel the pirate ship.
When the bucket has passed all the way back and forth in the two rows, you fill the glasses with what water is left, and the team with most water left is the winner.
You can play a pirate song and ask the children to pass the bucket in rhythm with the music (Hey - Ho -Hey - Ho or something like that), and if the children are really good at not wasting the water, you can make it more difficult (and fun) telling them to let the bucket pass back and forth one more time, but this time pass it between the legs.
5th pirate game: Pirate in Sight!
Age: 4 and more Number of participants: 6 and more Where: Outdoor You need: Rope or chalk to mark out the field, or maybe just a stick to mark a lines in sand or soil. A pirate captain hat would be a great, but not required.
Mark a field approx. 16 ft x 50 ft. This is the ocean, and the pirate captain stands in the middle of the field. All the other children divides into two groups, one at each short end of the ocean.
When the pirate captain shouts: "Pirate in sight!" all the children will have to cross the ocean from one end to the other and the pirate captain will try to catch them (They are caught when touched by the pirate captain).
Those who get caught are now pirates, and the pirates hold hands two and two or tree, and they try and catch the other children when they cross the ocean. It is still the original pirate captain that shouts "pirate in sight!" The child who gets caught last shall be the pirate captain next.
Kid's pirate party greeting cards
| | |
| --- | --- |
| Happy birthday pirate greeting card | Happy birthday octopus and pirate flag |
| | |
| | |
Pirate Party Ideas for Decorations:
For the pirate birthday party you can find lots and lots of ideas in Pinterest, or search the internet in general for decoration ideas.
Here you get a cross-bone with a skull template. You can use it for banners, or print it and cut it for table decoration.
Pirate cross-bone and skull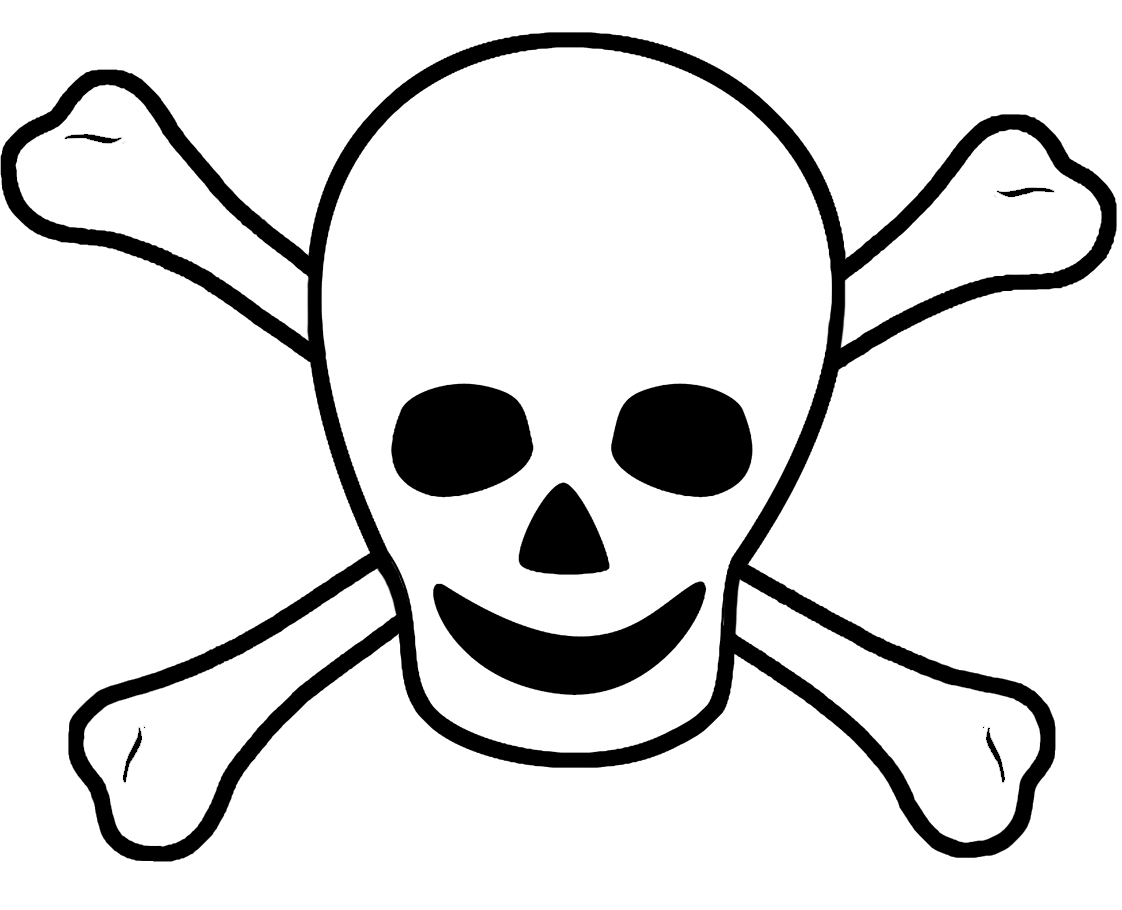 Pirate party idea for a banner

Pirate Treasure Hunt:
You can make all kinds of stories for a treasure hunt, as pirates are known to dig down treasures.
Here is a template for a pirate treasure map. You can print it and draw your own map, like the one very simple I made for a 3rd year birthday. And you can use it outdoor as well as indoor.
Pirate map template

Treasure hunt pirate map template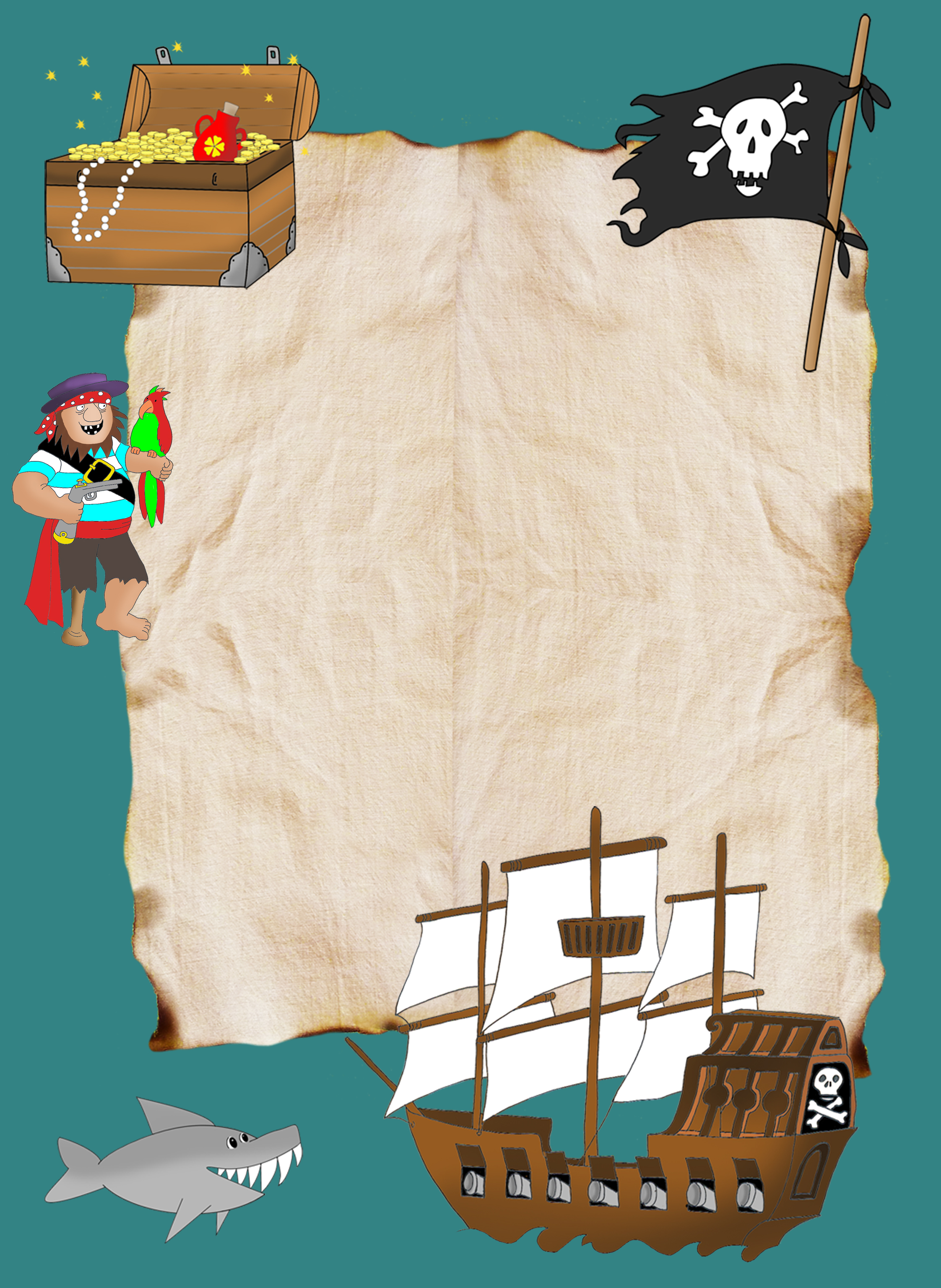 Example of a treasure map, showing the different places to find a post, and finally the treasure buried.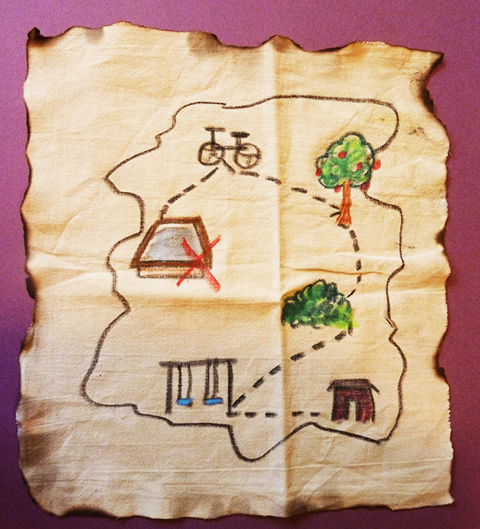 You can by a treasure chest for the treasure, or you can use bags, anything will be OK as long as the kids get a treasure they like!
I have used chocolate gold coins for the treasure, sometimes with other kinds of candy, because the coins are so golden and make the treasure so real.
Pirate talk and pirate invitation wording

A booty..................... a treasure
Ahoy!........................ Hello!
Ahoy, Matey.............. Hi my friend!
All hands hoy!............All hands on deck!
Aye........... .................Yes
Aye, aye Captain... .....Yes Captain, I'll do that
Blimey!....... ...............Surprise, Oh dear!
Fire in the Hole ......... Warning given before a cannon is fired
Shiver me timbers ......expression of great surprise
Walk the plank ...........prisoner shall walk a plank to fall into the ocean
You can find more pirate talk on this
site.
Ahoy me mateys!
Lets go find treasure and gold
Captain xxxxx
is turning 5 years old!
Sail on over and drop
Ye anchor for a pirate party!

Come in Ye pirate wear - if you dare!

RSVP With first mate kelley 99999 or Ye be walking the plank!
'''''''''''''''''''''''

Pirate party
Captain xxxxxx
Is looking for shipmates to celebrate his 5th birthday.
Come join .....

''''''''''''''''''

Yo Ho! Let's Go!
First Mate xxx is turning 3!
Come aboard and celebrate.

''''''''''''''''''''''

Ahoy Matey
Come if ye dare to
the 4th Birthday Party of
xxxxxxxxxxxxxxxx
Hope you can come to my parrrrty!

'''''''''''''''''''''''''''

Come aboard for a Pirate of a Time
as we celebrate
xxxxx's 4th Birthday

''''''''''''''''''''''''''''''''''''''''''

Arrrgh! Pirate xxx is turning 6

Avast Matey!
Ye should wear a pirate costume.

'''''''''''''''''''''''''''''''''''

Ahoy there me mateys
Drop anchor and come ashore for me
Pirates Party!

'''''''''''''''''''''''''''''''''''''''''''''''''''''''''''

Shiver me timbers and a Yo! Ho! Ho!
Ye be invited fer some swashbckling fun at
Ship sails at

'''''''''''''''''''''''''''''''''''''''''''

Pirate and princess Party
You are invited to xxxx Princess & Pirate fancy dress Party
to celebrate her 4th Birthday.

'''''''''''''''''''''''''''''''''''''''

Calling all Princesses and Pirates!
Which one shall you be?
Come dressed as One or the other
and party with me!

'''''''''''''''''''''''''''''''''''''''''''''
Ahoy there Matey!
Come look for treasure &
join the crew
Captain xxx is turning two

----------------------
Let's set sail to the seven seas
fight the storms, enjoy the breeze,
A pirate's life we will all enjoy
As we cheer for the birthday boy!
Show up or walk the plank

----------------------------

With a Yo and a Ho and a Yo-Ho-Ho
Off to a princess & pirate party we go
We'll be dressing up
hunting treasure and having fun
We certainly hope that you can come.
Princess xxx's & Captain xxxx's
5th birthday party.
----------------------------------
If you like this page, maybe you would like to visit these pages too
| | |
| --- | --- |
| | |
| Kids birthday party ideas: This is the main page for all the ideas for making an at-home birthday party for your kid. | Pirate clipart: Great clipart with funny pirates, cool pirates, treasure chests etc. |
| | |
| | |
| Pirate coloring pages: Great coloring pages to use at a pirate birthday party. | Birthday clipart: The main page for all the birthday stuff, with an easy overview |
| | |
| | |
| Birthday ideas: This is the main page for all the birthday themed pages her, with an overview. | Party ideas: Again a main page, but for party pages. With an overview of them all. |
| | |
| | |
| Skull clipart: This page is a must, when you are arranging a pirate birthday party. | Cool drawings: The main page where you find an overview of all the cool clipart like dragons and skulls. |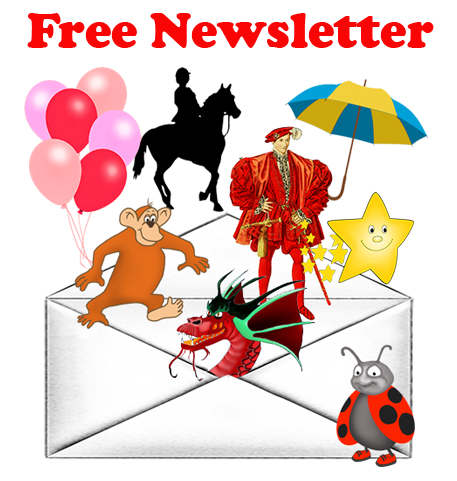 If you want to stay in touch and hear about new pages, tips and ideas about arts & crafts, please sign up for my newsletter. It is totally free, and you can unsubscribe any time!