Dinosaur birthday party - that is a theme your kids will love to have as their birthday party theme.
Below on this page you will find picture links to other pages here with all kinds of dinosaur clipart and a great page with dinosaur coloring pages.
What you will find here on this page are a lot of dinosaur games, dinosaur birthday invitations and birthday cards with dinosaur motives.
You will also find a template for a very cute dinosaur. You can make it as a decoration, or place cards, or you can print a lot of templates and make the birthday kid and guests make each their own little dinosaur.
You can use all these cards and decorations for free as long as you use them for your own personal use. Otherwise go to
Homepage
to read more about the rules for using my material.
Dinosaur birthday invitations
Printable Dino birthday party invitation
All you dinosaurs! party invitation
Birthday party invitation with two scary dinosaurs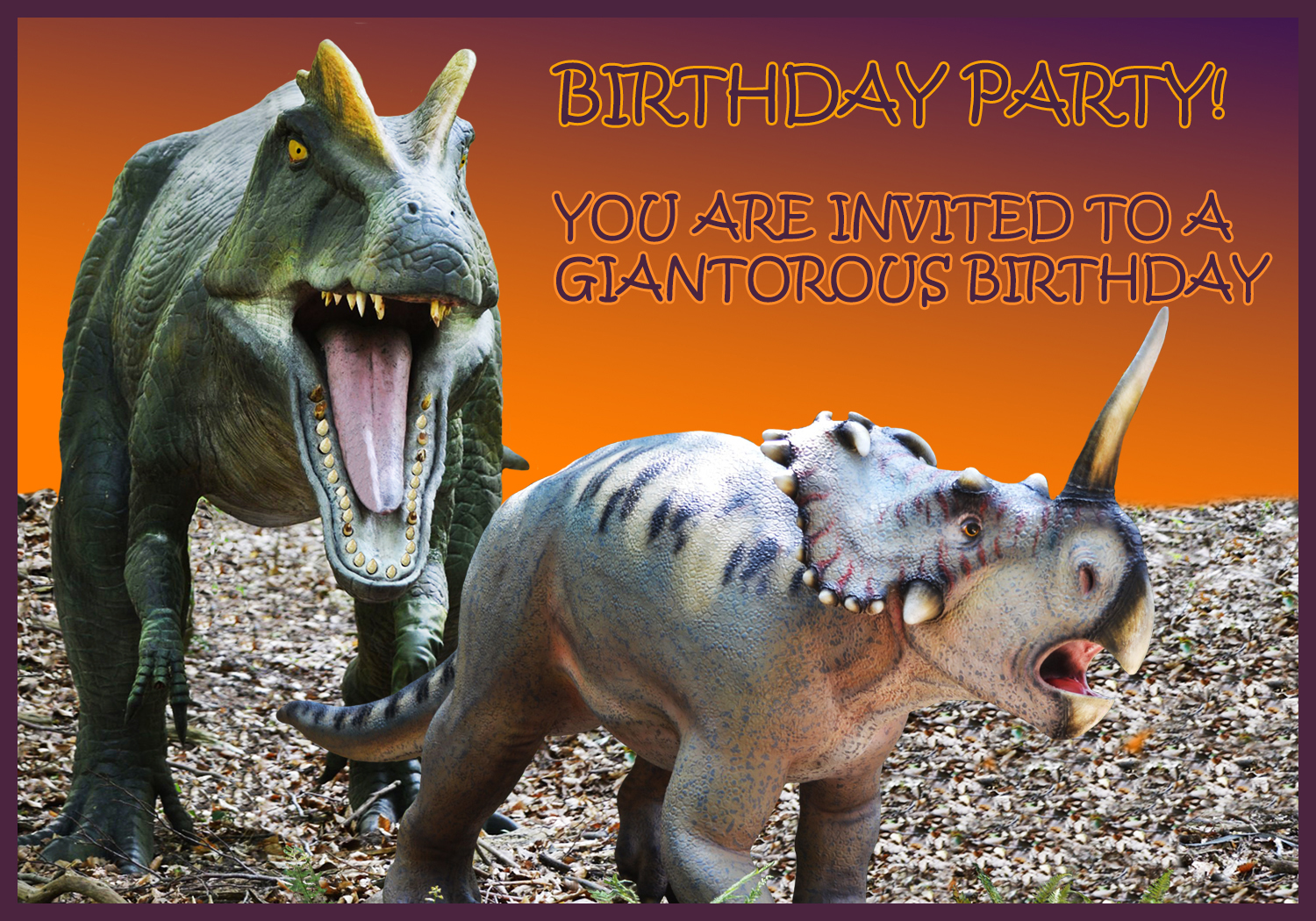 Cute birthday invitation for a dinosaur party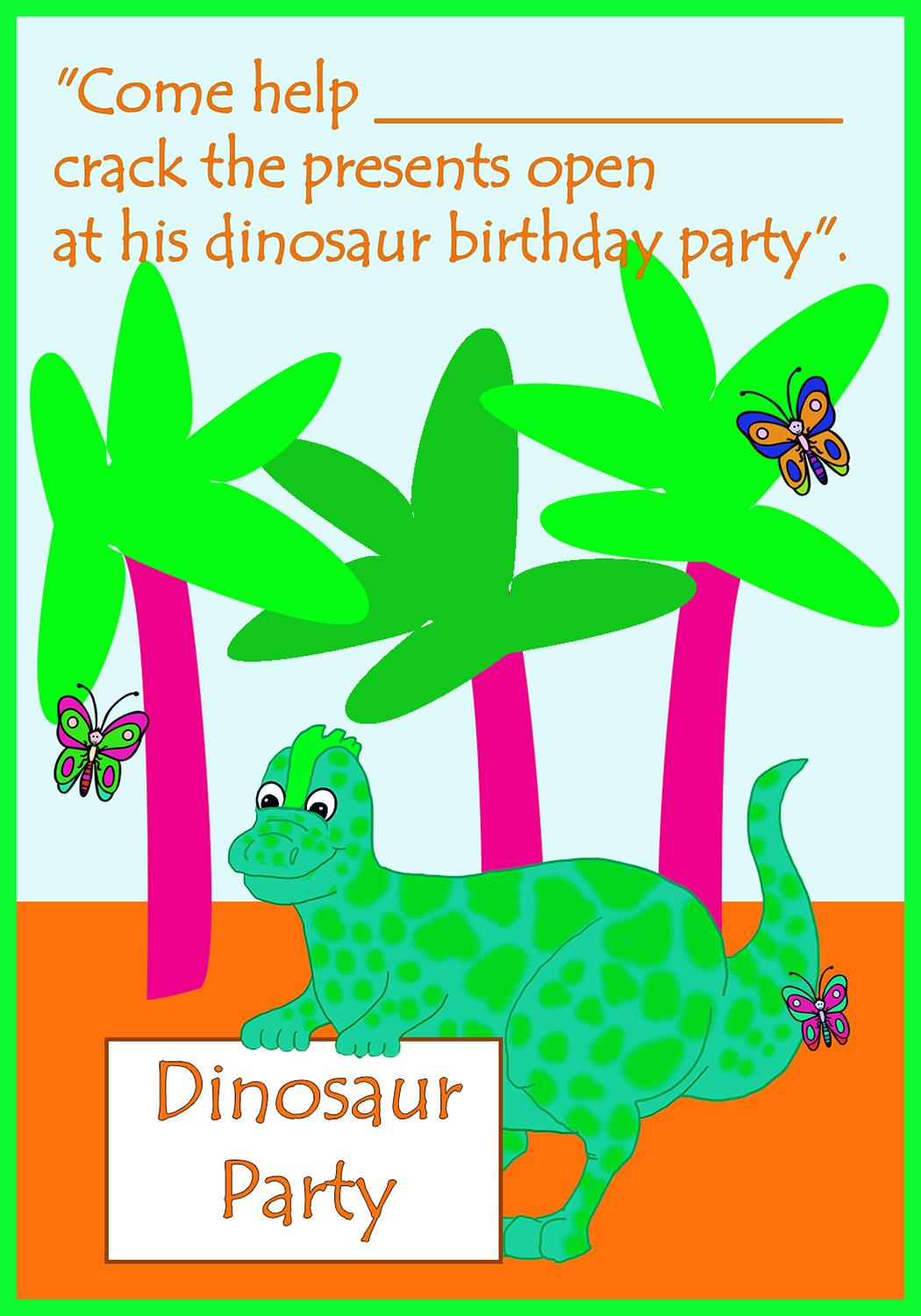 Cute and funny invitation to a Dino birthday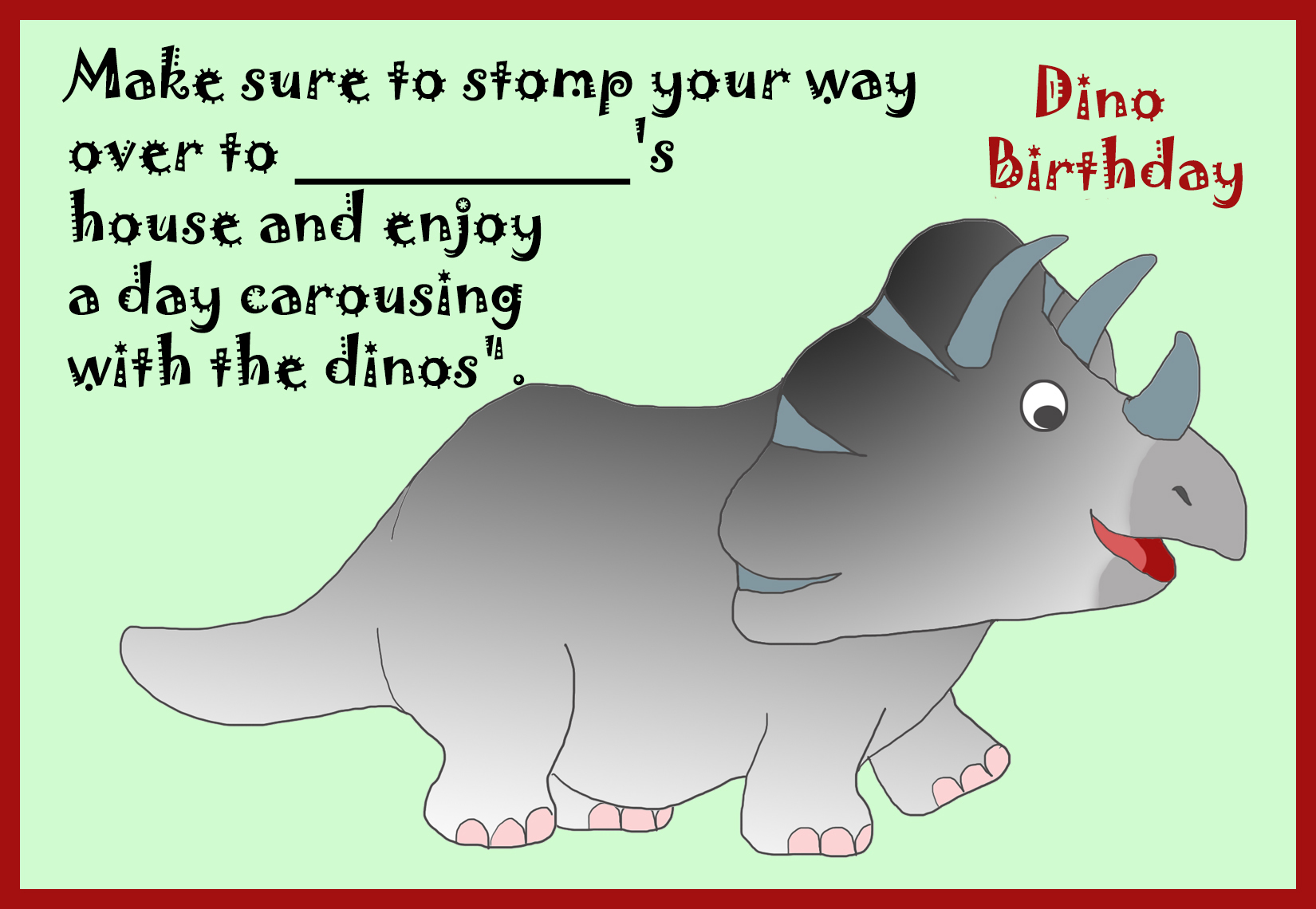 As you can see here are dinosaur birthday party invitations for toddlers, for kids who like scary dinosaurs and for kids you prefer the more cute version of dinosaurs.
Here are some more dino invitations, also a couple with no text, but a background where you can write or print your own text. Maybe you can make these invitations together with the birthday child, and they can write the invitation wording.
T. Rex birthday invitation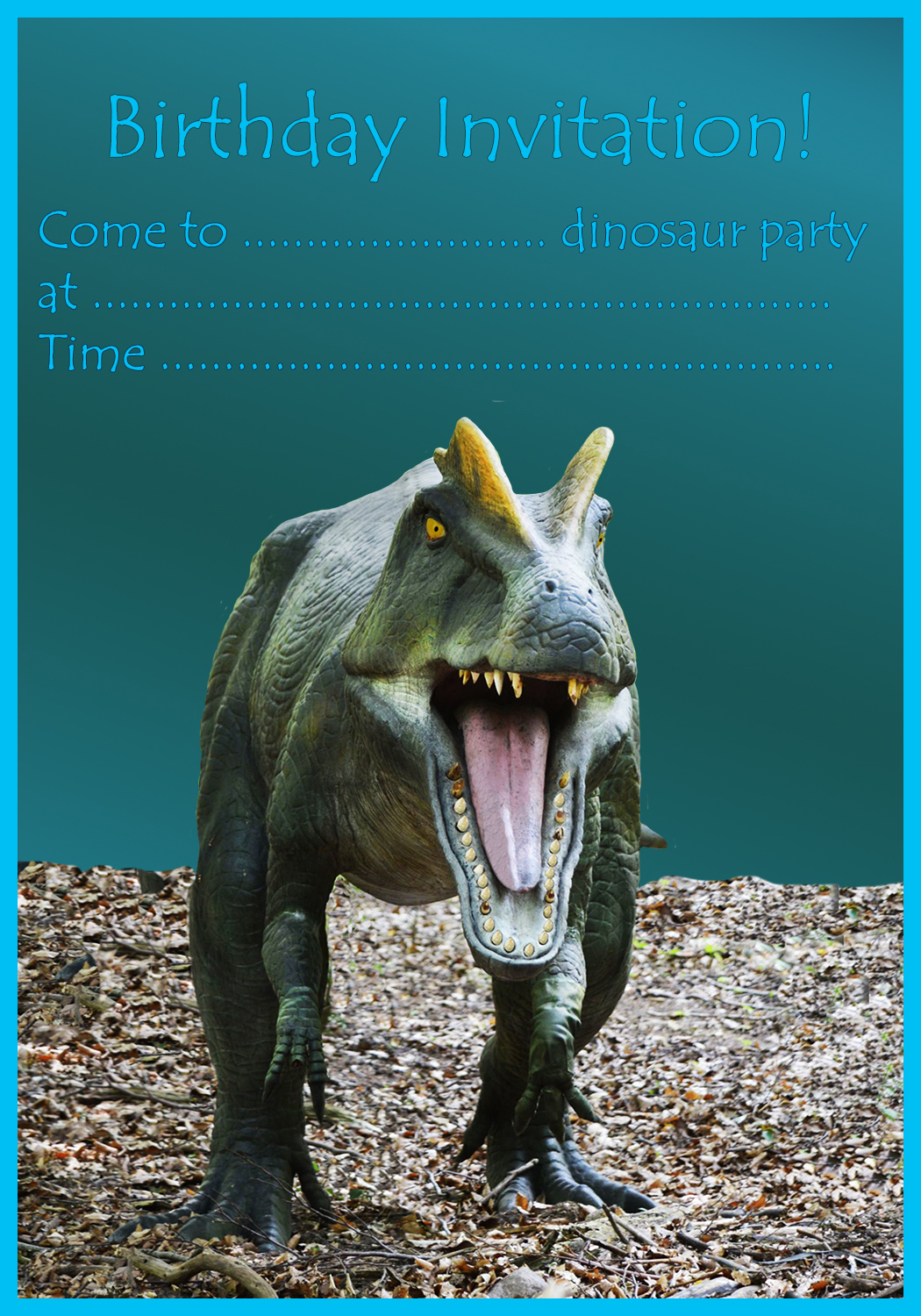 Party invitation template with stegosaurus
Long neck dinosaur party invitation template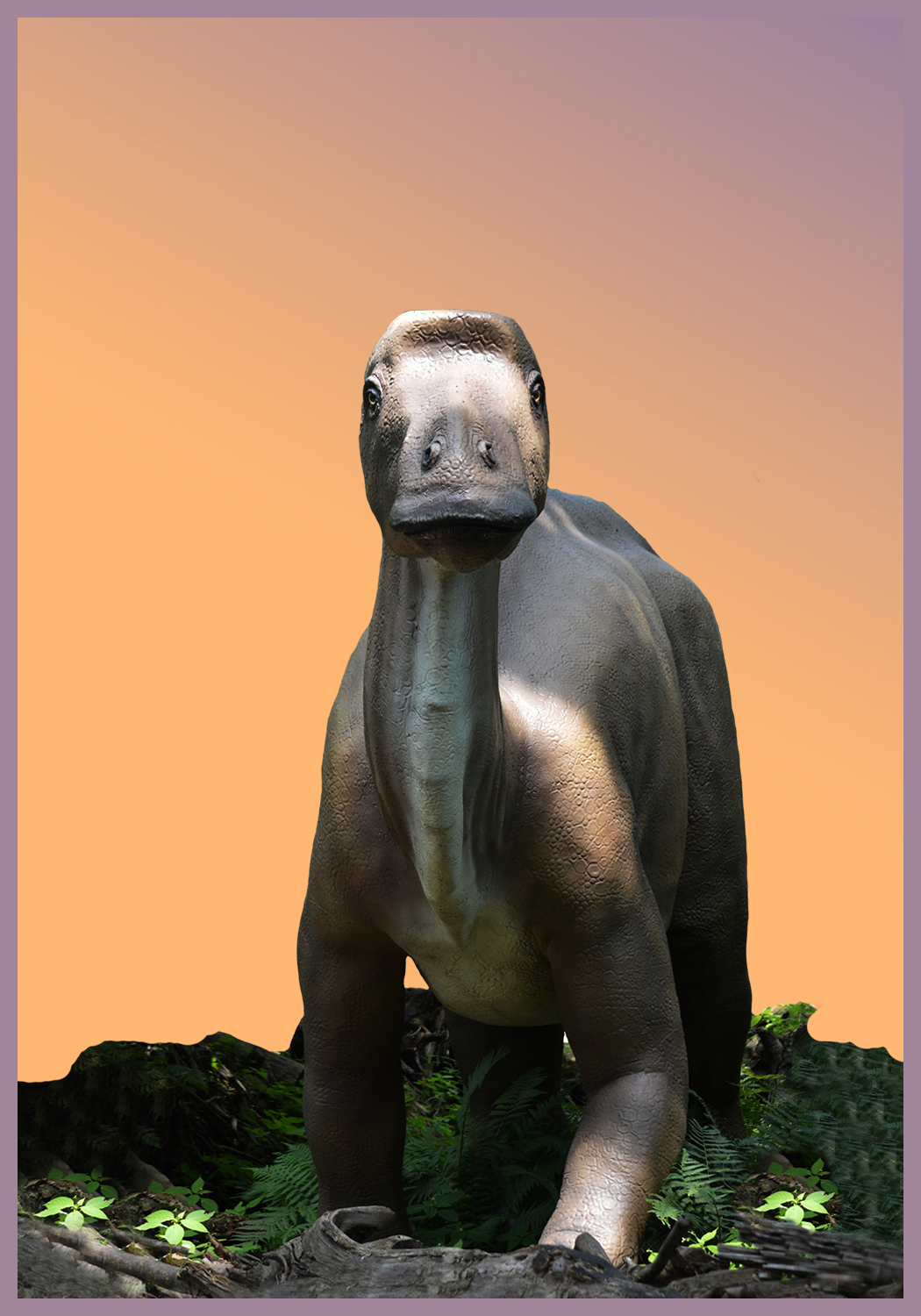 Dinosaur games for kids' birthdays
Ideas for dinosaur games are practically endless, especially if you can use both indoor and outdoor environments. Here is one you can use either indoors or in the backyard.
Pin the Tail on the Tyrannosaurus Rex
Blindfold the guests with handkerchiefs decorated with dinosaurs (if you can find them) and make a Tyrannosaurus and tail out of pieces of thin cardboard. A poster of a T-rex works well also; just cut the tail out of the poster and put two-sided sticky tape on the back of it.
Dinosaur Ring Toss
Purchase inflatable dinosaur punching bags that stand on the floor and make rings by taping together pieces of heavy rope that make circles big enough to pass over the dinosaur's head. You can play this game inside or outside.
Dinosaur Birthday Party Ideas for an Archeological Dig
Fill a child's inflatable pool with dirt and bury all kinds of miscellaneous items in the dirt--popsicle sticks, pennies, old costume jewelry and small plastic toys.
Designate one item as the real "treasure", meaning whoever finds the real treasure first wins a prize. Give each child a spoon with which to dig.
You can even make your own "fossils" using this recipe:
• 1/2 cup (68 grams) of cooled coffee
• 1/2 cup (68 grams) of salt
• 1 cup (136 grams) of used coffee grounds
• 1 cup (136 grams) of flour
Make dough out of the ingredients and knead it for a few minutes.
Roll the dough out on a piece of wax paper. Start making your fossils by using cookie cutters or making impressions in the dough resembling teeth, bones and footprints.
Allow the fossils to dry for about eight hours before burying them in the dirt.
Hatch the Prize!
Other dinosaur game ideas includes this "hatch the prize" game which all kids love because it involves a prize and popping a balloon.
Purchase a bag of small, plastic dinosaur figures (or any other toys small enough to fit into a party balloon) and stick one in a balloon before blowing up the balloon. Tell the guests they are going to hatch dinosaur eggs by sitting on these balloons until they pop. Don't tell them a surprise waits for them once the balloon bursts.
Throw the balloons into the center of room and tell the kids to grab one balloon. Then cover your ears and wait for the noise to start!
Dinosaur Egg Hunt
This is fun if you have access to a park or a large backyard in which to plan an egg hunt. Obtain a watermelon and paint it white using acrylic or tempera poster paint. After it dries, paint orange, blue and green colored spots all over it and let that dry. Hide the "egg" and tell birthday guests a dinosaur came by last night and deposited an egg in your backyard (or the park). The first one to find the egg wins a prize and gets to eat it, too!
Kids birthday party ideas for dinosaur-themed favors include temporary dinosaur tattoos, dinosaur finger puppets, dinosaur pencil erasers and dinosaur windup toys.
Children's birthday party invitations using dinosaur clipart
Help your child create personalized invitations or table place cards and decorations using cardstock, glue, dinosaur stickers, markers and dinosaur clipart found on this website (link below).
If possible, hand deliver each invitation by folding cards into small enough squares to fit into plastic eggs (you can use the Easter egg kind) meant to represent dinosaur eggs. Place some pieces of hard rock candy into the eggs as a special treat.
Here are some cute and funny dinosaur drawings to use for invitations, place cards and what else you might want to make for the dinosaur party.
The size of the drawings is 150 dpi, approx. 7-8 cm (2,8-3,2 inches), and I have made them in both black/white drawings and in color. You can always make them smaller, but if you want to use them for invitations or decorations, it's better they are big.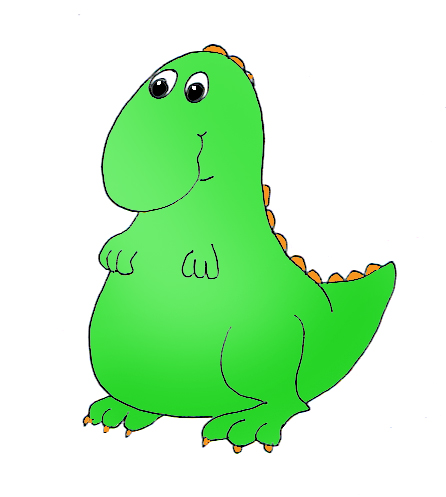 A cute message inviting guests to a dinosaur-themed birthday party could be something like
"Extinction will happen to your fellow dinosaurs if you don't come to the party!"
or
"You don't want to make T-Rex mad, do you? Then make sure to stomp your way over to _________'s house and enjoy a day carousing with the dinos".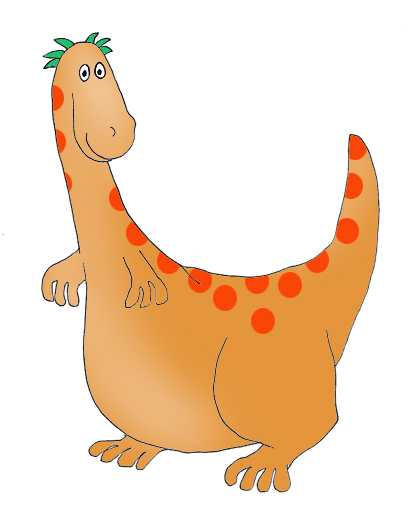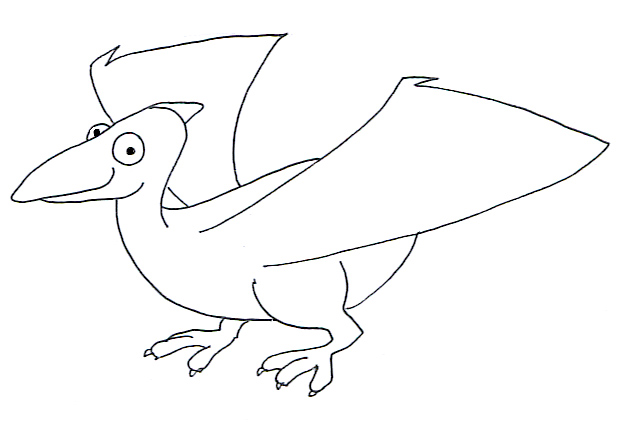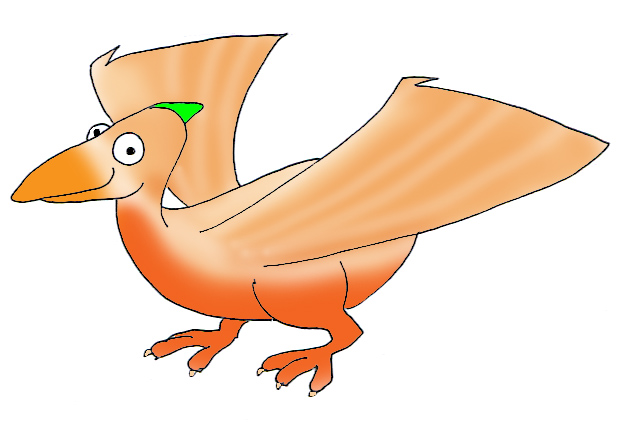 Other ideas for dinosaur invitations include making invitations in the shapes of different dinosaurs by printing dinosaur clipart, gluing one image to a piece of cardstock and cutting around the edge of the dinosaur.
Cut a half-egg shape out of cardstock and create a jagged edge along the top of the half-egg, making it look like an egg after it has been cracked open.
Glue the half-egg on the bottom half of the dinosaur and write this message on the back of the invitation:
"Come help ___________ crack the presents open at his dinosaur birthday party".
Find some more dinosaur clipart on the page here on this site Dinosaur Clipart.

Here are three cards with dinosaurs that would be great to use for invitations or birthday cards: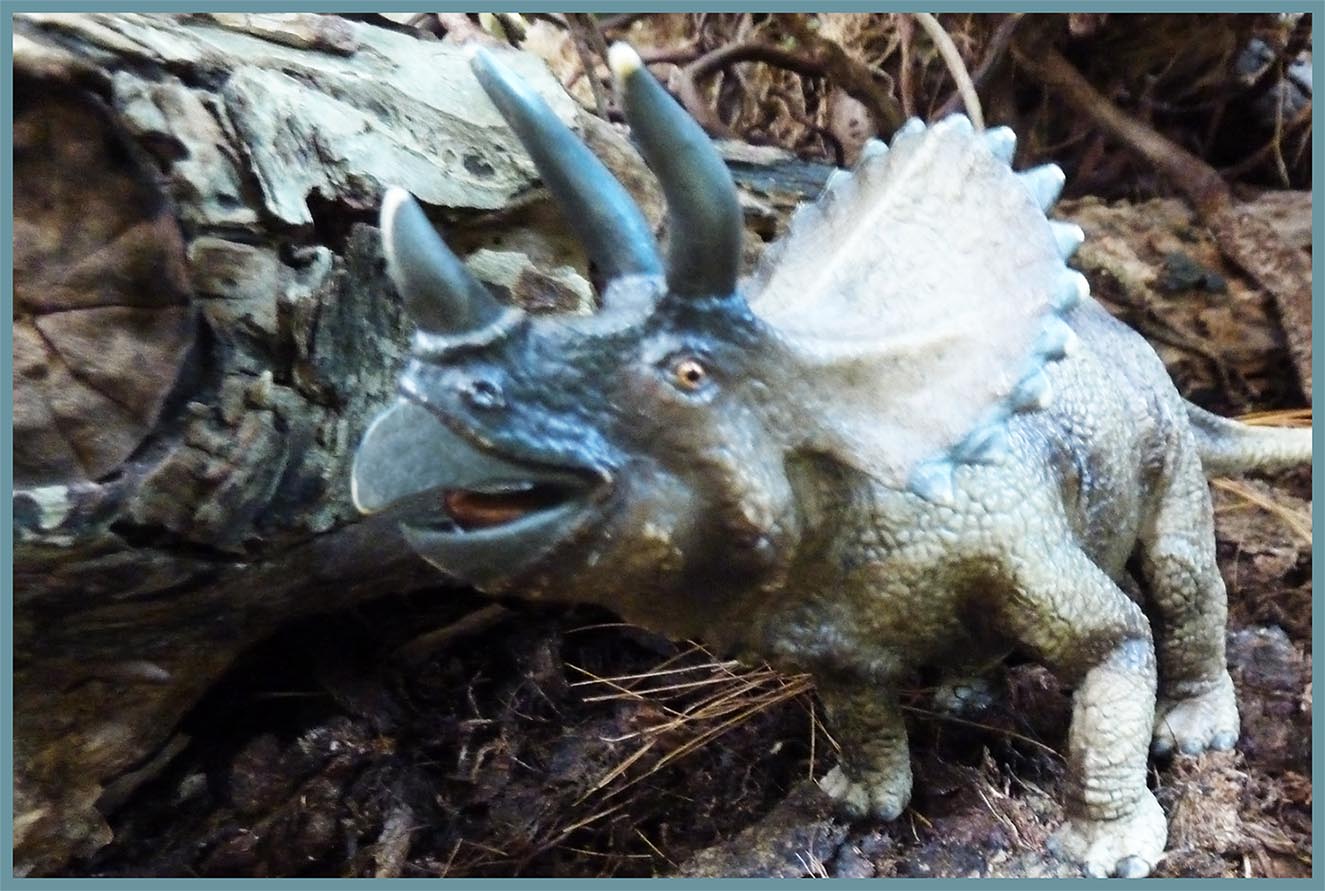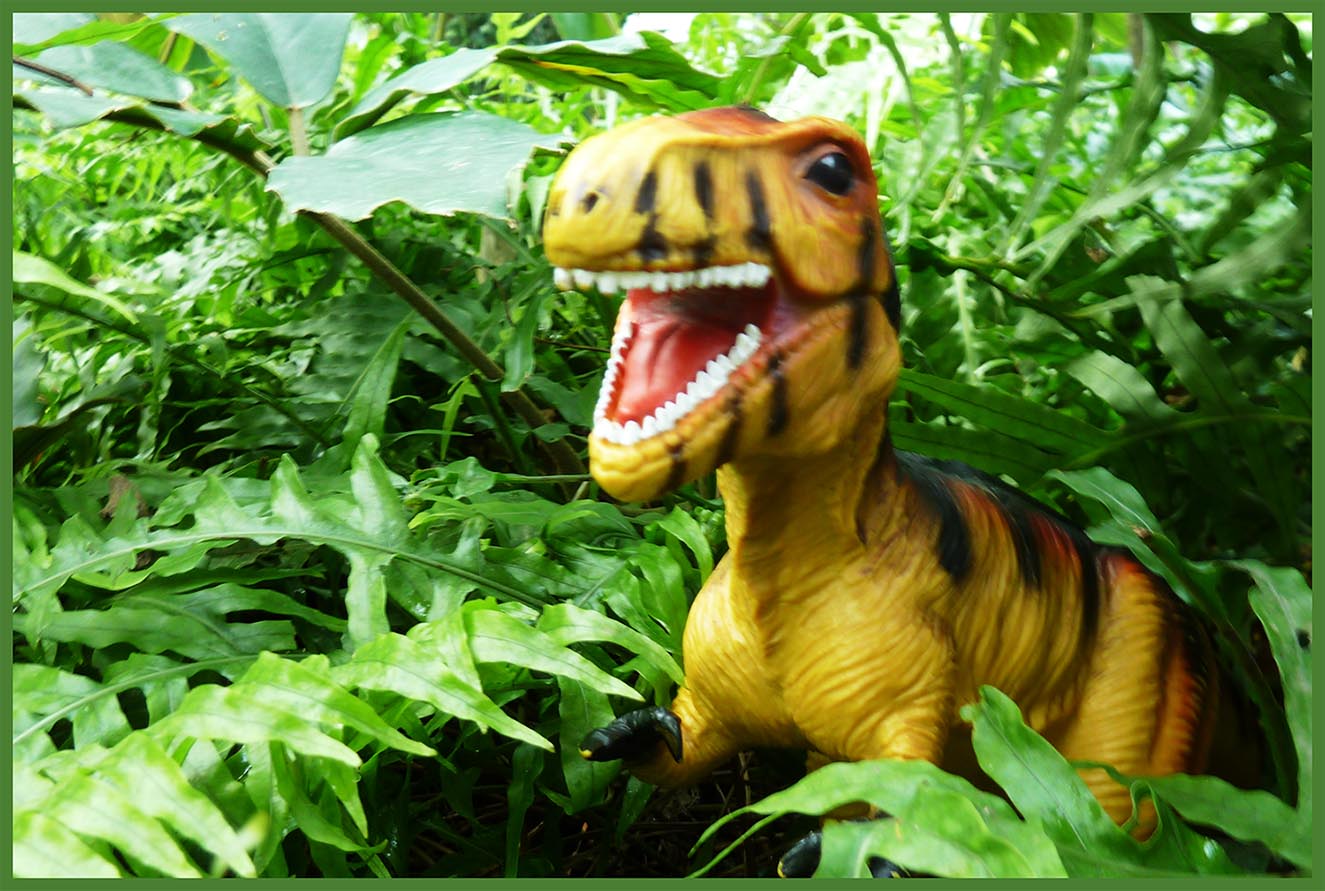 These three dino cards will bee approx 5,3 x 3,8 inches printed with 250 dpi.
These cute dinosaur egg invitations, with hatching dinosaur eggs where you can see different baby dinosaurs hatching - print them, cut and fold, and you will have some adorable birthday invitations where you can write the text inside the egg.
You can also cut the hole in the egg with the dinosaur head and replace it with a picture of the birthday child.
Dinosaur egg hatching invitation, to cut and fold.
Hatching dinosaur egg with red spots, for invitation to a dino party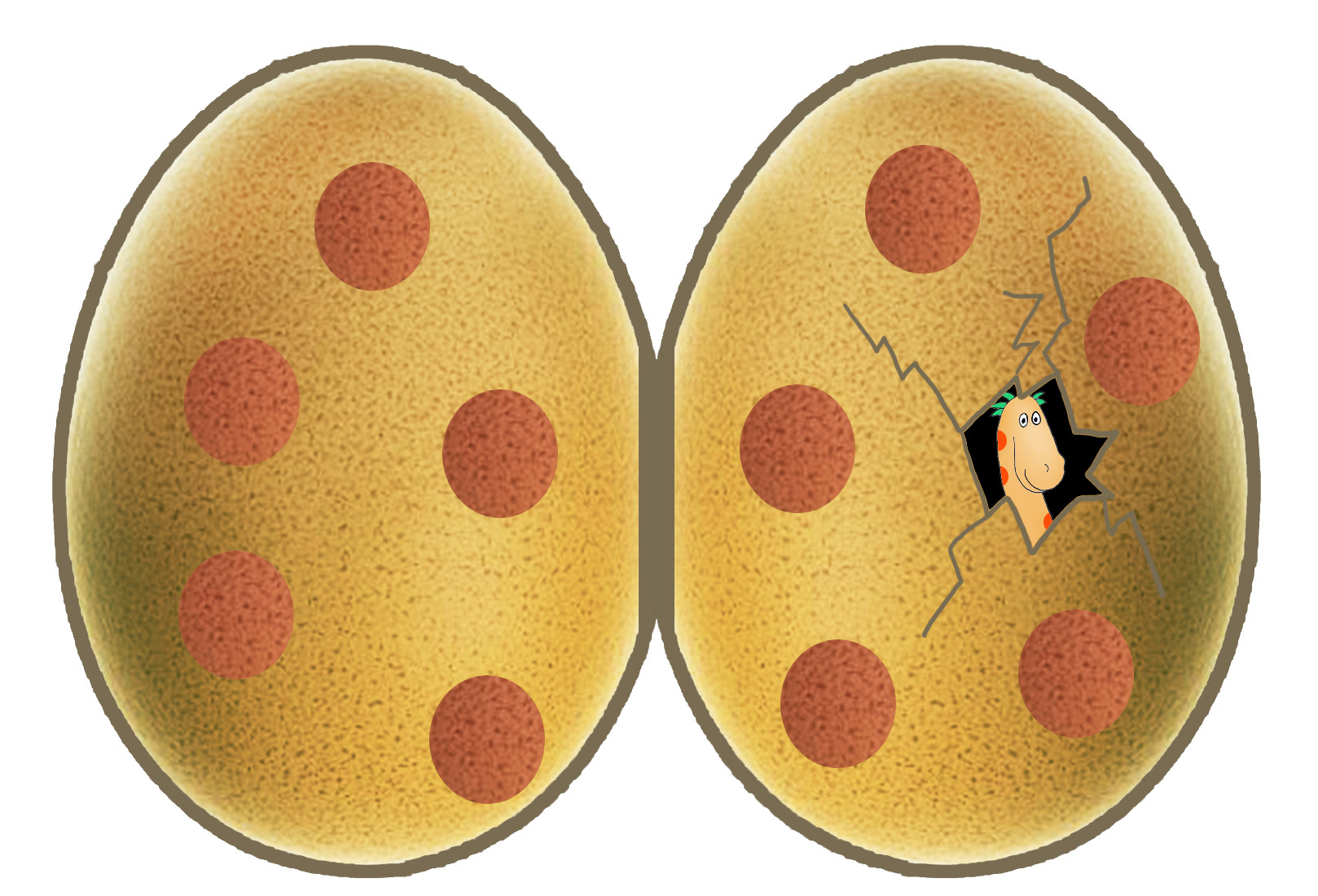 Spotted dinosaur egg party invitation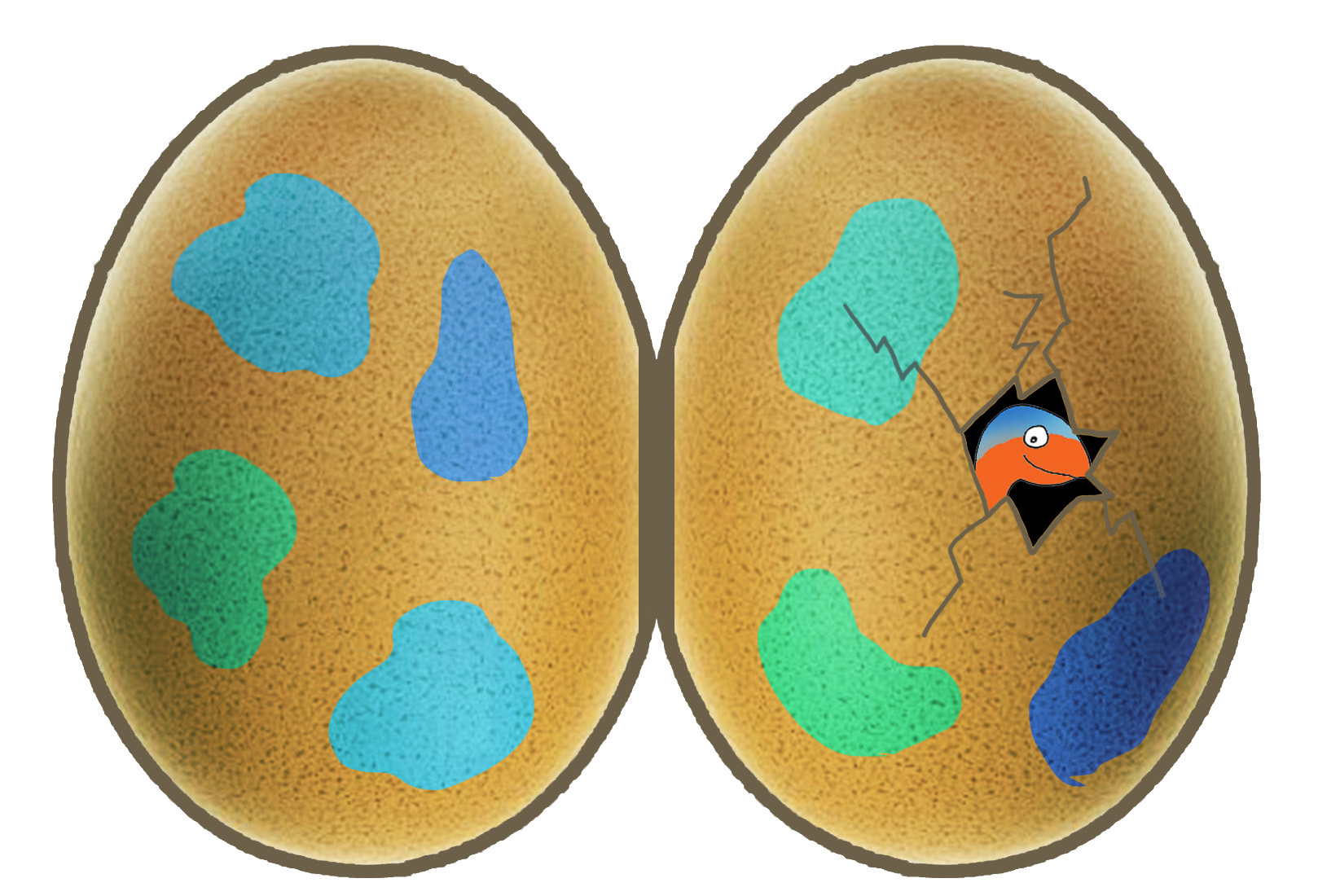 Dinosaur Party Food
Have fun naming foods with a variety of dinosaur-themed names, such as:
• Pterodactyl Wings--chicken wings

• Brontosaurus Burgers--hamburgers with all the fixings

• Stegosaurus Eggs--hard-boiled eggs

• Tyrannosaurus Toasted Cheese Sandwiches--served with fossilized apple slices (apples drizzled with caramel)

• Ice Age Lemonade Pops--fill ice cube trays with lemonade, cover with plastic wrap and poke popsicle sticks through the plastic to make frozen treats

• Jello Dinosaur Eggs--carefully break the top of an egg, pour out the yolk and then rinse the inside of the shell. Pour jello that you have already mixed into the egg and refrigerate the egg. Once the jello inside sets, hand them to your guests and tell them to break the eggs open to find a surprise

• Dip pretzel sticks into melted chocolate, let them dry and serve them as dinosaur bones

Volcano Cake
A collection of kids birthday party ideas for dinosaur-themed party foods wouldn't be complete without a volcano cake:
Bake a Bundt cake, any flavor, and place it on top of a square, nine-inch cake.
Cover the entire cake with chocolate icing and then make orange-colored frosting by adding yellow and red food coloring to white icing. Heat the icing until it is melted enough to drizzle over the Bundt cake. Pour the orange icing over the volcano cake so that it resembles a volcano spewing lava.
Purchase cake decorations like plastic trees, dinosaurs and cave men and insert around the cake.
Serve with "Dino Punch", which is a sweet mixture of lime jello, sugar, lemon juice, pineapple juice and water.
Printable Happy Birthday dinosaur cards
Here are some wonderful and funny birthday cards with dinosaurs. I have made them with photos of toy dinosaurs, and they work so well because the are simple and funny.
You can also take a look at the cards on the pages with birthday cards for a child's 1st., 2nd and 3rd birthday you will find a dino-card for that exact age.
Wishing a dinotastic and happy birthday dinosaur card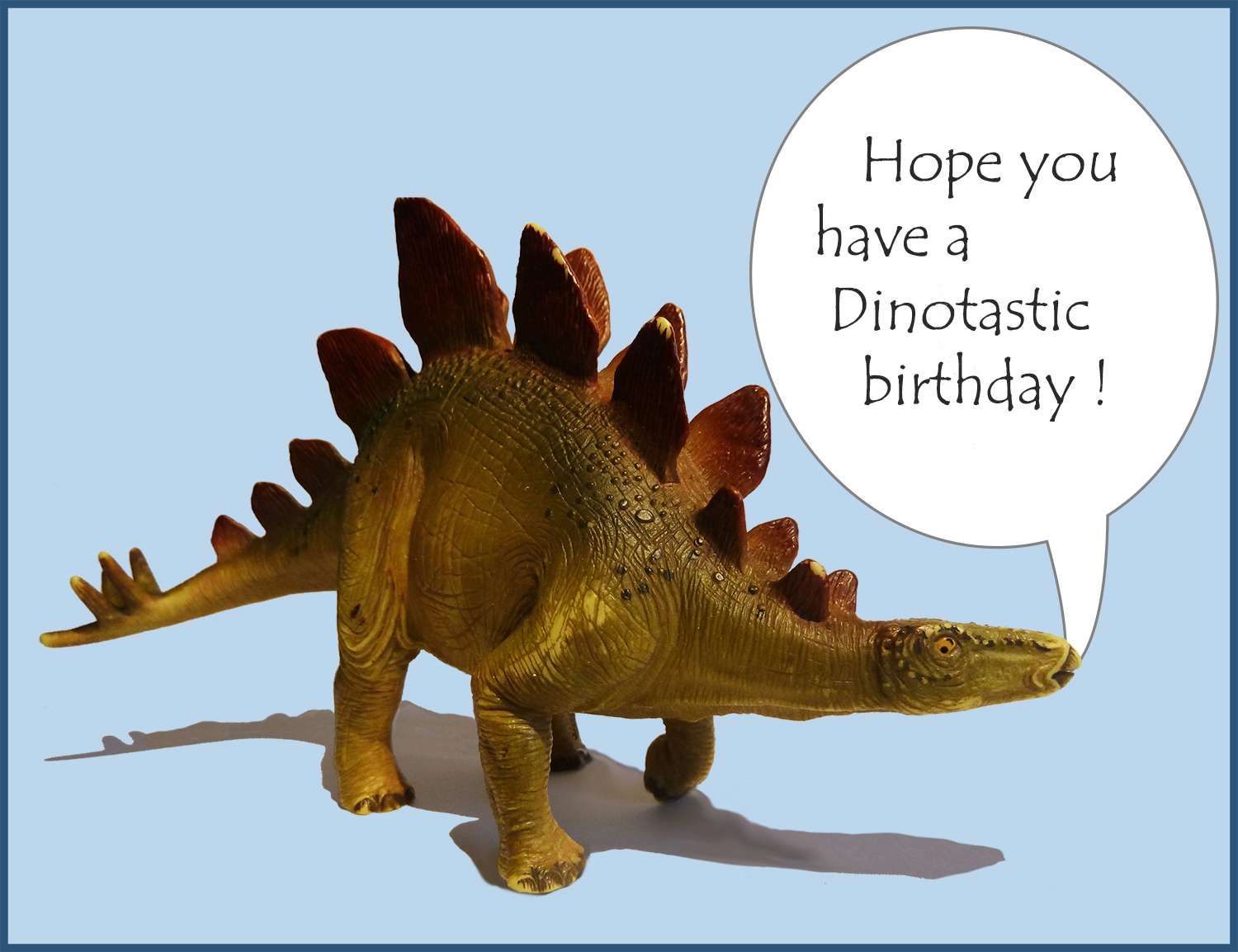 Two T. Rex dinosaur wishing you a Happy birthday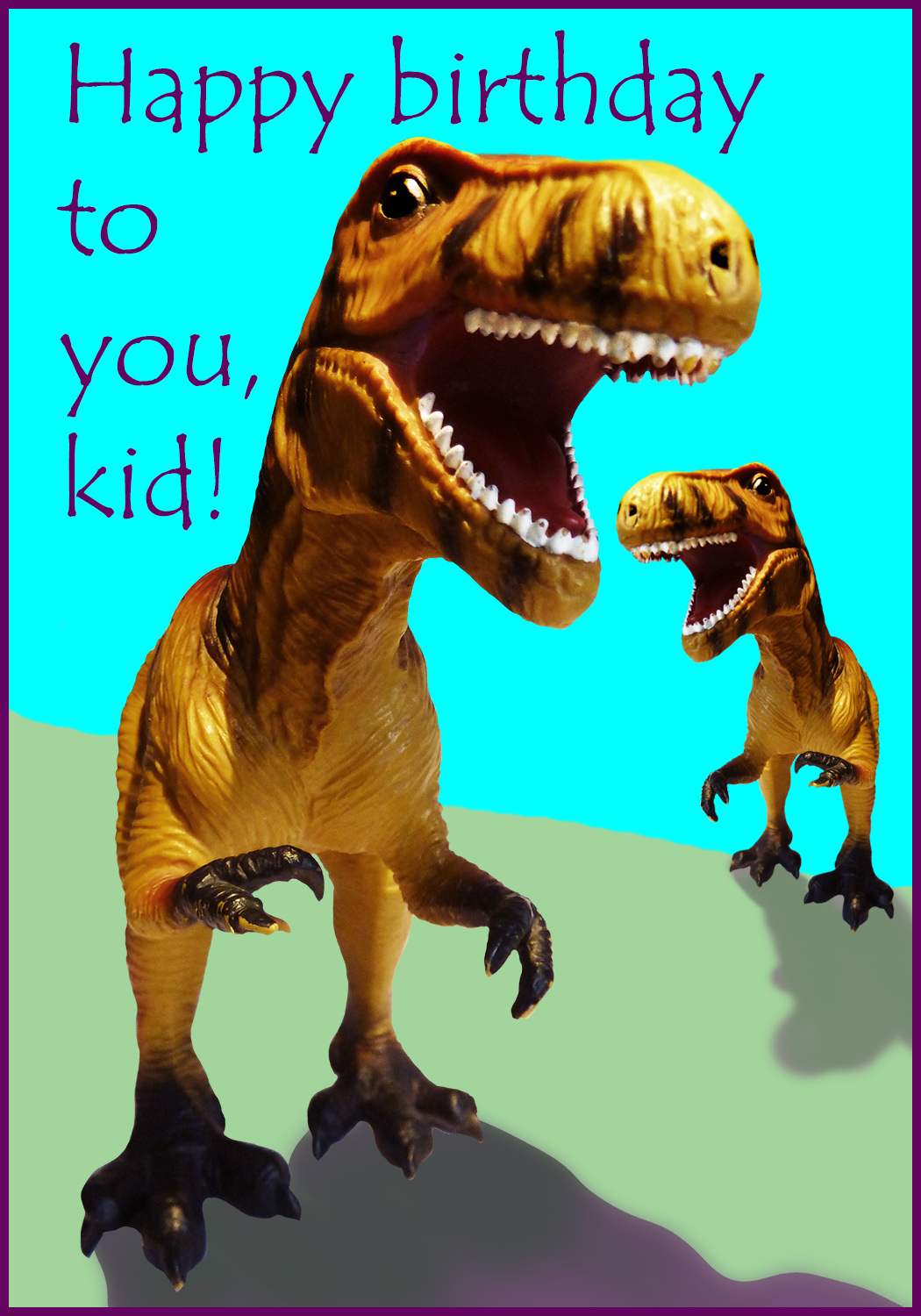 Happy birthday dinosaur card with cute dinosaurs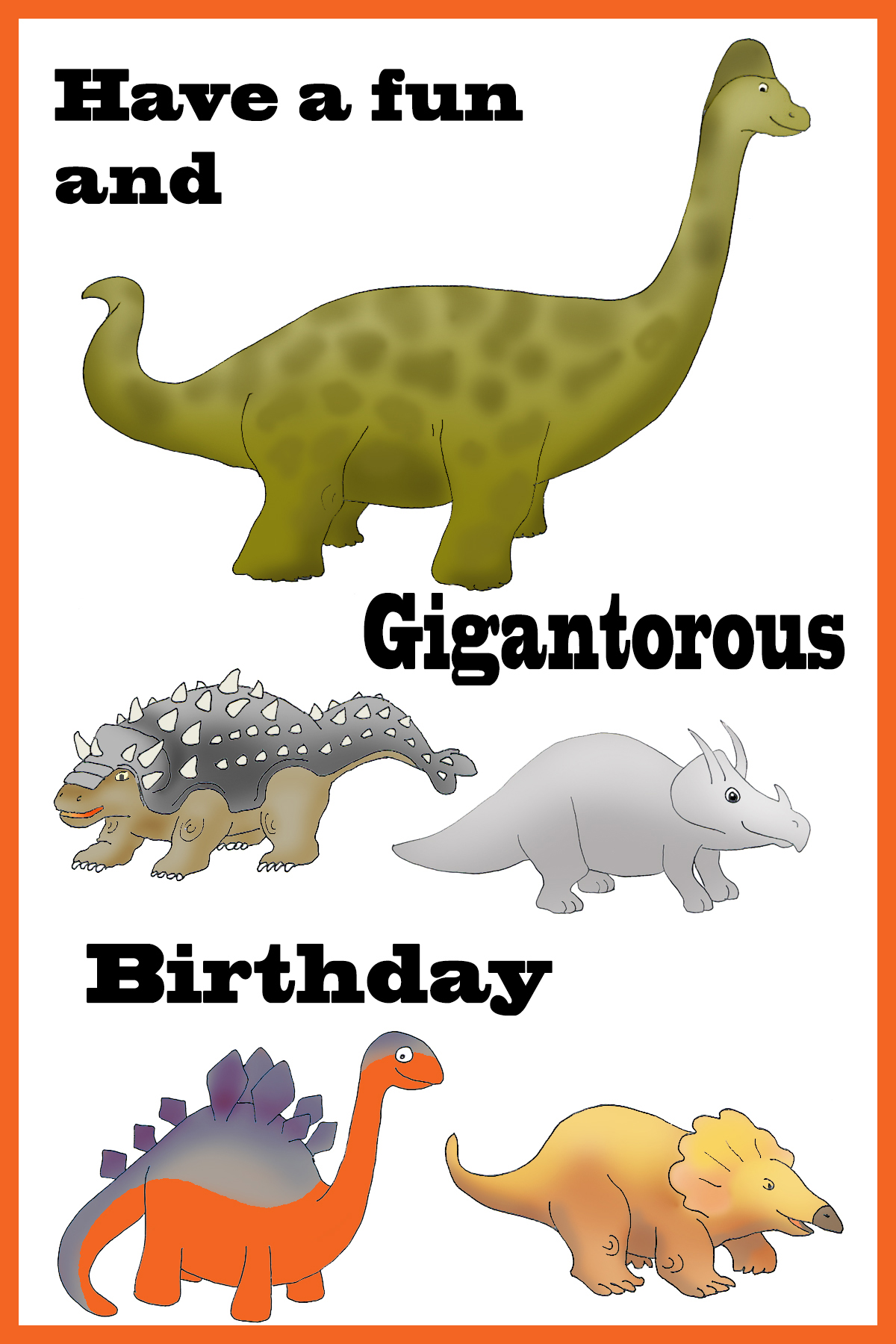 Funny happy birthday card with funny dinosaurs

T. Rex dinosaur wishing you a happy birthday card

A Stegosaurus birthday card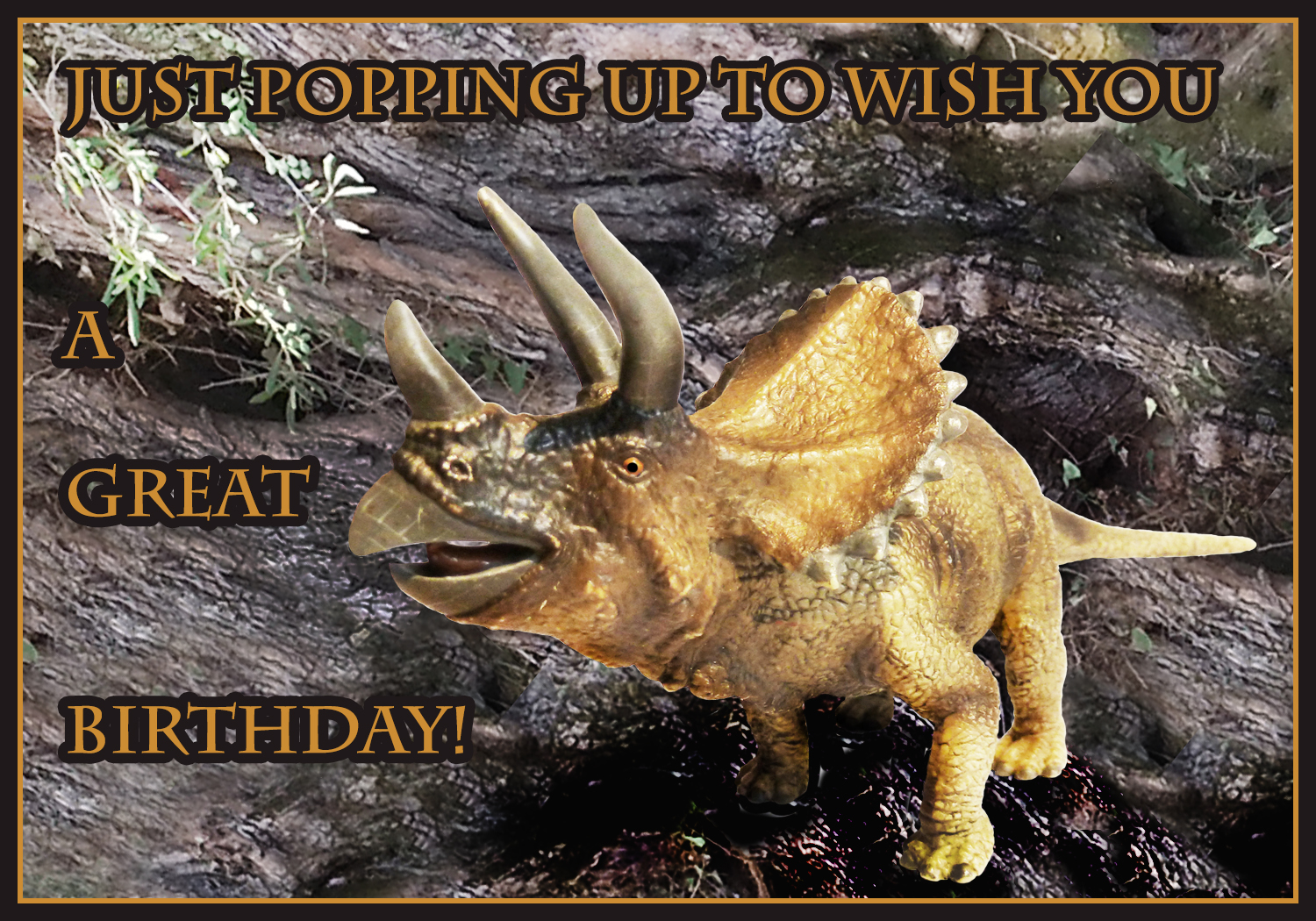 You can also make your own birthday cards. Use the drawings or the more realistic pictures on my pages with dinosaur clipart, find the picture links below on this page.
Dinosaur birthday party decorations
Cover tables with old white sheets or large pieces of newspaper print decorate them with dinosaur footprint clipart as well as other dinosaur and prehistoric images.
Scatter tables with dinosaur-shaped fruit snacks, pop-rock candy and markers to let the kids get creative whenever they feel like it.
More dinosaur birthday party ideas involve using small stuffed dinosaurs as centerpieces by tying helium balloons to their tails.
Hang green and brown streamers from the ceiling to create a "jungle effect" and play jungle sounds in the background during the party. Dinosaur banners are easy to make with your computer, your printer, some banner paper and delightful dinosaur images from this site.
Create a banner with pictures and words that say "Happy Birthday Bob-asaurus".
Put the ending "saurus" on the child's name, as well as provide nametags for all guests using this same kind of name change.
You can make this folded dino to use for place cards or just for decorations, or you can make all the birthday party guests make one each.
Dinosaur with spikes on back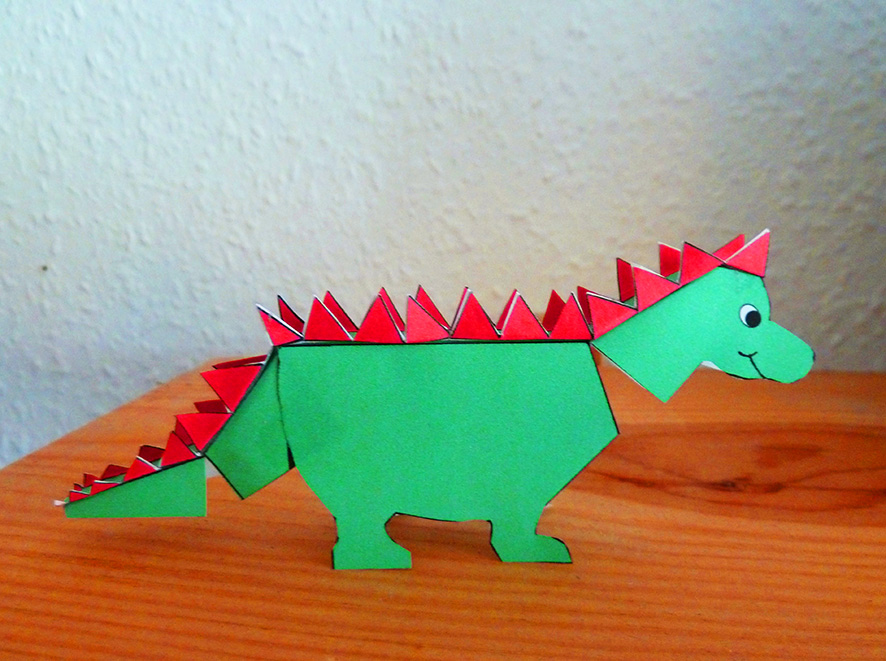 Large template for a folded dinosaur with spikes on back
To have red spikes on both sides you need to glue two of them together, hence the two clip art below for the large template

Spikes for the larger dinosaur birthday decoration

Template for smaller dinosaur folding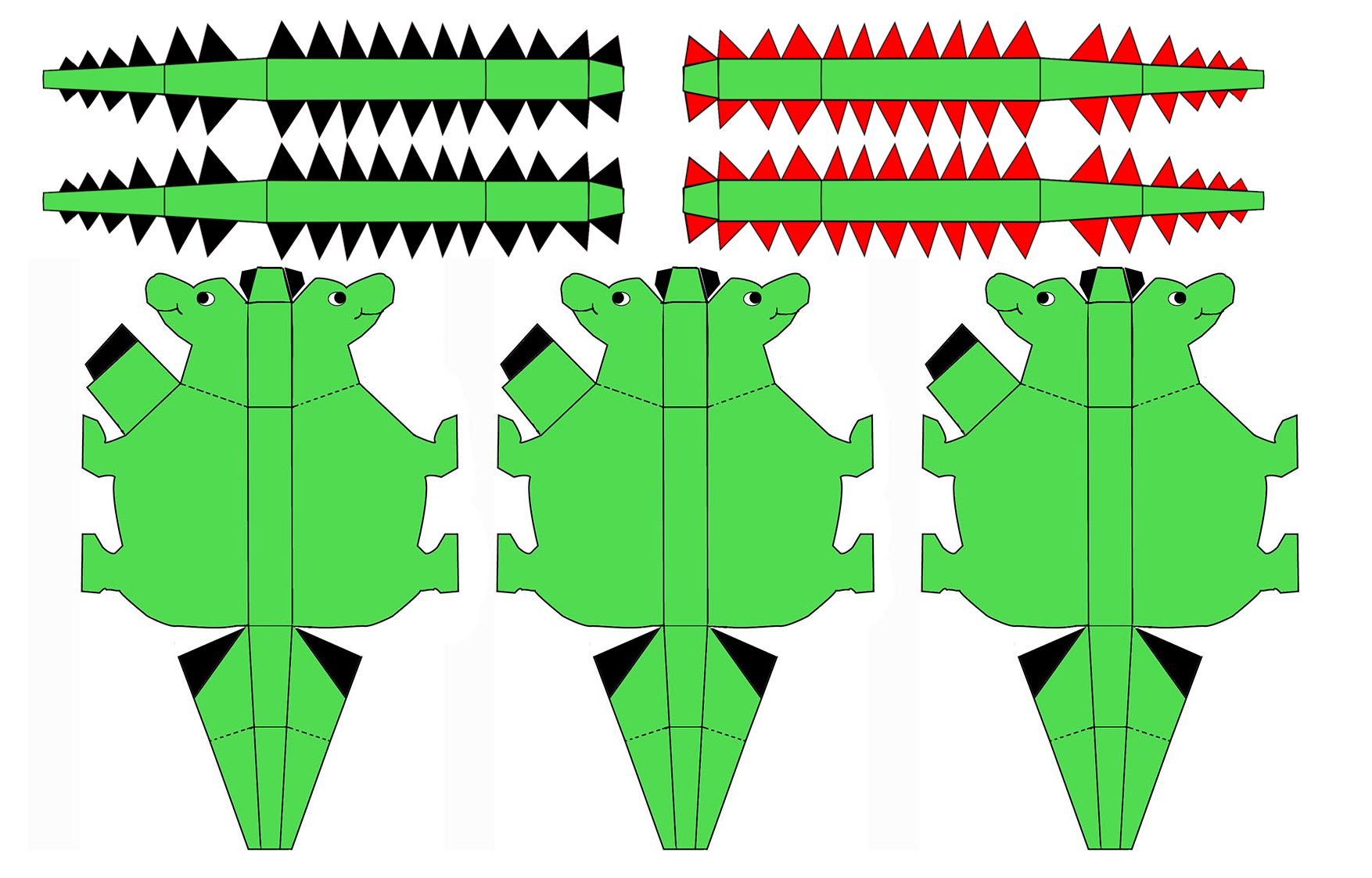 Extra dinosaur spikes for the template decoration
If you make the birthday guests cut the dinosaur decoration, some of them are bound to break and get cut wrong, and maybe some of the kids would like the dinosaur spikes in different colors - so here they are, the extra dinosaur spikes.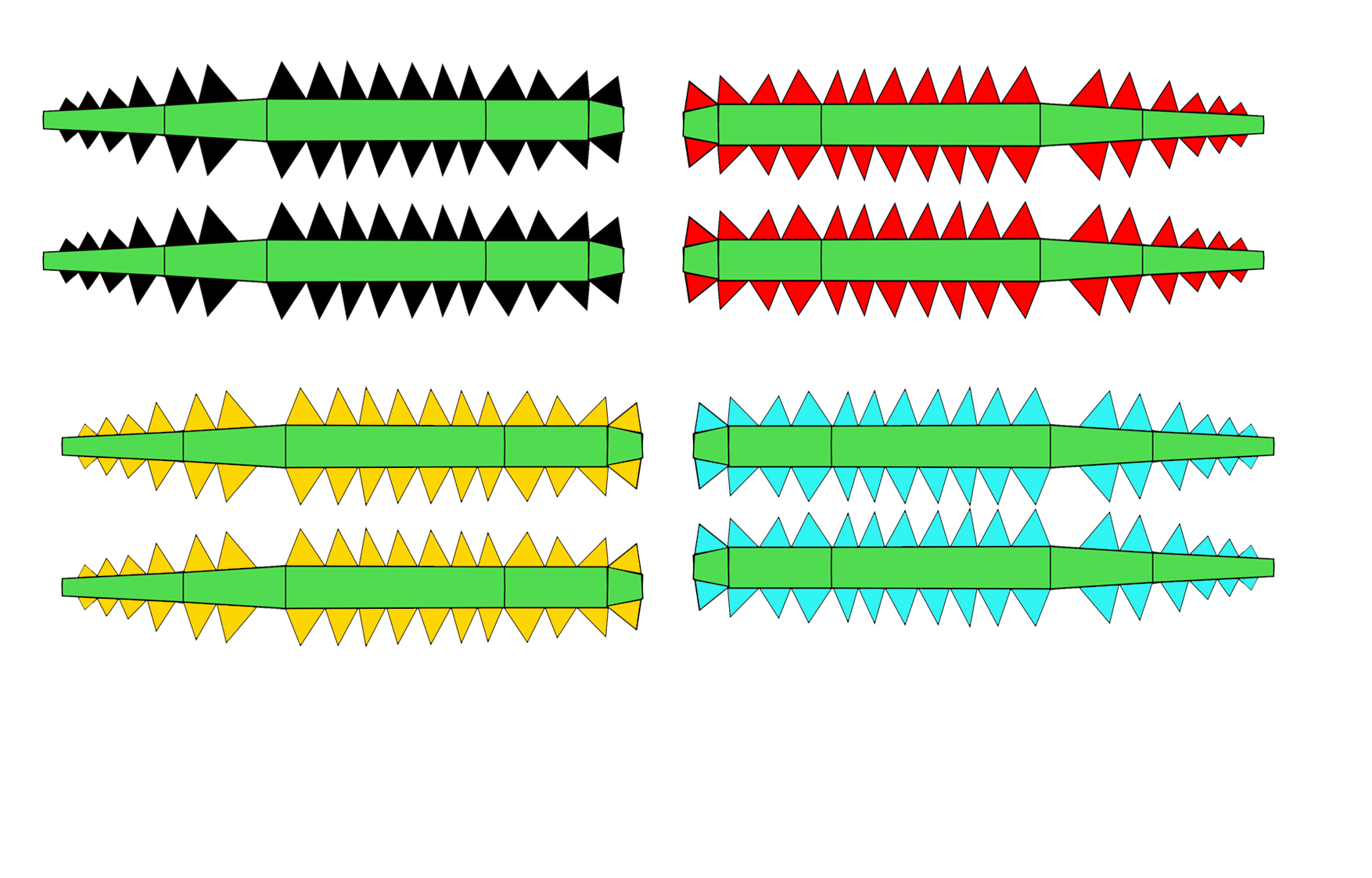 You might want to visit these pages next: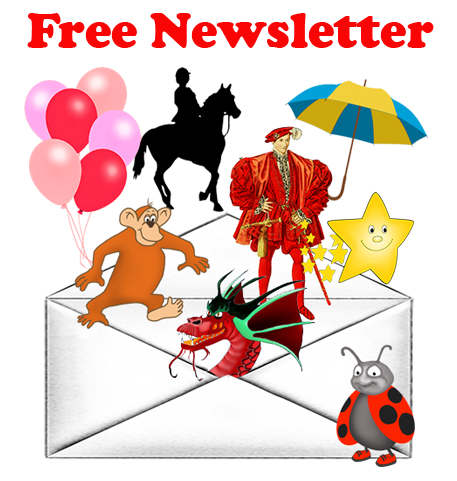 If you want to stay in touch and hear about new pages, tips and ideas about arts & crafts, please sign up for my newsletter. It is totally free, and you can unsubscribe any time!