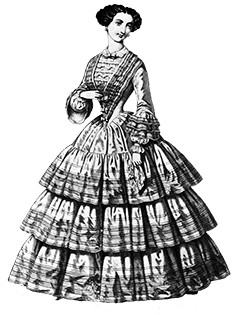 I found a lot of beautiful drawings of Victorian costumes when I was searching for Victorian frames and other vintage clipart, and now here comes a page with some of it.
I am not at all an expert on clothing, but it is fascinating to see how much the Victorian fashion in clothing changes throughout the century, from Empire style with soft, classical drapes, high-waisted dresses, bare bossoms and arms - to the extreme Victorian fashion with first cone-shaped skirts, later the huge crinoline skirts, very tight laced corsets and later again corsettet wasp waist and bustles - which again disappeared late in the century.
A lot of change!

As I said I am far from an expert in clothing and historical fashion, so what you get here are pictures and clip art of Victorian dresses and Victorian costumes to use for cards, greetings, logos and other things where you can use these wonderful pictures.
After working with these clip art of Victorian clothes and reading about it, what I find most fascinating of all is that everything from the 1800th which ones seemed such a long time ago, suddenly became almost recent to me.
When you read in the fashion magazines from mid 1900th century you can read the lines: "Latest Fashion and Clothing" and "New Fashion Style" and you can imagine how the women and men of these days looked at these pages with new men's fashion clothing and the newest fashion in dresses and hats, talked about them, were chocked by them sometimes, tried to copy them or maybe bought them - exactly like we do today!
I think I will start with some clip art of ladies fashion clothing from the start of the 1800th to illustrate the changes that come later in that century.
Ladies Fashion Clothing Late 1800th Century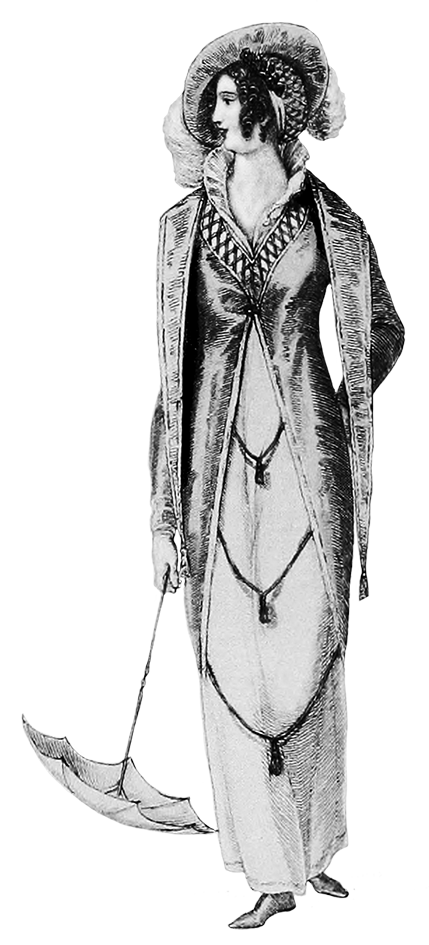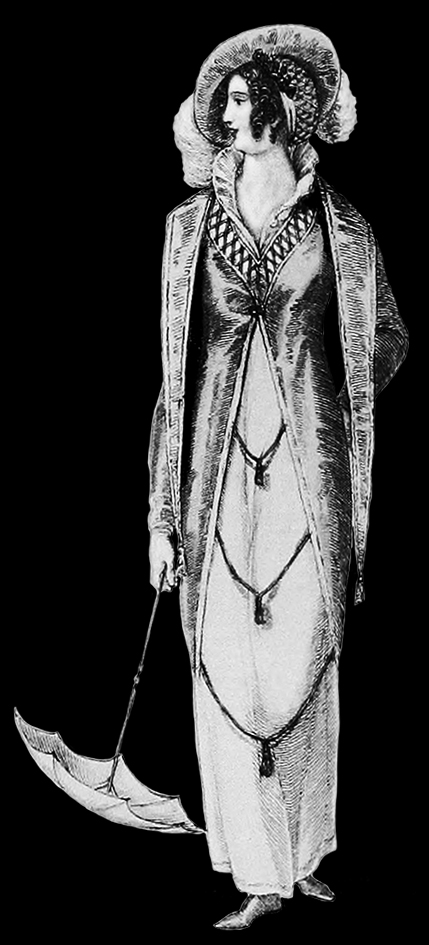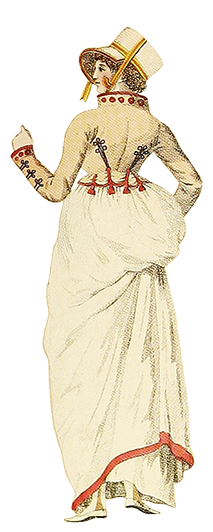 I made the dress clip art above in a version with black background, partly because I want to show you how well these dress and fashion clip art will look on a colored background, partly to show you that all these vintages dresses and men's clothing come with a transparent background and can be used on any background, also together.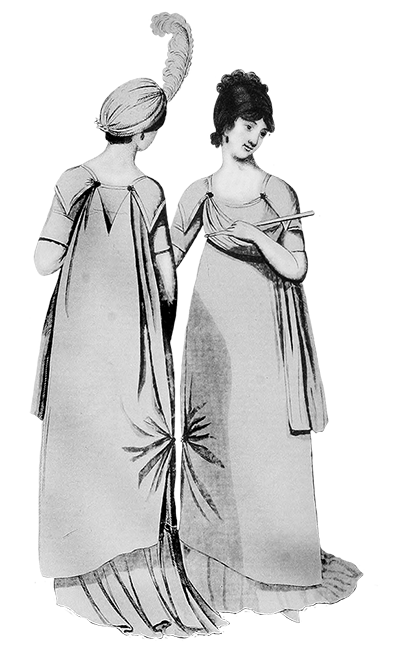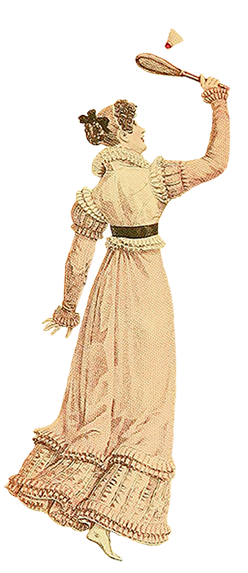 Victorian Clothing Clipart:
The Victorian Era goes from 1837 - 1901, the period where Queen Victoria ruled The British Empire.
This first clip art is from a Victorian fashion magazine from 1841 showing four women wearing the latest fashion in evening dresses.
You can see how the hair style with ringlets is now dominating, and the Victorian dresses have changed from the dresses in Empire style to complicated dresses with Crinoline skirts.
The waists are tightly laced with corsets.
How different from the long slender line in the dresses you find above from the late 1800th century and the start of the 1900th century.
If you want to read more about the fashion style from before the Victorian Era, here are a link to more about the Empire style, also called Regency style, and one here to the Western fashion in the start of the 19th century, with a very interesting overview of the changes in fashion.
Most of all try to look at the Wikipedia page about Victorian fashion.
Even if facts about the historian fashion was not what you were looking for, it is really interesting.
Here is a beautiful wedding dress from 1837, from a Parisian Magazine, seen from both the front and back: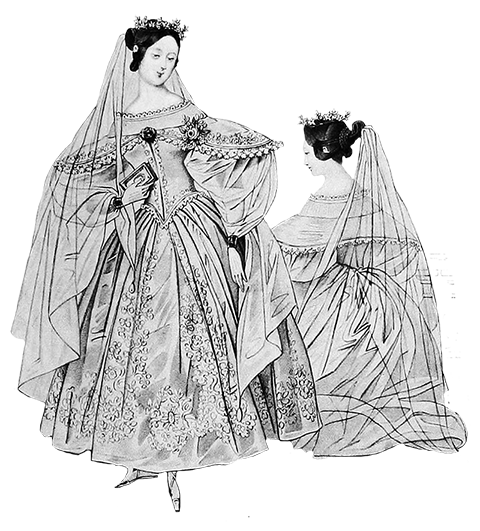 If you are looking here for ideas for Victorian costumes, you can use all these clip art as inspiration, but if you want to use the for clip art, here is another example of how you can combine the clip art of the Victorian dresses with corners and ornaments from my other pages: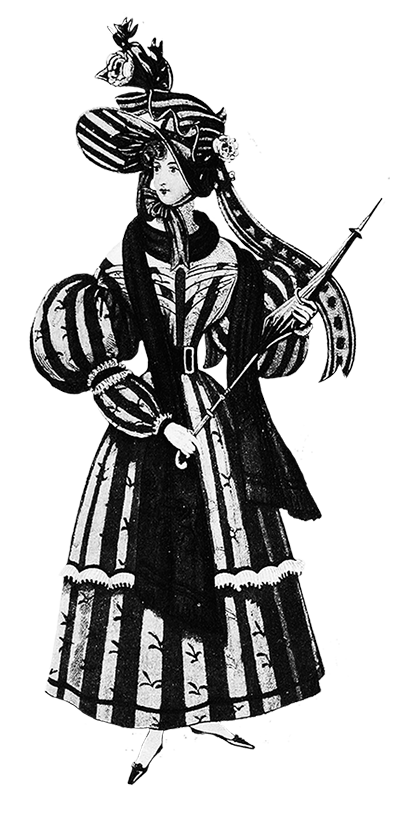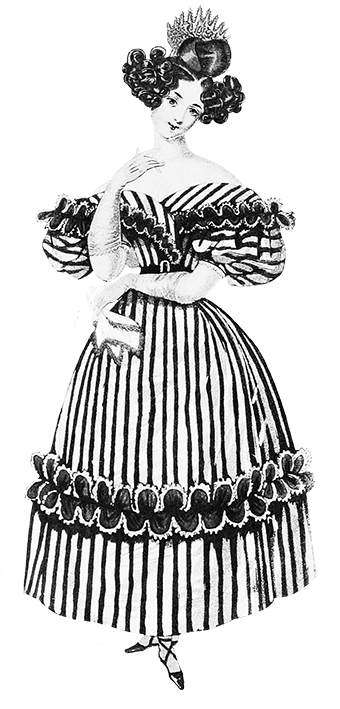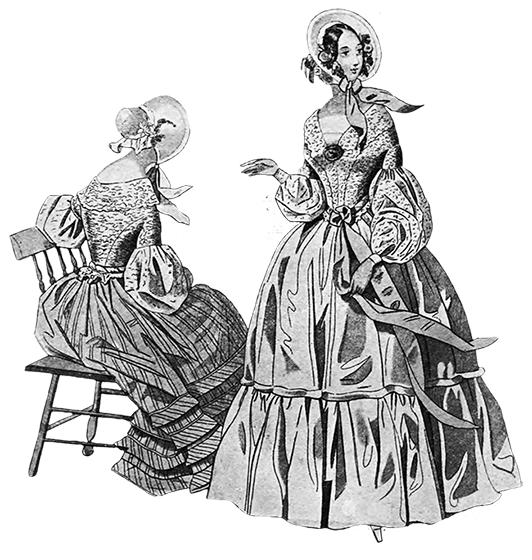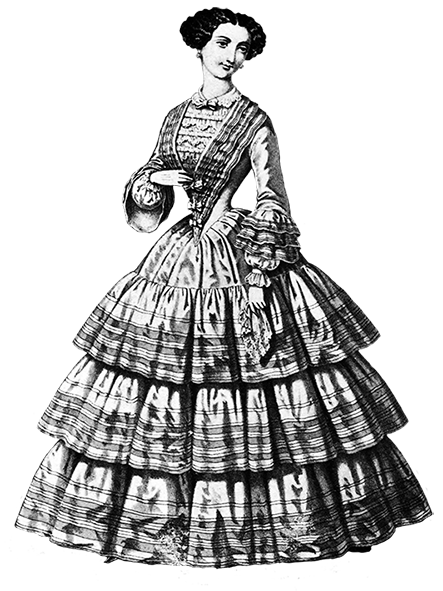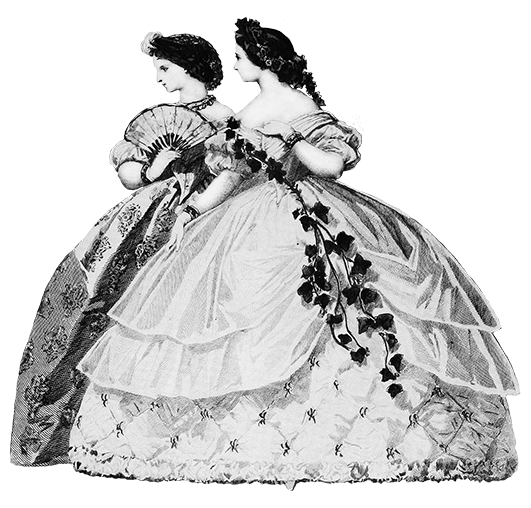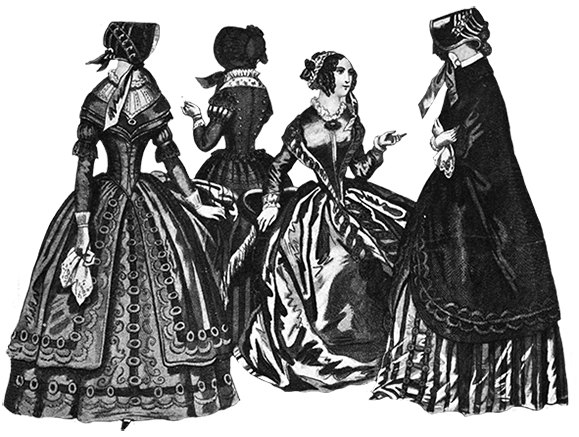 A page from a Fashion Magazine 1848, with a man's dressing gown and women in day dresses.
Here comes a page from one of the women's fashion magazines, this one from 1860, with huge crinolines.
The next of the Victorian dresses is of a dress from 1873, where the crinoline skirts have more or less disappeared and given place to bustles holding op the skirts behind the woman.
The next of these Victorian costumes is from 1879, where even the bustle has become smaller, the dresses altogether becoming more slender.
Not that it made these dresses more comfortable, the extreme lacing of the waist and the skirts that tightened below by the knees made it very difficult for the women to breath and move naturally.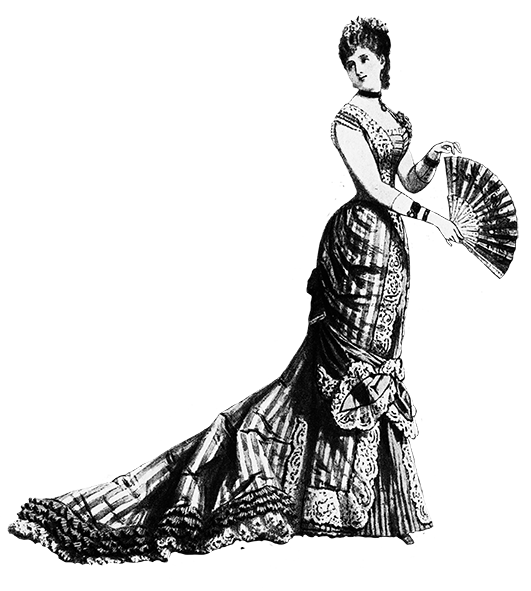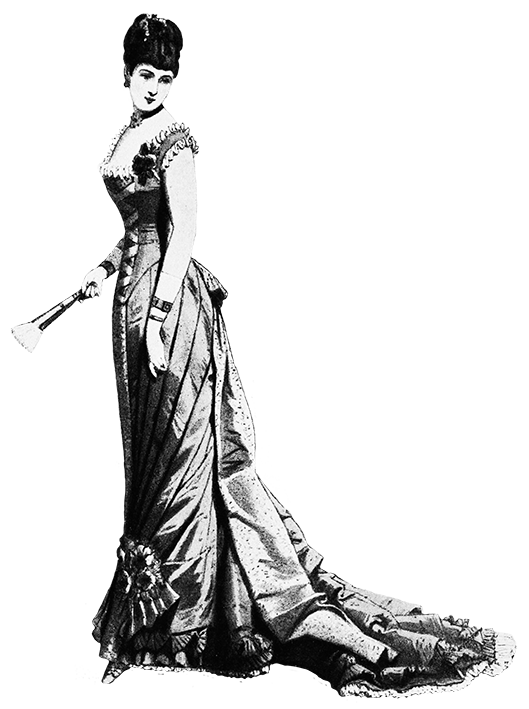 Men's Fashion Clothes in the Victorian Era:
You can read about the men's fashion clothing on Wikipedia, where you will find an overview of the changes through the Victorian Era for Victorian clothing for both men and women.

This first picture is from a fashion magazine from 1852: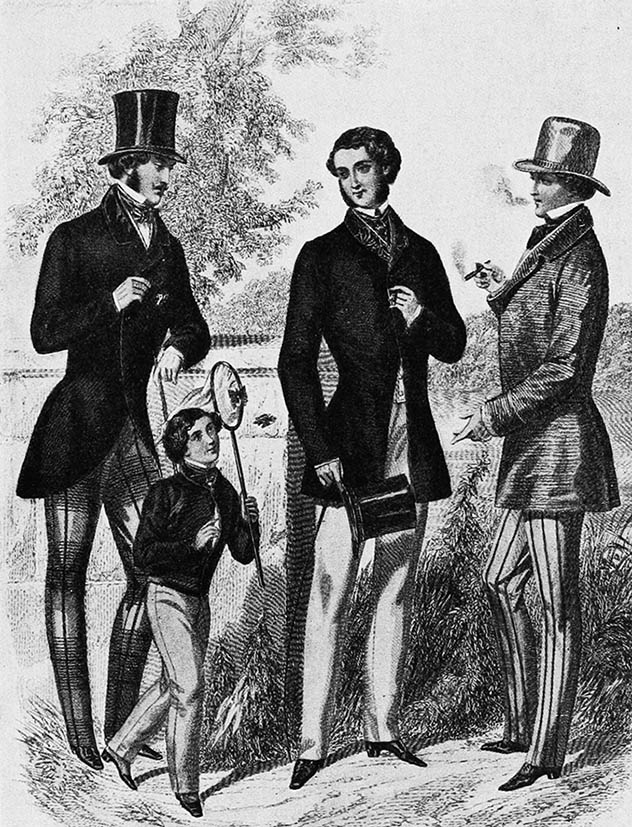 Here are some Victorian clothing clip art from 1837, with top hat formal wear: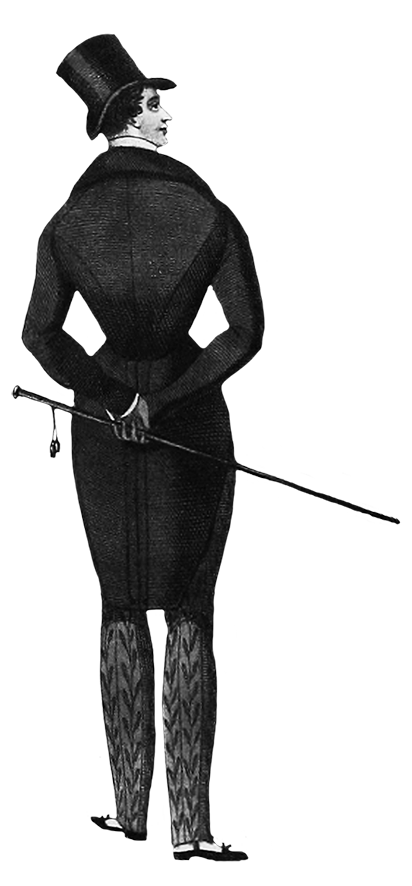 A gentleman's hunting outfit and other clip art of men's fashion clothing 1837:

An overcoat lined with fur, and a "coach man bear set" to use for driving the sleigh in Hyde Park.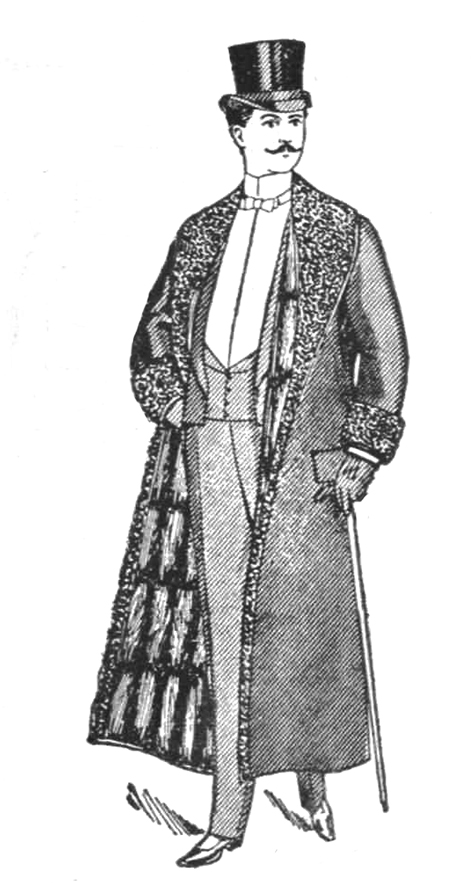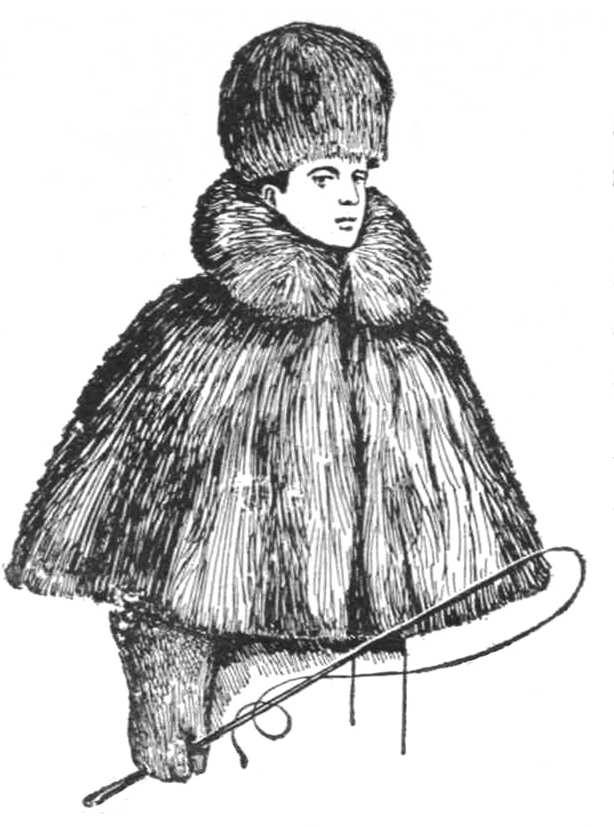 And now a big jump to a picture from a fashion magazine from 1917.
What a change!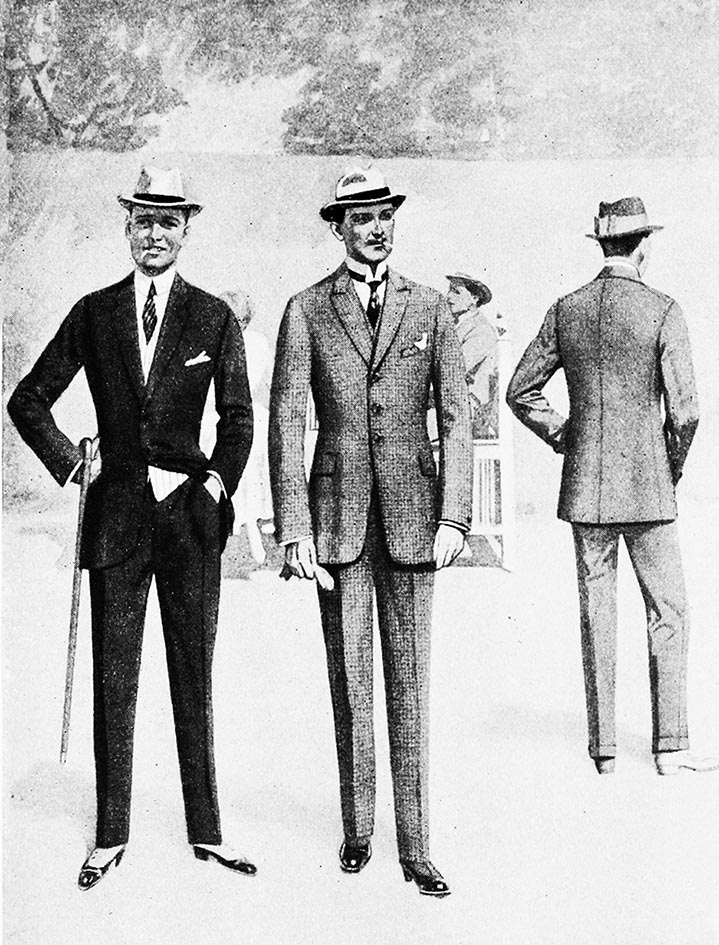 Dress and Fashion for Victorian Children: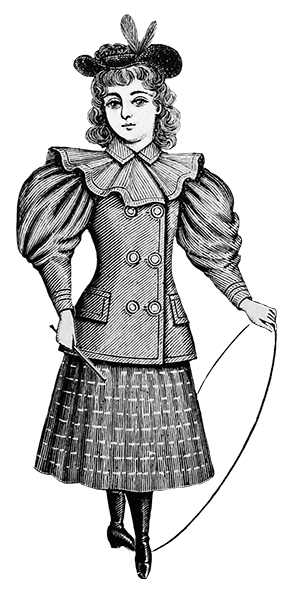 Fashion in girls' hats in the 19th century, from a period where the hats and bonnets grew to huge dimensions.
A page from a Fashion Magazine with Victorian children's clothing.
You could almost use these clip art for a paperdoll.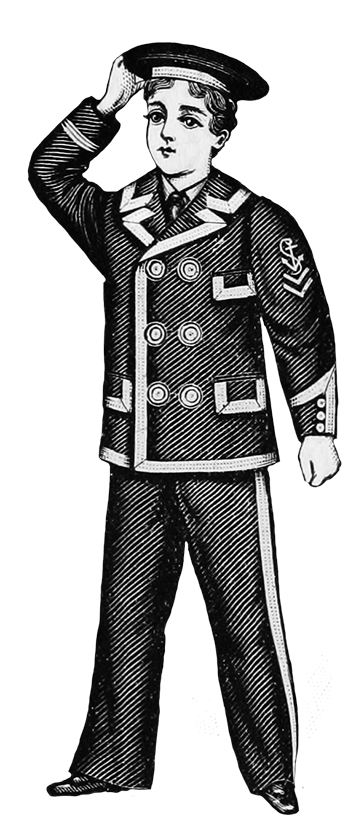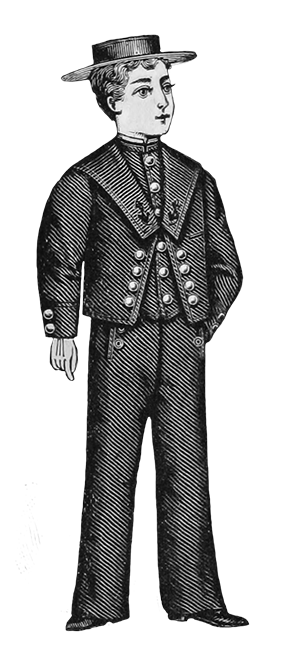 Boy's hats in the Victorian period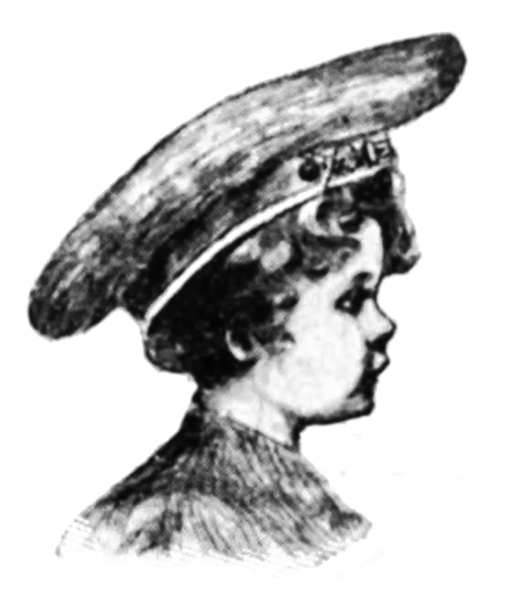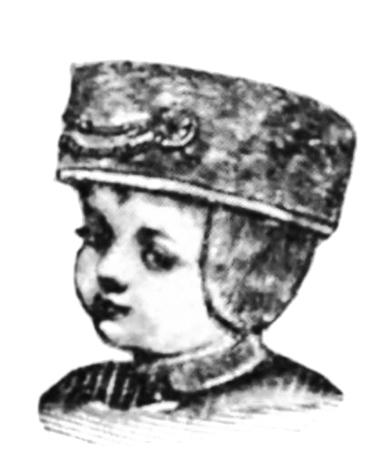 Victorian costumes for girls late in the Victorian Era: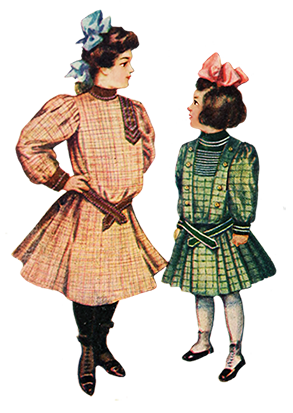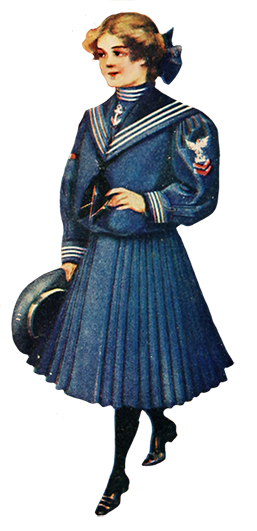 Victorian Hat Clipart:
This photo from 1830 shows the new fashion with enlarging the head with hats and feathers and ringlets.
Also the laced waist.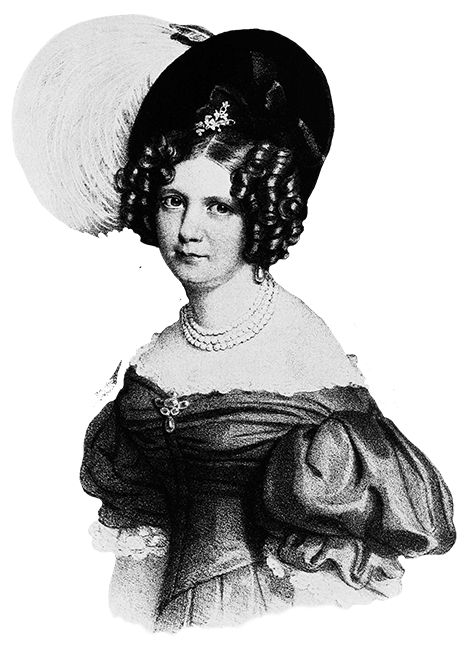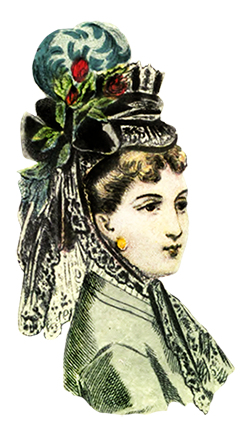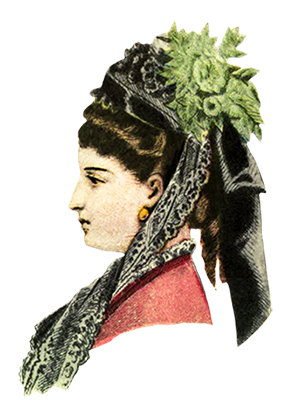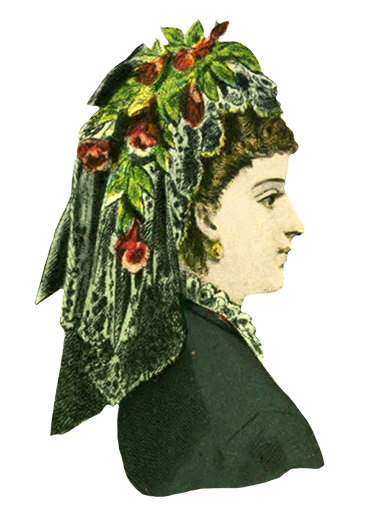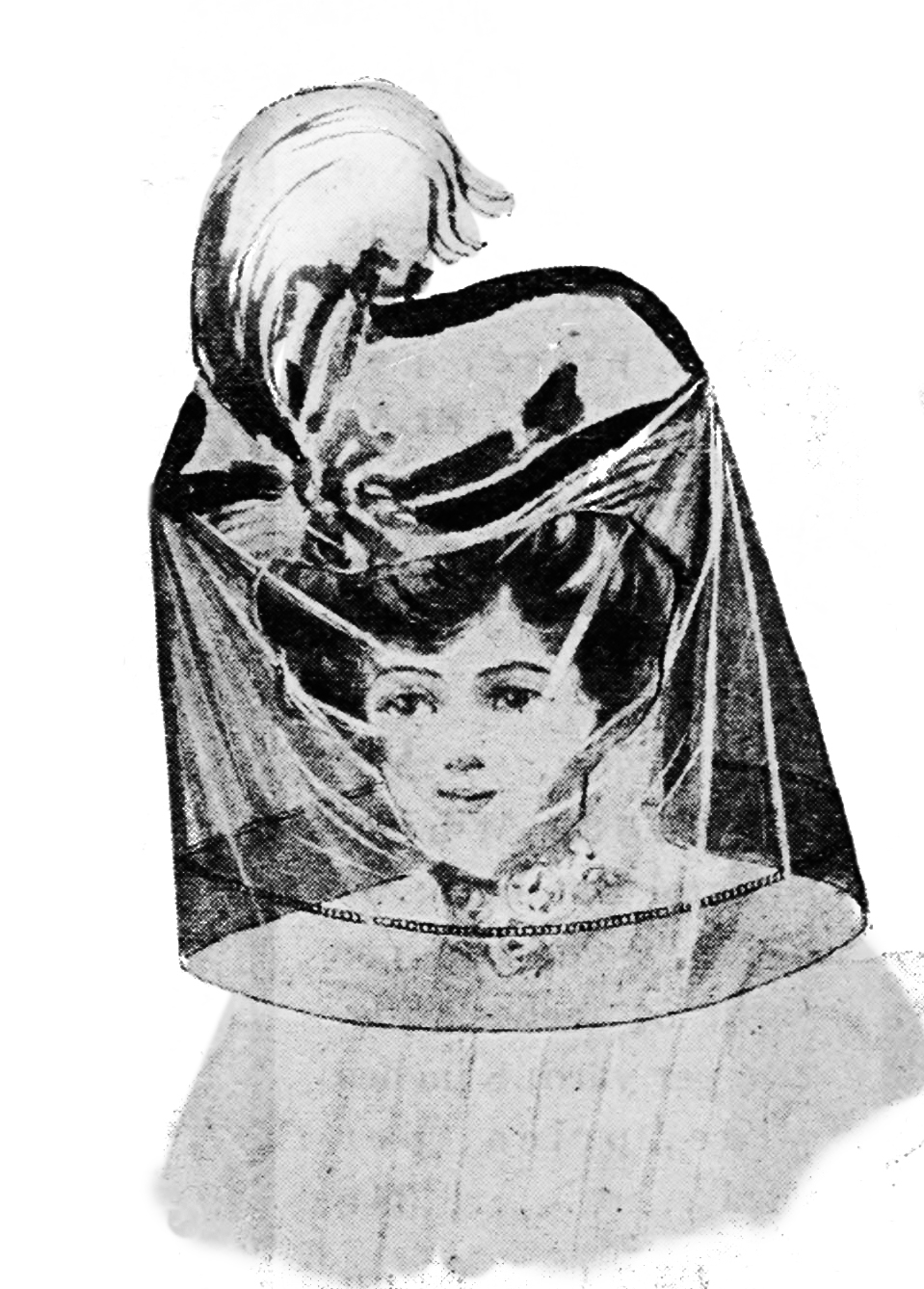 Above you see a few examples of the fashion in women's hats in the 19th century, also a charming automobile veil from the late period.

I have made a page with only ladies' Victorian hats, because I find them so decorative and amazing, pompous and sometimes a little funny.
On the other hand, if you take a look at all the various ways in fashion only during the last 50 years, a lot of the clothing looks funny :-)
Victorian Dresses Late 19th Century: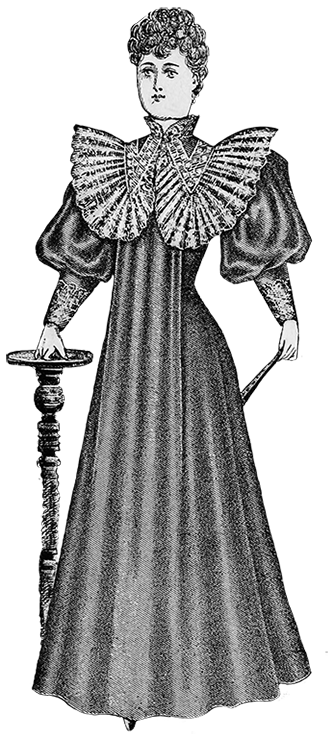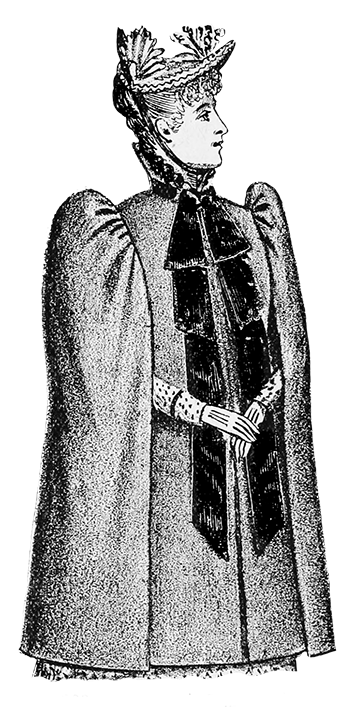 Victorian Lingerie and Men's Underwear:
Victorian lingerie for women and children
| | |
| --- | --- |
| Woman with Victorian corset | Victorian fashion in lingerie corset |
| | |
| | |
| Corset for women in 19th century | Victorian lingerie fashion |
| | |
| | |
| New fashion Victorian lingerie | Woman in Victorian underwear |
| | |
| | |
| | |
| --- | --- |
| Victorian men's underwear JPEG | Special underwear large Victorian men JPEG |
| | |
| | |
| Men's combination underwear | Men's stocking advertisment |
| | |
| | |
| | |
| | |
| | |
Victorian Clothing in Dress Reform Style:
The Victorian dress reform was mainly created by some doctors and largely middleclass women involved with the first wave of feminism in United States, Germany, Great Britain and Sweden from 1850th.
You can read more about it here (it was actually quite new to me!) and here are some clip art of these dresses in reform style.
When you have looked at the fashion changes throughout the 19th century I think it is very understandable that there had to come a fashion for women that allowed them to actually be able to breath and move.
I don't know much about the fashion for women from the working class, but I guess there clothing must have been much more comfortable.
The fashion for the upper classes required servants to help dressing and undressing, and were also an announcement to show that the women of the upper class didn't have to do any work themselves.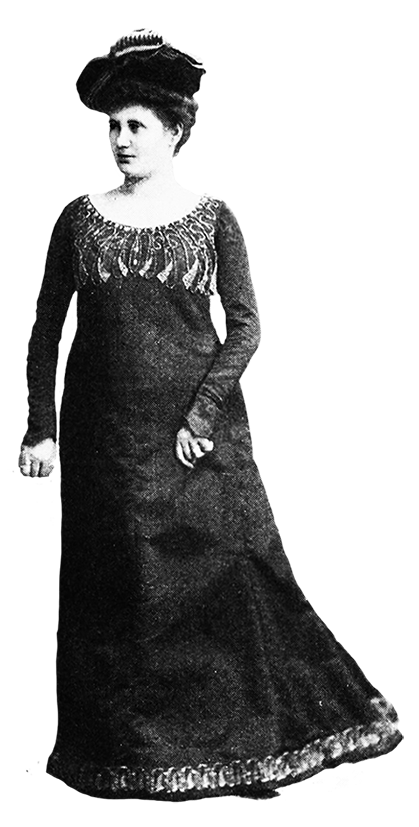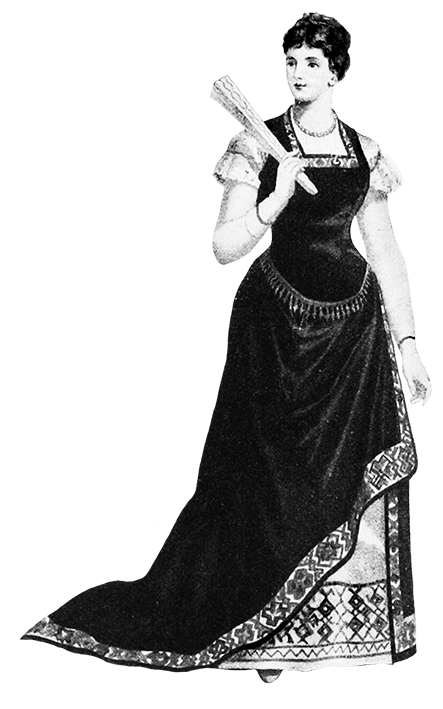 Women Fashion Clothes Start 20th Century: