These princess coloring pages are great to print whenever you have a child who needs a little rest from all the other activities during the day.
These free coloring pictures with princesses and roses, butterflies and birds can also be used for a princess birthday party. Find the link at the bottom of this page, as well as links to other pages here relevant to this one.
Two of my granddaughters aged 4½ year like to paint princesses and unicorns and of course Elsa and Anna from Frozen, and when they are rested and well fed they can paint beautifully, like the one aged 6.
But when the two small girls are tired they kind of paint the whole princess very fast and with only one single color.
When you have bought a coloring book it sometimes feels like a waste of the book, but when you use coloring pages to print it is not very expensive and they can paint as much as they want and don't have to take care painting inside the lines.
So print as many as you like of these free coloring pictures, if you have a whole group of girls at home, they can even have the same princess coloring page if they like.

Princess Coloring Pages:
I think I must say that these coloring sheets are mostly coloring pages for girls, but of course boys can color them as well.
Otherwise there is a page with Pirate coloring pages that might be more appropriate for boys.
Above a princess looking at a beautiful rose bush, and below a princess with a rose and butterflies.

Now you see below the same princess with another princess.

You can use these coloring princess pages as much as you like, as long as you follow the two simple rules for using my material that you can find on
Homepage
.

All the pictures here are made smaller to let the page upload fast, but they are actually a lot bigger.
When you find a coloring page you like and would like to print, use the "download" button to save it to your computer, or click the picture to come to the same printable version in a new tab, then print it.
Print that version with 150 dpi, then the princess picture will fit an A4 page.
Here the next coloring page is more complicated, and where a lot of the pages here will be great for kids and teenagers, this one might also be wonderful for grown ups.
Beautiful princess with roses for coloring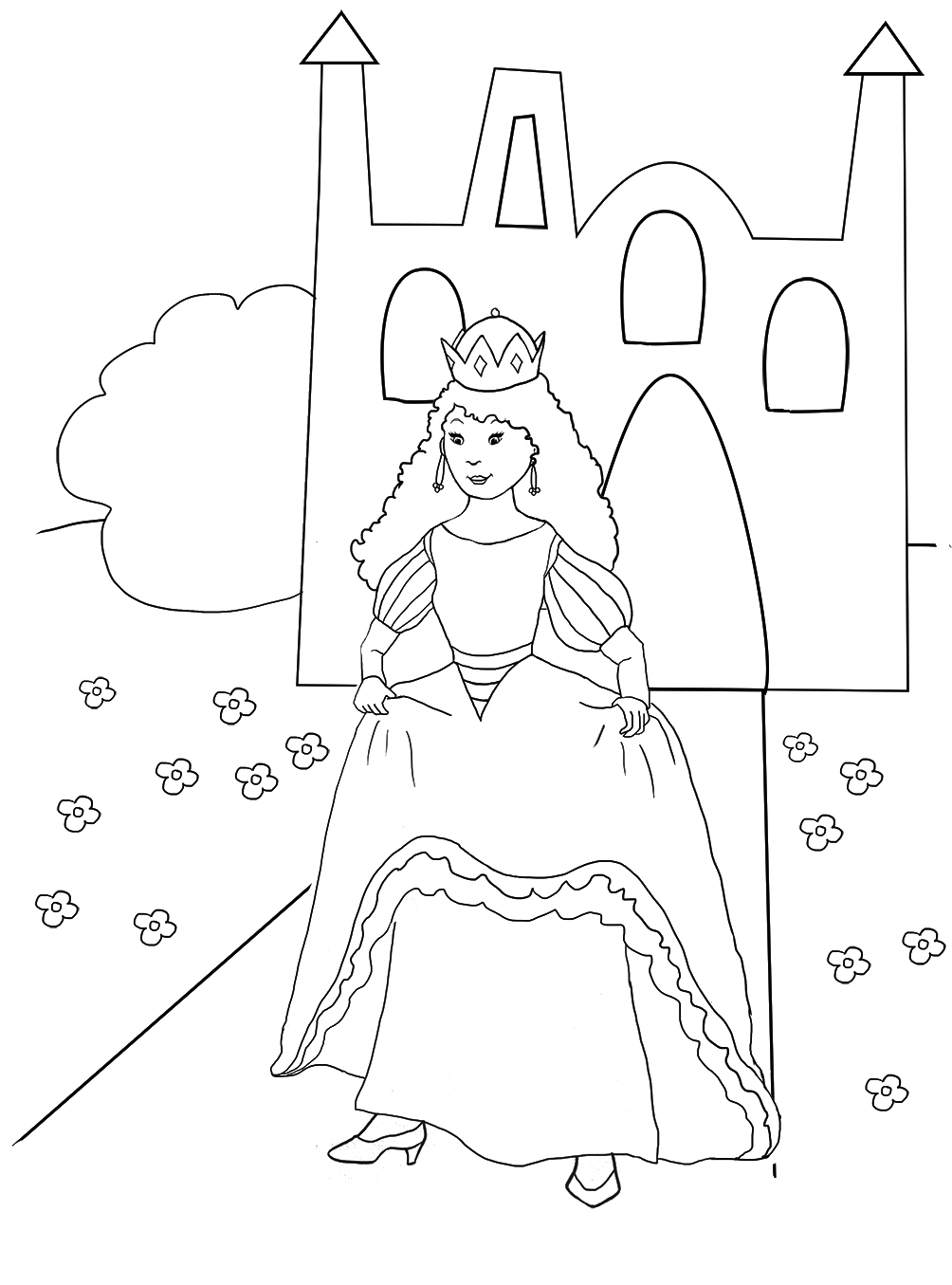 Dancing princess coloring page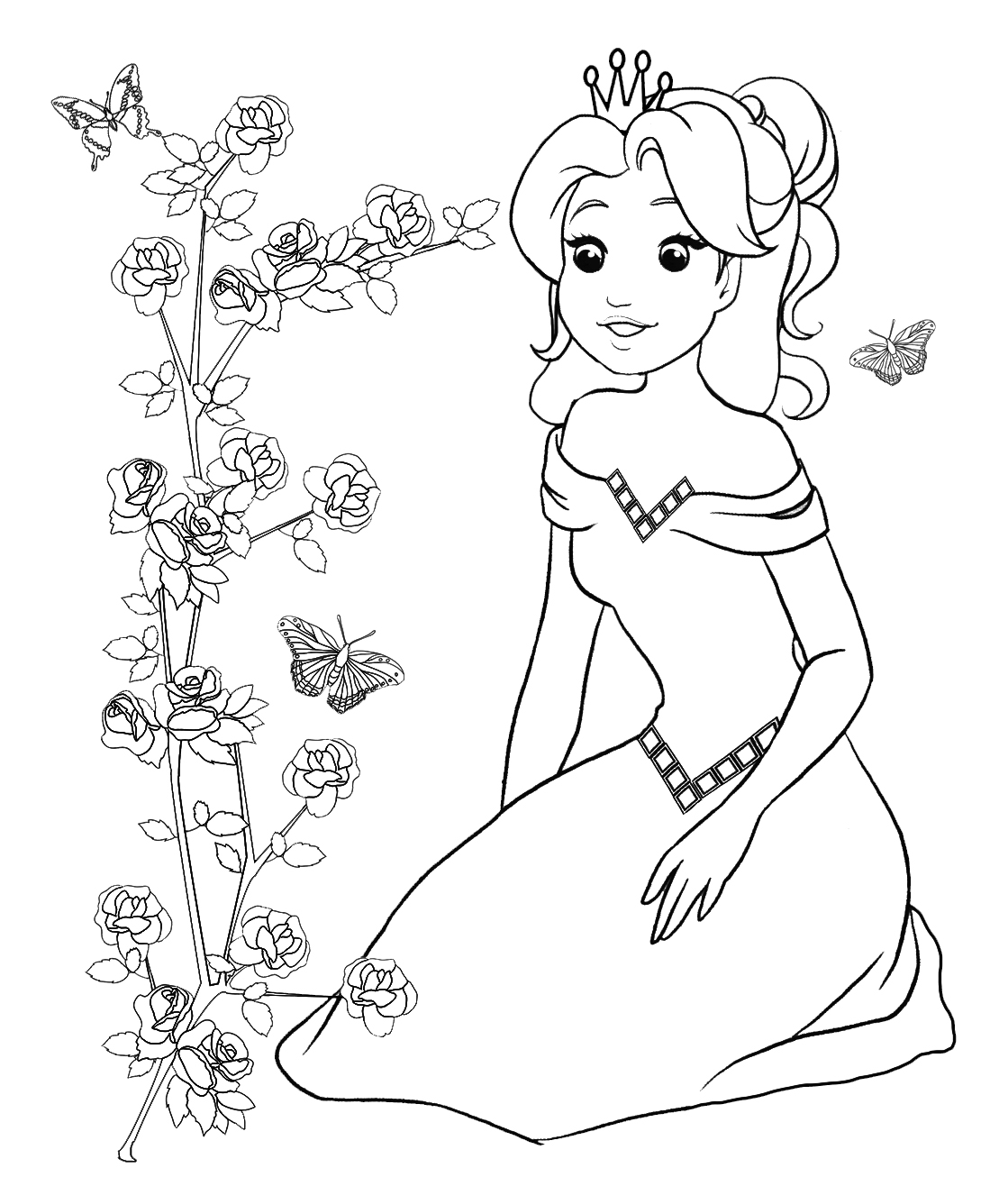 Princess with roses

Princess with diamonds and tiara

Two more coloring pages for girls with a princess, above with a rose bush and butterflies, below reading a book.

Next of the free coloring pictures is with birds and roses and the princess of course :-)

Here come some coloring pages with drawings of cute little princesses. Two or more different princesses, dressed for a party or for winter.
To fit a A4 page print them with 200 dpi.
These coloring pages with the little princesses are made after some old, vintage paper dolls I have saved from my own childhood.
I received these paper dolls as a gift from an aunt who had moved to USA when I was only 2 years old. I hardly remembered her, so when I some years later got this letter with these amazing paper dolls it was like magic - somebody send me a gift from a country far, far away.
These paper dolls were also special because you didn't have to cut them - all you had to do was to push them out of the paper.
And there was even more! The dresses were made to go all the way around the dolls, making them just a little 3-dimensional.
So now I have a lot of fun making these American paper dolls into princesses and hopefully have some great time coloring them in their different clothing.


A princess coloring sheet with a princess playing with a ball - or maybe it is the moon or the sun - surrounded by stars.


Here comes one more of the coloring pages for girls, a princess and a kitten:

Princess and a unicorn: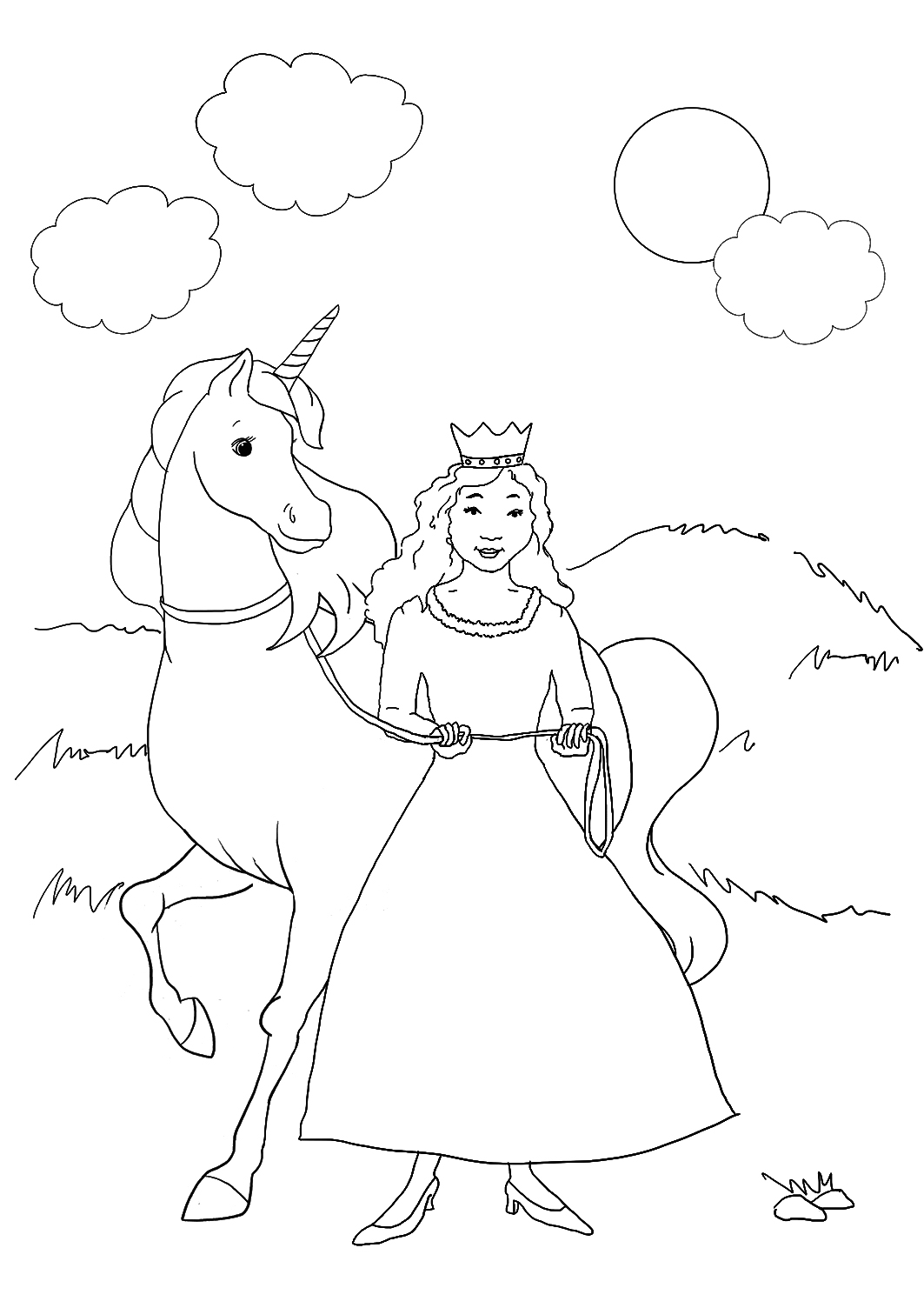 A princess with a rose and a huge hat

Beautiful dancing princess for coloring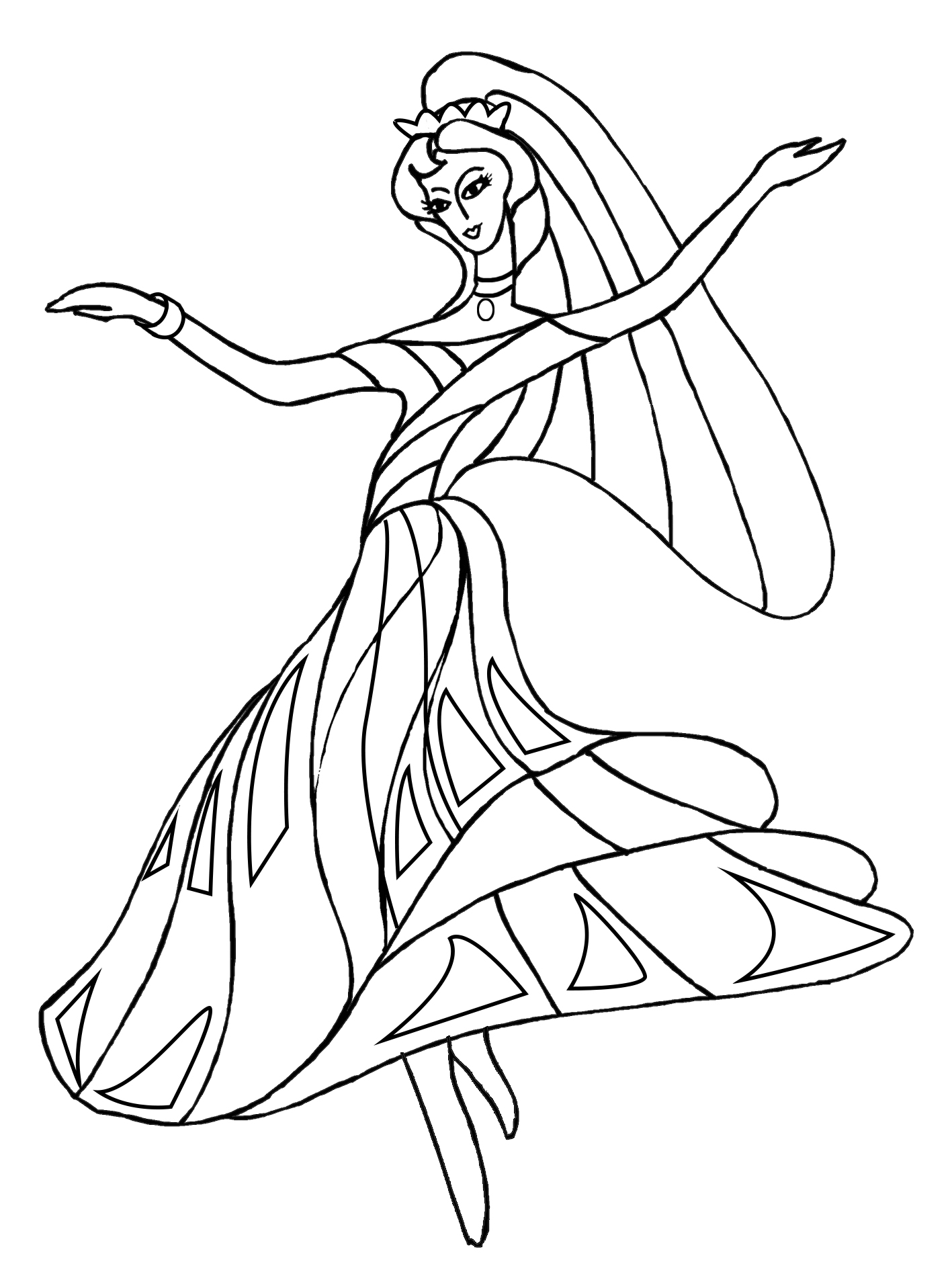 Here are some more of the little cute princesses:
Where Would You Like To Go Next?
| | |
| --- | --- |
| | |
| Free Coloring Pages: The main page for pages with coloring sheets where you also will find an overview. | Dance Coloring Pages: A page with beautiful coloring pages. |
| | |
| | |
| Princess Party Ideas: Here is a page with lots of ideas for having a princess party. | Birthday Ideas: The main page for all the pages about birthday, with an overview. |
| | |
| | |
| Mermaid coloring pages: Wonderful mermaids swimming in the ocean, for both grown up's and kids. | |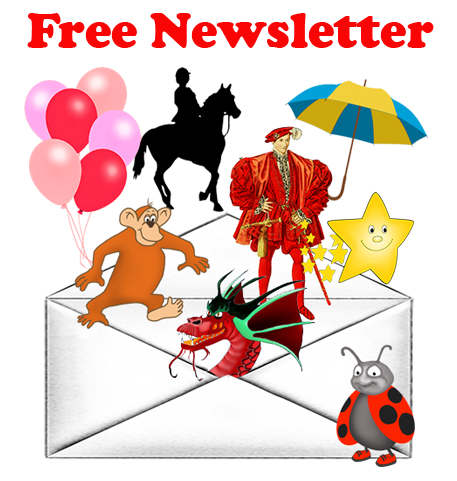 If you want to stay in touch and hear about new pages, tips and ideas about arts & crafts, please sign up for my newsletter. It is totally free, and you can unsubscribe any time!