Autumn is a beautiful time of year - the time when all of the leaves turn a bright red, orange, and yellow in anticipation of the winter ahead. Your kids will love the way their trees look, and it's a wonderful time to collect leaves to do arts and crafts with.
On this page you will get access to lots of different kinds of autumn clipart with fall leaves, trees in autumn colors, all kinds of fall clipart and autumn graphics.

Working with fall leaves clip art can be a whole lot neater than working with real leaves, especially if you're doing craft projects with your children.
You'll love the wide selection of fall leaves clip art that we've got below, and you can scroll through the various images to see which one catches your fancy.
There are a lot of fun projects that you can do with your kids, and all it takes it a bit of creativity to see what fun you can have with leaves!
This kind of fall clip art is great for making custom postcards, letters and invitations.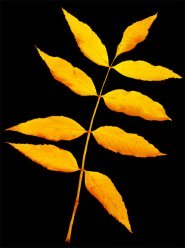 Most of the clip art is made in PNG, which means that it comes with a transparent background and you can use one picture, ore you can use two or more, on top of each other.
A few are still saved in GIF-format, but I am changing that when I can, because the PNG format is of a higher quality.
Here you can see how you can change the image completely by putting on of the clip art below on a black background:
There will also be lots of autumn clipart and autumn graphics saved as JPEG, made of photos of fall leaves, or made as drawings.
So, be welcome to find the leaves you like, save them and use them for whatever purpose you would like.
You can use all the fall leaves clip art here for free, with only two limitations, which you will see on Home Page. And those limitations are less restrictive than in most other places, in fact they are just common sense.
There are also two pages with fall pictures and beautiful photos of autumn scenery.

You can go there by checking the page Seasons of the Year or go there directly here Autumn clipart and Fall Pictures.
Here is the corner for the fall clipart border on top of this page, and a corner for an other border, which you will find below on this page: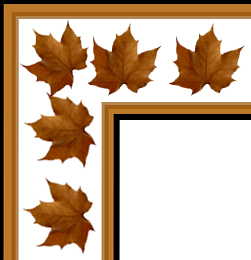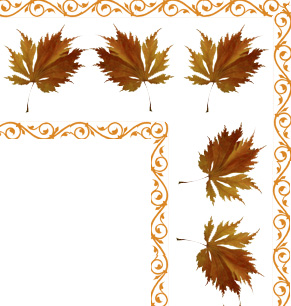 If you like clip art of flowers, please visit Flower Image Gallery or Flower Clip Art.
Fall Leaves:
| | | |
| --- | --- | --- |
| Fall leaves PNG | Autumn clipart PNG | Fall leaves PNG |
| | | |
| | | |
| Autumn graphics JPEG | Autumn clipart PNG | Autumn graphics PNG |
| | | |
| | | |
| Fall leaves PNG | Fall clipart PNG | Autumn clipart PNG |
| | | |
| | | |
| Autumn graphics PNG | Leaves of autumn PNG | Fall clipart JPEG |
| | | |
| | | |
| Autumn beech leaf PNG | Fall leaf PNG | Autumn clipart PNG |
| | | |
| | | |
| Autumn clipart | Fall leaves PNG | Autumn Rose Hips PNG |
| | | |
| | | |
| Fall leaves | Autumn clipart | Autumn clipart PNG |
| | | |
| Beech leaf fall GIF | Brown fall leaf GIF | Fall leaf |
Here is the autumn clipart border, that fits the corner above:

You can use the borders and other fall leaves clip art on this page as an inspiration on how to use the fall leaves in different patterns. They will also be very pretty on fall wedding invitations and table place cards.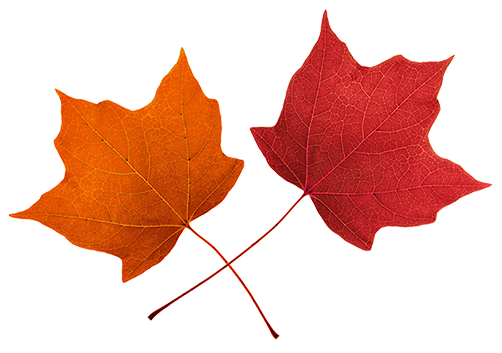 Here are some of the projects and crafts you can do:
Fall Leaf Hunt
Autumn is a great time to find leaves of a certain color, shape, and size, so you and your children can print out the images below to paste into a scrapbook.
Take that scrapbook with you, and use it for your leaf hunt. Look for any leaves that match the pictures in your book, and bring those leaves home with you to paste into the book. You'll find that your "Autumn Leaf Book" can be a fun project that can occupy many an afternoon when you need an activity to do with your kids.
Print and Paint

If your kids are trying to improve their skills with the paintbrush, why not help them out by printing out the pictures and having them paint the leaves?
They'll need to mix the colors of their paint just so to match the specific oranges, reds, and yellows of the various leaves, and it will help them to improve their eye for colors.
They will also have to try to get the shape just right, and have a contest to see who can draw and paint their leaf as close to the printed version as possible!
Fall Wreath
Get a bit creative with the fall decorations by making a cute wreath using printed and real fall leaves.
You can print out a wide selection of your favorite leaves, and cut them out of the paper to add them into your wreath. Sprinkle a handful of real leaves, twigs, and sticks into the wreath, and it will look amazing.
It can be a fun decoration to make with your children, and it will be a great craft for the holidays.
Fall Mobile
Got a little one in the house? Why not make a mobile out of these leaf images to hang over the little one's bed?
Print out two of every one of your favorite fall leaves clip art image, and have your kids cut them out and paste them back to back. Use a hole punch to make a hole at the top of the leaf, and run a ribbon through the hole to hang the leaf from the mobile. It's a great craft that your kids will enjoy, and they can make something beautiful for their little sibling.
I have made a background of fall leaves. You can use it as background for your website in the fall, or make your own of the other leaves.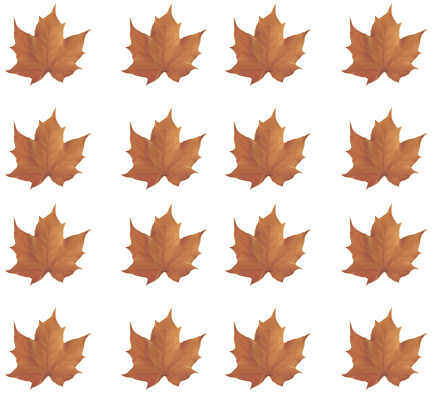 More Fall Leaves Clip Art:
| | | |
| --- | --- | --- |
| Fall clipart JPEG | Autumn clipart PNG | Autumn clipart PNG |
| | | |
| Fall leaf | Oak leaf | Leaf with shadow |
| | | |
| Oak Leaf with shadow PNG | Autumn graphics PNG | Autumn leaf PNG |
| | | |
| | | |
| Fall leaves clip art PNG | Fall leaves PNG | Red fall leaf PNG |
| | | |
Leaf Math
Print out a handful of the fall leaves clip art images below, and use them to help your child with their math.
Write numbers on the front of the printed leaves, and have your child paste them in numerical order onto a piece of paper. You can make fun crafts while helping your children improve their math skills.
It's a fun craft you can do with smaller children, though you can get creative if you want to use this idea to teach your older children math as well.
Using this fall leaves clip art will make it much easier to do arts and crafts projects, as you'll have real-looking leaves that are nowhere near as messy as the leaves you gather from the backyard!
Of course you can also collect fall leaves, put them under pressure by heavy books (although not IN the book, it would make nasty marks on the white pages) and glue the leaves on invitations, use them as table decoration and on the table place cards.
Drawings of Fall Leaves:
| | | |
| --- | --- | --- |
| | | |
| Brown Autumn Leaf PNG | Yellow Autumn Leaf PNG | Green fall leaf PNG |
| | | |
| | | |
| Fall Leaf PNG | Brown green leaf PNG | Light brown leaf PNG |
| | | |
| | | |
| Grey brown fall leaf PNG | Green fall leaf PNG | Very grey fall leaf PNG |
| | | |
| | | |
| Fall leaf drawing PNG | Fall leaf clip art PNG | Autumn clip art PNG |
| | | |
If you want to stay in touch and hear about new pages, tips and ideas about arts & crafts, please sign up for my newsletter.
You will also get a newsletter with links to the best printable version of new clipart if it is too big for the normal page, and tell you about the new designs (bags, mugs, accessories) I make with my drawings and pictures on them.
It is totally free, and you can unsubscribe any time!
Back to the top of this page about Fall Leaves Clip Art
Visit Homepage and the pages here on Clipartqueen related to fall leaves:
| | | | |
| --- | --- | --- | --- |
| Homepage | Seasons of the Year | Autumn Clipart | Fall Pictures |
| | | | |