Dinosaur pictures provide wonderful graphics of the ancient and captivating animals that can enhance a variety of arts and crafts projects and activity sheets for pre-schoolers and elementary-school children.
Pictures of dinosaurs are also media-friendly and attention-grabbing, helping many merchants to sell products and services to children as well as adults.
Seeing a cartoon dinosaur with a human-like expression cavorting in an environment not normally associated with dinosaurs is an undeniably successful method advertisers use to attract attention to their products.
But as you might have noticed I already have a page with facts about dinosaurs, and a page with coloring pages of dinos, and I so wanted to have a page with pictures of dinos as well.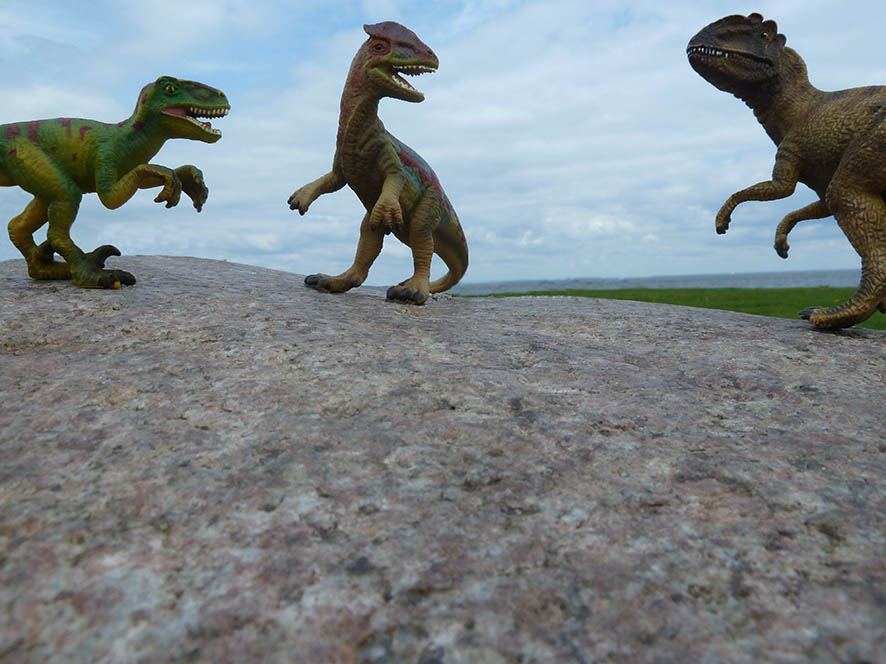 Well, let's face it: It is not so easy to take dinosaur pictures or dinosaur photos nowadays!
So I asked a friend of mine, a boy 5 years old, who knows everything - and I mean EVERYTHING - about dinosaurs, if I could borrow some dinosaurs from his dino-collection.
Then I went to a very beautiful Botanic Garden, where they have all kinds of tropical plants, and took a lot of photos of the dinosaurs in an environment I think could be natural for these amazing creatures.
So here they come:
Dinosaur Clipart
| | |
| --- | --- |
| Dinosaur clip art | Dinosaur clipart |
| | |
| | |
| Tyrannosaurus Rex in landscape | Tyrannosaurus Rex |
| | |
| | |
| Staurikosaurus | Big Staurikosaur |
| | |
| | |
| Dinosaur pictures | T. Rex |
| | |
| | |
I am really very happy about these pictures, because I think most of them could be of live dinosaurs.
You will find dinosaur photos of different types of dinosaurs, and I hope I have named them correctly. I guess I will have to check with my friend, who lent me these lifelike dinos (well, more or less lifelike, as far as we know).
One of the most popular dinosaur clipart pieces used in numerous cartoons, projects and advertisements is the T rex dinosaur. Dinosaur pictures almost always include at least one T rex dinosaur, with its rows of ferocious fangs, large head, whipping tail and aggressive stance.
This type of dinosaur became extremely popular after Disney released the first Toy Story film, which revealed a T rex dinosaur toy that exhibited personality traits opposite to what most people envision in an enormous and carnivorous dinosaur.
Pictures of T. rex and other Dinosaurs:
| | |
| --- | --- |
| Tyrannosaurus Rex | Albertosaurus |
| | |
| | |
| Triceraptos | Triceraptos |
| | |
| | |
| Brachiosaurus | Stegosaurus picture |
| | |
| | |
| Stegosaurus attacked | Deinonychus |
| | |
| | |
You can use all these pictures of dinosaurs for free like all the rest of the clip art on this website. Just remember to read Homepage for the very simple rules for using my material.
If you want more about dinosaurs you can also read my blog, or visit the pages with dinosaur coloring pages and dinosaur facts.
Projects Using Dinosaur Pictures
Children spend many enjoyable hours looking at pictures of dinosaurs and dinosaur clipart on the Internet as well as reading about their fascinating attributes. By downloading and printing out these pictures, children (and adults) can design nifty projects and indulge their creative side as well.
Diorama Dinosaur Clipart Project

A diorama is essentially a three dimensional scene of any kind reproduced by putting figures and objects in front of a background that is drawn or painted. To create a miniature dinosaur diorama, all you need are a shoebox, some construction paper, crayons, scissors and glue.

• First, download and print out several dinosaur pictures that you find humorous or interesting.
• Cut them out and glue them onto stiff pieces of cardboard, allowing a small bit of extra cardboard at the bottom of the clipart to use as a stand.
• Then create an environment for your dinosaurs by coloring a jungle scene or cutting out trees, rocks and mountains using multicolored construction paper.
• You can also download and print clipart associated with dinosaurs to use in your diorama.
More Dinosaur Pictures:
| | |
| --- | --- |
| Apatosaurus | Dinosaurus clipart |
| | |
| | |
| T. rex cave | T. rex picture |
| | |
| | |
| Stegosaurus under attack | Dino passing water fall |
| | |
| | |
| Stegosaurus eating | Dino on rock |
| | |
| | |

Party Invitations
For a dinosaur-themed birthday party, create personalized and unique party invitations using dinosaur pictures found on the Internet.
Cartoon dinosaur clipart makes enchanting invitations.
These are easy to make with some cardboard stock, glue, birthday party-themed stickers and an ink pen to write each invitation.
A variation on this idea would be to print out dinosaur clipart that is the size of a standard invitation card and use those as the invitation itself rather than decorating card stock with pictures of dinosaurs.
| | |
| --- | --- |
| T. Rex | Small dinosaur |
| | |
| | |
| Thyreophora | Dinosaur pictures |
| | |
| | |
| Pictures of dinosaur on rock | Picture of thyreophora |
| | |
| | |
| Three dinosaurs meeting | Dinosaur on rock |
| | |
| | |
Advertisements
Depending on the service or product you are advertising, dinosaur clipart can make your business seem competent, tough and dependable, as dinosaurs convey the image of aggressive and sturdy creatures "capable" of getting any job done, whether it is cleaning or servicing something broken or skillfully capturing dinner!
Whatever type of advertising you need to boost your business's attraction, dinosaur pictures may be just the kind of cool and engaging display to enhance the marketing of your company.
| | |
| --- | --- |
| Dinosaur on sand | Deinonychus on sand |
| | |
| | |
| Standing dinosaur picture | Dinosaur on big cliff |
| | |
| | |
| Tyrannosaurus rex | Blue and red dinosaur picture |
| | |
| | |
| Dino on sand beach | Green dinosaur |
| | |
| | |
If you want to stay in touch and hear about new pages, tips and ideas about arts & crafts, please sign up for my newsletter.
I will tell you about my new books, discounts on them and when I make something special for newsletter followers.
It is totally free, and you can unsubscribe any time!