Koi fish drawings and sketches of koi fish are intriguing on so many levels. The koi fish are brilliantly colored with shades of gold, orange, red, black and white.
They have a surreal or mystical quality that naturally unleashes creativity. This is why they are often seen depicted in shades of blue and green, even though they aren't naturally available in those shades.
You can also play creatively with water, which gives koi fish drawings and koi fish pictures a fluid nature that is never the same from one glance to the next.
Many people know Japanese koi fish for their captivating colors alone. They enjoy staring at them in ponds and public fountains, but it is those who learn koi fish symbolism who really grow to appreciate this fish.
The symbolism began in ancient China, where the koi fish was seen as a powerful fish that could swim up the toughest fountains and streams. Today, Japanese koi fish are believed to represent courage and the strength to overcome obstacles. They are considered as luck-bringing and wealth-bringing, and are often used as tattoos.
Here I present you drawings of koi fish, some are with waves, some are without. Some are in GIF or PNG-format, which means that the background is transparent, and you can use then on whatever background you choose. Also on colored paper.
Others are in JPEG, and then they are with the colored or white background.
To help you I will write it below each picture, if there is doubt.
There are only two limitations, which you can find more about on Homepage. But it is actually only common sense. Not to overuse it (all the drawings and clipart on this page is my original work) and not to use it in any negative way.

Japanese koi fish naturally have a strong masculine nature.
They are powerful enough to swim upstream with immense pressure bearing against their bodies. They are strong enough to know when they have been conquered and are known to lie perfectly still just before being slaughtered.
When you want to evoke a sense of power and courage, go with a brilliant Japanese koi fish swimming in waves of black.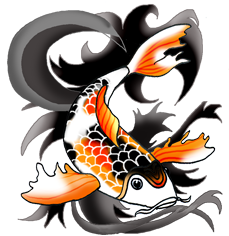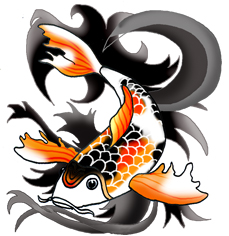 Koi Fish Border


Koi fish are commonly added to outdoor ponds because they are so much fun to watch.
In the wild, they are constantly on the hunt for their next meal, so they are not a fish that naturally sit still. They are very active and you can sit by the pond and watch them swim for hours. They can be quite peaceful at times while swimming with more energy at other times.
All koi fish need is room and clean water to remain happy in a pond. All you need to bring their energy to your website, scrapbook pages, or printed report is a bit of room for koi fish drawings.
This border presents a line of fish, so it brings the energy that koi fish exhibit naturally when in water.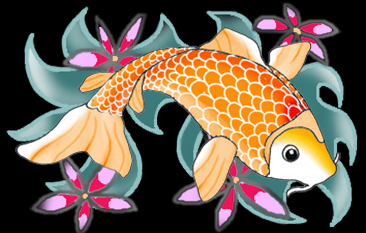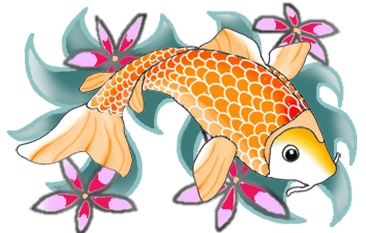 Koi Fish with Flowers
Some koi fish are covered in tiny gold scales that glitter in the light, just like a woman dressed in gold for the ball.
Others are white with botches of gold or black in unique places, just like an abstract painting which transforms meaning from one viewer to the next.
There are even black koi fish with splashes of red, gold or orange on their backs or bellies, just like a hitchhiker dressed in black with their thumb glowing in headlights.
Koi fish can become anything you imagine them to be, and that is what makes koi fish pictures with flowers a great inspiration for tattoos and a variety of artistic projects.
Anything that needs a little surrealism or creativity can be enhanced with the right Japanese koi fish pictures. Look for those with flowers and other splashes of color to add a dash of femininity to the fantasy.
Koi fish used in a fantasy setting are often embellished with Japanese flowers and other items that draw symbolism in the Chinese or Japanese tradition. This makes them one of the most versatile options for paintings, tattoos and other artistic expressions.
All Green and Blue Koi Fish Images
You won't find many green Japanese koi fish swimming in the wild, but there is something to be said for creative license.
Green and blue sketches of koi fish often come up at tattoo parlors, since the color combination pops brilliantly when created by the hand of a talented tattoo artist. Women often prefer these colors to add a feminine touch to a fish that naturally has strong masculine features.
Koi fish should be whatever you imagine them to be, so you have a wide range of creative license. If green or blue koi fish sketches feel natural to you, then go with green koi fish pictures or green koi fish drawings for your creative projects.
It's not all about reality. Free yourself to have fun!
| | |
| --- | --- |
| Sketches of koi fish | Sketches of koi fish |
| | |
| JPEG Green koi fish drawing | gif Green koi fish image |
| | |
| Blue koi fish drawing | Blue green koi fish clipart |
| | |
| Blue koi fish | Blue green koi fish |
| | |
| Sketches of koi fish | Koi fish drawings |
| | |
| GIF Two green koi fish | GIF Koi fish green |
Koi Fish Drawings orange/black and orange/red
Japanese koi fish could not have been created with a more stunning palette. From shiny gold to deep red and the darkest black, these fish are known to grab the eye and pull humans in as if they have magical qualities.
In reality they are just beautifully colored carp, but in fantasy they are powerful creatures that can swim upstream in fountains as if floating in the air.
Koi fish drawings can be infused with the most brilliant mix of colors. Let them draw the eye of your viewers and mesmerize them, just as they do while swimming in outdoor ponds and streams around the country.
| | |
| --- | --- |
| Koi fish clip art | Koi fish clip art |
| | |
| Two orange koi fish on black JPEG | Two orange koi fish swimming JPEG |
| | |
| Koi fish sketches | Fish clip art |
| | |
| Orange koi fish GIF | Black yellow koi fish GIF |
| | |
| Koi fish clip art | Koi fish clipart |
| | |
| Black orange koi fish drawings JPEG | GIF Orange koifish |
Koi fish pictures take on a higher level of meaning when you place waves of blue water around them.
In ancient Chinese tradition, it was believed that koi fish that successfully made it to the top of a waterfall at Dragon Gate were instantly transformed into dragons. This was probably inspired by the dragon-like colors seen on the koi fish, but this tale is mimicked today in the Japanese meaning of koi fish.
These fish are associated with conquering adversity, beating the obstacles, and moving forward with luck and prosperity.
You can get some of this meaning from a colorful koi fish, but place the fish in a wave of water and you evoke all of this rich meaning from the Chinese past.
Koi fish clipart
Koi fish drawings
Koi fish in waves JPEG
Koi fish in waves PNG
Fish clip art
Fish clip art
Black red orange Koi fish JPEG
GIF green koifish waves
Select different koi fish drawings and sketches of koi fish according to your needs.
Use them for their bright colors or go with darker black and red shades for a darker portrayal.
Use them for their rich cultural significance and their symbolic depth. Whatever fits your story, stokes your creativity, or gets you excited...Japanese koi fish are there for you.
I hope you will find a koifish to use for your letter, an invitation, for your website, maybe a scrapbook or an art project or school project.
There are only two limitations, which you can find more about on Homepage. But it is actually only common sense. Not to overuse it ( all the drawings and clipart of Koi fish are my original work) and not to use it in any negative way.
If you want to stay in touch and hear about new pages, tips and ideas about arts & crafts, please sign up for my newsletter.
You will also get a newsletter with links to the best printable version of new clipart if it is too big for the normal page, and tell you about the new designs (bags, mugs, accessories) I make with my drawings and pictures on them.
It is totally free, and you can unsubscribe any time!
Back to the top of this page about Koi Fish Drawings
Visit Homepage and pages related to this one on Clipartqueen:
| | | | |
| --- | --- | --- | --- |
| Homepage | Animal Clipart | Cool Drawings | Pictures of Animals |
| | | | |