What makes thinking about retirement party ideas so easy is the fact that you can start planning several months ahead, since most people know exactly when they are going to retire.
This gives you plenty of time to create a fabulous celebration complete with retirement party games, good food and a chance to toast the retiree with many funny retirement party jokes.
This page is one of many pages on this website about party ideas, party games, party decorations and party clip art.
So if you do not find what you are looking for on this page, please have a look at some of the other party pages that you find as sub-pages to the main page Party Game Ideas.
If you want to use some of my clipart, just follow the two very simple rules, that you can read more about on Homepage. But actually it is as simple as do not over use it, and do not use it for any negative purpose.
Retirement Party Humor
For the most part, retirement parties should be festive, lighthearted events celebrating the fact that someone has worked hard all their life and can now relax and enjoy his or her remaining years without needing to trudge into work everyday.

For this reason, collecting funny retirement quotes, printing them out and making a booklet with these printouts would make a fun gift to give to the retiree being honored.
Place two or three jokes on each page, along with a couple of humorous clipart images found at Retirement Party Clipart. Bind the booklet together by punching holes in the papers, threading string or ribbon through the holes and tying the ribbons in a tight knot to keep the joke booklet together.
For example, cartoon pictures of old people with canes, wheelchairs, dentures and other items associated with old age can be inserted on each page, adding to the laughter provided by the jokes included in the booklet.
You might even get some retirement party ideas just by looking at the many delightful Retirement Party Clipart images.
Here are a few retirement sayings:
You know you are getting old when:
• Your address book only has names ending with "M.D."
• You look forward to a nice, dull evening.
• You knees buckle but you belt won't
• You bite into a nice, juicy steak and your teeth stay there.
• You lean over to pick something up off the floor and you ask yourself if you need to do anything else while you are down there.
Retirement Party Jokes
• Three old guys are out walking.
The first one says, "Windy, isn't it?"
The second old guy says, "No, it's Thursday."
The third one says, "So am I. Let's go get a beer."
• A retired man entertains patients in nursing homes and hospitals by playing a portable keyboard. One day at a particular retirement home, he told some jokes and sang some funny songs at a patient's bedside. When he finished he said, in farewell, "I hope you get better."
The elderly gentleman he had been entertaining replied, "I hope you get better, too."

• I get up each morning, and dust off my wits,
pick up my paper and read the "obits."
If my name is missing, I know I'm not dead,
so I eat a good breakfast and go back to bed
• Question: Among retirees what is considered formal attire?
Answer: Tied shoes.
• Eighty-seven year old Maurice lived in the Alpha Nursing Home. After meeting Edna, 76, he became happier and fell deeply in love. Eventually, Maurice plucked up the courage to ask Edna to marry him. He got down on his knees and told her there were two things he would like to ask her.
Edna smiled. "What is that?"
Maurice asked softly, "Will you marry me?"
Delighted, Edna answered him, "Yes." She then asked Maurice what his second question was.
He replied, "Edna, will you please help me to get up?"
Retirement Party Verses
Getting everyone together to sing songs to the retiree is just one aspect of retirement party ideas. Verses should reflect the humor in growing old and enjoying life regardless of the limitations old age might place on a person.
Retirement
You wake up in the morning
With nothing to do
How you're going to fill your day
You haven't a clue


By the time you've had a leisurely breakfast
Your energy starts to sap
Before lunch the chances are
You'll find the time to fit in a nap
At lunch, avoid drinking coffee
That's far too soon
You don't want it keeping you awake
All the afternoon
Get some fresh air
Go into the garden for a bit
Busy yourself
Having a nice long sit
When you're thoroughly worn out
With all that fresh air
Take yourself back indoors
To your favorite armchair
Where you can have a good contemplate
About ways to get thinner
But try to fit in 40 winks
Just ahead of dinner
Then relax in the evening
Trying to understand
How you only managed to get done
Half the things you'd planned
Never mind, don't bother yourself
With any regret or sorrow
You've got plenty of time to fail
To do it all again tomorrow!
--Jon Bratton
Funny Retirement Gag Gifts
Always include gag gifts in your list of retirement party ideas. Examples of gag gifts for older retirees include:
• Bamboo cane—Complete with bulb horn, rear view mirror and "Slow Moving Pedestrian" sign

• Over the Hill inflatable walker

• Retirement decision dice—Decisions include take a nap, go fishing or play golf

• Fake hair re-growth kit—Includes polishing cloth and hair "seeds."

• Senior tool belt and survival kit—contains tube of "W-D Oldie", duct tape for saggy skin and a magnifying glass

• Senior moments-- Fake "memory" mints

• Inflatable hearing aid—Shaped like a cone

• Retirement "bib"

• Identification tag
Retirement Party Ideas for Decorations and Theme
For a retirement party, theme and decorations can be associated with each other if the retiree has a certain hobby he is known to indulge, such as fishing, gardening or sports.

For example, retirement party ideas for the bass fisherman, decorations should be related to fishing, fishing poles, lures, boats, types of fish and bait.
Create a banner on your computer by placing Retirement Party Clipart on a banner that reads "Casting you best wishes for a "reel" wonderful retirement"!

Obtain a large poster board and make a "Down Memory Lane" announcement featuring funny and sentimental pictures from the retiree's past.
Print out Retirement Party Clipart applicable to the tone of each picture and glue images all over the poster board. Have all the guests sign the poster board and give it to the retiree.
More retirement party ideas include sprinkling colorful confetti on tabletops.
Attach helium-filled balloons to chairs, tables and other structures and tie streamers to the ends of the balloons.
Use three or four coordinating colors when implementing decorations. For a dramatic effect, utilize black as one of your colors.
Thematic ideas for retirement party include:
• For the angler: Hang different types of fishing lures from the ceiling. Have the cake made in the shape of a fish. Instead of flower centerpieces, use weed that have a lure tangled in the weeds
• For the gardener: Place garden tools around the party area, such as hoes, rakes, spades, shovels and weed eaters. Tie ribbons around them and attach "Congratulations" balloons to these items. Place vegetables on tables instead of traditional centerpieces.
• For the golfer: Rent or borrow a real golf cart for the party and have everyone place a gag gift in the cart. Set up a small putt-putt golf course outside as entertainment.
Retirement Party Ideas for Food
Cater, grill out or have a pot-luck-buffet type of retirement party to provide enough food for the guests. Retirement party ideas for popular foods include:
• Hot dogs and hamburgers on the grill
• Baked beans
• Deviled eggs
• Build your own chef salad
• Chicken strips with several kinds of sauces
• Egg rolls
• Vegetable tray and dip
• Swedish meatballs
• Fruit trays
• Rent chocolate fountain and buy assorted fresh fruit
• Assorted chips, nuts and pretzels

Ideas for Retirement Party Invitations
Create a homemade retirement party invitation using cardstock and funny Retirement Party Clipart.
If your party is thematic, try to find images pertaining to the theme of the party.
Use one of these amusing images as the background for your invitations. Write something clever on the invitation as well as all necessary information.
In keeping with the fisherman theme, you could write something like:
Bob can't wait to hang his fishing sign
And cast out that line
He wants to catch a big fish
It's his big retirement wish!
Join us for Bob's retirement party on_______________
Retirement Party Ideas for Traditional Celebrations
For a party without any particular theme, you could print invitations resembling a newspaper headline.
Use font that looks like the kind used in a major headline and announce, "News Flash—Bob is retiring!"

Subheaders should indicate details about the party.
You could also place a photograph of the retiree at the bottom of the invitation. Do not forget to use relevant images from Retirement Party Clipart when creating the invitation.
Retirement Party Games
Retirement party games can include anything from card games like Euchre, to tournaments, to trivia contests or charades. Some retirement party ideas for fun games to play include:
• Memory game—The first person begins the game by saying "I am taking a trip and packing a_____." Then, the next person says the same phrase but has to include the first person's item plus add his or her own item. The game continues until someone can't remember the list of items and makes a mistake naming them in order
• How Well Do You Know the Retiree? --For this game, write down as many facts about the retiree as possible, including some tidbits that are not true. Start the game by telling someone one of these facts than asking if they think this is true or not. The winner of the game guesses the most facts correctly true or not true.
• Bingo --Play bingo, giving away several door prizes to winners.
Try creating your own retirement party ideas by using suggestions provided by the Internet, friends and family as well as inspiration found at Retirement Party Clipart.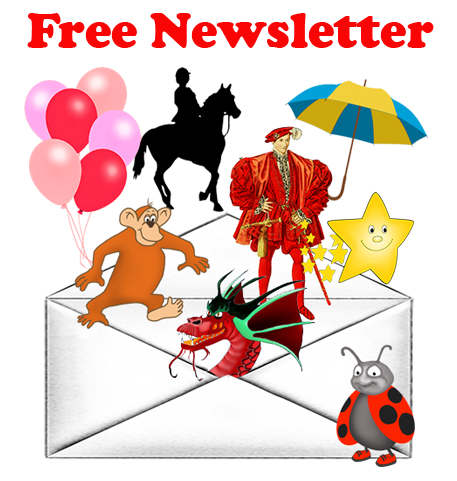 If you want to stay in touch and hear about new pages, tips and ideas about arts & crafts, please sign up for my newsletter. It is totally free, and you can unsubscribe any time!