This page, Pictures of Dolphins, gives you lots of dolphin photos and common dolphin pictures.
The dolphin is a very special animal, and you can read a lot more about it on the page Dolphin Facts on Clipartqueen.com.
So, if you are looking for a funny dolphin picture, facts about dolphins such as types of dolphins and dolphin habitat, or if what you want is a cartoon dolphin, you should be able to find it at one of my dolphin pages, this one or Dolphin Clip Art and Dolphin Facts.
See the links below on this page.
You are welcome to use all the dolphin pictures and dolphin clip art for free. About the rules for using my material, please go to Homepage to read more about it.
Some of these dolphin photos are actually a lot larger than they seem here, so try to click or right click the picture you like to come the a larger version in a new tab.
Dolphin photos
| | |
| --- | --- |
| Dolphin photos | Dolphin clip art |
| | |
| Dolphin resting | Swimming dolphin |
| | |
| Dolphin photos | Dolphin clip art |
| | |
| Training dolphins for show | Dolphins and trainer |
| | |
| Dolphin clip art | Bottlenose dolphin |
| | |
| Dolphin photos | Bottlenose dolphin picture |
| | |
| Pictures of dolphins | Dolphin clip art |
| | |
| Couple of dolphins | Dolphin looking at you |
| | |
| Orcas with killed seal | |
| | |
| | |
| | |
| | |

Cute Video with Cat and Dolphins playing:

Here are a few fun and fascinating facts about dolphins:



Some dolphins can jump 20 feet out of the water (that's 6 meters!)

Mothers look after their babies closely for up to 3 years

Dolphins can last about 30 minutes without having to come up to the surface for a breath
You can find a lot more facts on the page here called
Dolphin Facts.
More dolphin clip art:
| | |
| --- | --- |
| Dolphin clip art | Dolphin photos |
| | |
| Jumping dolphin training | Jumping dolphin |
| | |

Here are a few dolphin sayings or quotes.
The first is by one of my favorite authors, Terry Pratchett, from his book "Pyramids"
"Never trust a species that grins all the time. It's up to something."
If you have ever read one of his many, many books, you will know how much humor there is in this saying.
He is a man who spend a lot of time in his last years traveling to see and visit the Orangutans on Borneo.
But that is another story.
"I feel at ease and, in an indefinable way, at home, when dolphins are around. I now know when they are nearby before they appear. I dream after they leave."
― Virginia Coyle
"The happiness of the bee and the dolphin is to exist. For man it is to know that and to wonder at it."
– Jacques Yves Cousteau
"It is of interest to note that while some dolphins are reported to have learned English — up to 50 words used in correct context — no human being has been reported to have learned dolphinese."
– Carl Sagan
"Dolphin can lead us to an understanding of how to live in harmony with the twin needs of individuality and cooperation. Dolphin carries balance, peace, joy, compassion, love, and power."
– Loren Cruden
You can use these quotes and sayings together with one of the dolphin pictures you find here on this page.

More Pictures of Dolphins:
| | |
| --- | --- |
| Dolphin photos | Dolphin photos |
| | |
| Cute dolphin | Bottlenose dolphin with calf |
| | |
| Dolphin clip art | Dolphin photos |
| | |
| Northern right whale dolphin | Spotted dolphin |
| | |
| | |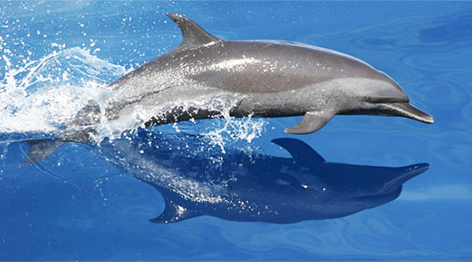 Here is a video from the old Dolphin Discovery Show:

If you want to stay in touch and hear about new pages, tips and ideas about arts & crafts, please sign up for my newsletter.
I will tell you about my new books, discounts on them and when I make something special for newsletter followers.
It is totally free, and you can unsubscribe any time!