Coloring spring coloring pages is a wonderful way to spend time, both when you are waiting for the first signs of spring and when spring is there, with the hours of the daylight getting longer and longer, and the first spring flowers coloring the forest floor as well as the gardens.
You will also find a page here on Clipartqueen with coloring pages of bees and flowers, you can use those as spring coloring pages as well. Find the picture link below on this page, together with links to other relevant pages.
Below on Homepage you will find the very lenient rules for using my clipart and coloring pages, but as long as you only use my material for your own personal use, or in other non commercial projects like in school classes, you can use as much as you like.
Cute Spring Coloring Pages
Cute Spring Coloring Pages with tree and bunnies
Spring motive with bunnies and snow drops and birds

Coloring pages for Spring with letters
Letters spelling spring to color

Spring time coloring page with letters and animals and flowers
Spring letters decorated with birds, bunny and the sun

Coloring flower coloring page
Daffodils and other spring flowers

Spring scenery for coloring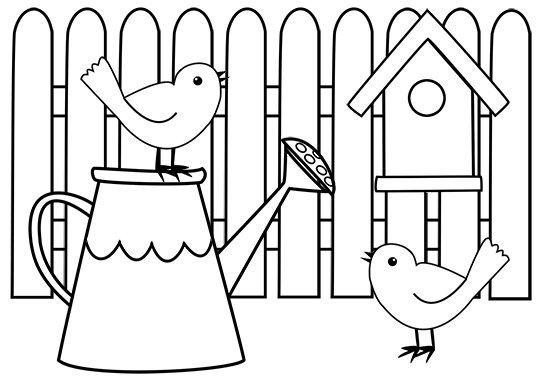 Two birds with fence and bird house and water can

You will find some of these coloring pages, or parts of them, on the page here with Spring Clipart, se the picture link below. Only those will be in color, of course.
I find a lot of the motives here are so great that I will like to color them and use them for the Spring clipart. You can use the same colors, but I think it will be much better if you use the colors you like.
More Coloring Pages for Spring
| | |
| --- | --- |
| Cute spring coloring page | Water can with daffodils coloring |
| | |
| Bird birdhouse and flowers | Daffodils in water can |
| | |
| | |
| Spring time coloring page | Cute spring coloring page young birds |
| | |
| Bunnies at spring and birds nest | Young birds in birds nest in tree |
| | |
| | |
| Cute coloring pages for spring | Spring coloring sheets |
| | |
| Butterfly, bee and spring flowers | |
| | |
Right now, when I am creating all these lovely coloring pages with spring motives, it is January. It is cold outside, dark as well, but making these drawings has made me feel as if it is already spring.
I hope you can get the same feeling, when you download one of these pages, so it makes it a little easier to wait for spring.
Coloring Pages For Spring
Cute spring coloring page
Cute bunnies amongst flower bushes and a cute sun

Spring coloring pages with bees and flowers
Water can with daffodil, spring flowers bees and lady bugs

Beautiful coloring page for spring
Coloring page with a spring flower border and letters to paint

Almost every year I have a discussion with my friends about "when does the spring start", or "what is the first day of spring" when we want to be more precise.
According to Almanac.com the first day of spring falls on different days every year, because it falls on the day of spring equinox, which again is determined by the astronomical beginning.
You can read more about it
here.
The word "equinox" comes from Latin and means "equal night", where the length of the day and night is almost equal all over the world.
So on the Northern Hemisphere the first day of spring falls on Monday, March 20 in 2023, while the first day of spring on the Southern Hemisphere, in 2023, falls on Saturday, September 23.
You can find the dates for the first day of spring in coming years on the page I mentioned above, use the link.
Spring flower coloring pages
| | |
| --- | --- |
| Hello spring page for coloring | Hello spring page with flowers |
| | |
| Spring flowers and nesting birds | Spring flowers and Hello Spring |
| | |
| | |
| Butterflies and flowers in spring coloring | Hello spring coloring |
| | |
| Spring flowers with butterflies | Spring flower border with Hello Spring text |
| | |
| | |
| Cute spring coloring image | |
| | |
| | |
Where Would You Like to go Next?
| | |
| --- | --- |
| | |
| Spring Clipart: Wonderful spring motives with spring flowers like daffodils and snow drops | Spring Pictures: Here you find pictures of all the beautiful spring flowers and more. |
| | |
| | |
| Flower Bloom in Spring: Flowers in bloom from the first day of spring. | Free Coloring Pages: The main page for all the coloring pages, with an overview. |
| | |
| | |
| Seasons of the Year: The main page for all the pages with seasonal motives, find the pages here with clip art, cards, photos of the four seasons. | Summer Coloring Pages: The sun is what most defines the spring, so you might want to look at this page as well. |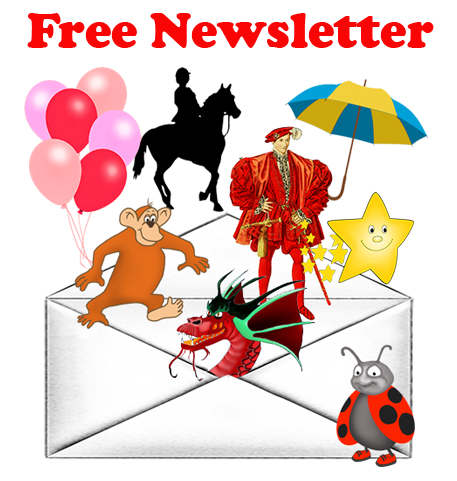 If you want to stay in touch and hear about new pages, tips and ideas about arts & crafts, please sign up for my newsletter. It is totally free, and you can unsubscribe any time!