Angel silhouettes - cupids, angels blowing their trumpet, with huge wings and small wings - all kinds of angels.
These charming silhouettes are all free for you to use, as long as you follow the two simple rules you can read on
Homepage.
The size of these angel pictures is larger than you see them here, which you will find if you click one of the angels.
Then the larger version will pop up in a new tab.
You can save the picture using the "download" button, or by right-clicking the picture - small or large, it will always be the large version you download.
Then you can make it smaller if you like.
If you want other kinds of silhouettes as well, please take a look at the links at the bottom of this page.
Angel Pictures in Black and White:
| | |
| --- | --- |
| Cute angel praying PNG | Silhouette cute angel PNG |
| | |
| | |
| | |
| Cupid with bow silhouette PNG | Angel blowing trumpet PNG |
| | |
| | |
| | |
| Small cupid silhouette heart arrow PNG | Cupid with bow and arrow silhouette PNG |
| | |
| | |
| | |
| Cherub drawing PNG | Angel blowing the trumpet PNG |
| | |
| | |
To go with one of these wonderful angels, here are a few
Angel Poems and Sayings:
"We stand as tall as angels
when we kneel to help a friend"


My Angel

"I know I have an angel.
She was sent from Heaven above
to protect me every day,
and to give me lots of love.

She helps me when I'm lonely.
She sits by me when I cry.
She encourages me when I'm down,
and make me want to try.

Some day I hope I'll meet her
to thank her for being there,
for giving me strength,
and remembering me in prayer."


Guardian Angel.

"Sometimes in life we need to share
our feelings that are hard to bear.
When in our hearts we feel such pain
that extra strength we have to gain
from someone who will keep us sage
and listen when we lose our faith.
This Guardian Angel's here for you
to light the way and help you through."
Little sleeping angel silhouette PNG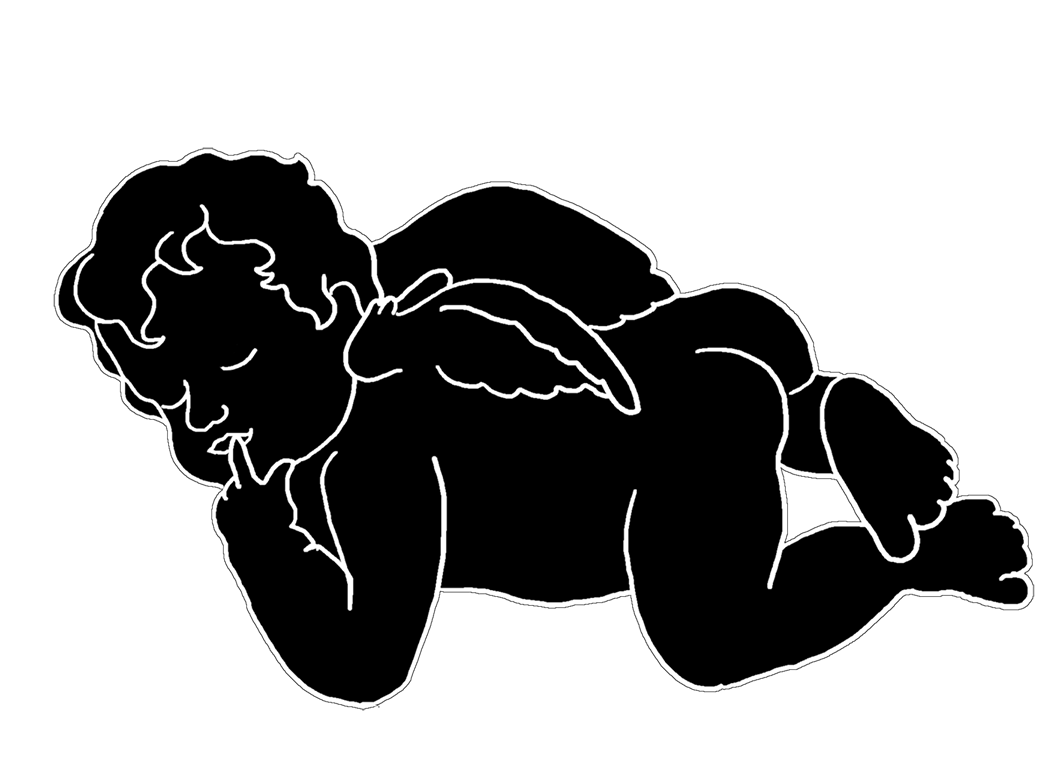 Silhouette of cupid with heart PNG

| | |
| --- | --- |
| Trumpet blowing cherub PNG | Angel silhouette clipart PNG |
| | |
| | |
| | |
| Beautiful angel PNG | White angel silhouette PNG |
| | |
| | |
| | |
| Cupid on a cloud PNG | Black silhouette of angel PNG |
| | |
| | |
| | |
| Guardian angel PNG | |
| | |
| | |
If you want to stay in touch and hear about new pages, tips and ideas about arts & crafts, please sign up for my newsletter.
You will also get a newsletter with links to the best printable version of new clipart if it is too big for the normal page, and I will tell you about my new books, discounts on them and when I make something special for newsletter followers.
It is totally free, and you can unsubscribe any time!