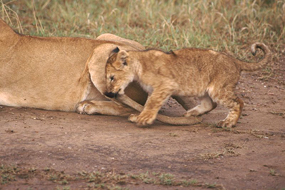 Biting, pawing, and growling indicate the onset of the mating.
The copulation act itself takes no more than 10 seconds, after which time the male bites the female's neck to indicate "he is done". The female will then bare her teeth at the lion male.
This happens every 20 or so minutes, and can happen as many as 40 times in a single day. Many females will mate with a number of males during her estrus, and thus the cubs in her litter may have different fathers.

Lionesses will occasionally go into heat all at the same time when a new male lion takes over the pride. This helps to shorten the amount of time it takes for a new generation of cubs belonging to the dominant male to be born, and it helps to secure the upbringing of the cubs.
Cubs born later will have problems getting food enough, as they are the last to eat.
Lions Social Lives
There are two types of social groups of lions.
Those that live with other lions are called residents, as they are part of a pride, or group, of many lions.
Other lions that roam on their own are called nomadic lions, and they tend to move around far more than resident lions in a pride.
The area occupied by a pride is called the pride area, while a nomadic lion only has a range.

Lionesses are the working ones of the pride, as they do most of the hunting. This is due to the fact that the manes of the males cause them to overheat when they run too much, and the lionesses usually work together much more efficiently to bring down their prey. However, males nearby the kill will usually take over the kill from the lionesses, and they will always eat first.

Both sexes defend the pride from outsiders. Some of the lions will stay behind to defend the young while others lead the charge against the offenders, and lions will usually take on specific roles in their pride.
Female lions will usually form a social unit in the group and will work together, while the one dominant male will control the group.
Lion Killers
There are few animals who are able to threaten lions, as they are some of the largest predators on the savannah.
Lions will usually steal the kills of hyenas, and hyenas respond by mobbing lions that threaten them.
Lions will usually kill other predatory cats, and they will usually kill African wild dogs as well.
The crocodile is the only predator that can threaten the lion and take away its prey, though it largely depends on the size of the lion and croc in the fight.
The elephant is easily able to kill a lion, but will only do so when extremely threatened. The rhinoceros and hippopotamus are also able to take down a fully grown lion, but both animals will not attack unless they are provoked or feel in danger for their lives.
The main killer of lions in the world is humans, as most lion facts will tell you.
Humans will usually kill lion as vermin, while some humans will even go as far as to poach lions.
Most hunters will usually kill male lions in order to take their manes. When this happens, a new lion male will dominate the pack and will actually often kill the male lion cubs.
This prevents the pride from being able to produce new adults for a year and a half or more, which has seriously decimated the population of lions in the world.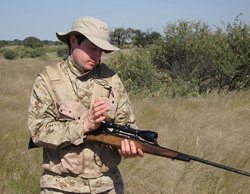 Habitat destruction is another of the main things that threatens lions on the savannah, and even certain diseases have contributed to the deaths of thousands of lions in recent years.
FIV is the feline version of HIV, and it, along with tuberculosis and canine distemper, has drastically reduced the number of lions currently found in the world.
Lion vs Tiger
Lions and tigers have often been pitted against each other in captivity for sport, and they sometimes face off in the wild as well.
This happened in Asia, where the Asiatic lion would face the tiger in the lands of India.
A large Asian tiger will weigh as much as 50 kilograms (110 pounds) more than an Asiatic lion.
However, tigers prefer to hunt alone while lions hunt in prides. Tigers are a lot quicker and lither than lion, and thus they are much more adept at taking down their prey.
The male tigers will hunt, while male lions prefer to look fierce and let the lionesses hunt.
There have been a number of fights between lions and tigers in captivity, but both lions and tigers have won out against the other animals according to lion facts on Wikipedia.
In Africa, lions are considered the King of the Beasts, but the tiger is king in Asian countries like India and China.
More Random Lion Facts:
Here are some more lion facts for you: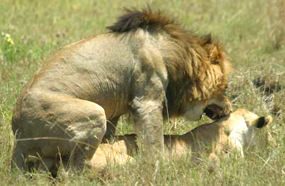 • A lion will copulate an estimated 3,000 times for every lion cub that reaches 1 year of age.
• Lions have sweat glands, but they will usually pant 200 times a minute to lower their body temperature.
• Female lionesses do the hunting because the males overheat when they run a lot, due to their large mane.
• Lions can actually be identified by their unique whisker spot patterns.
• Lions will drink water as often as they can, but they can go for 4 or 5 days without water if need be.
• All of the females in a lion pride are related.
• Lions will usually sleep up to 20 hours per day. (What a life!)
• Lions can copulate up to 100 times within a 24 hour period.
Where Would You Like To Go Next?