Most of these tiger photos are taken in The Copenhagen Zoo, a cold but sunny winter day.
Both tigers (Amur tigers) behaved as if they understood what I was doing, and they showed themselves in the most favorable light - or maybe they were just hungry and could see me as a nice snack so they wanted to keep me there. :-)
But the tiger images that came from that visit shows two beautiful and amazing tigers.
A few of the tiger photos below are found on the internet, as Public Domain, and adjusted to this site.
Some of the pictures are actually a good deal larger than you see them here. Right-click the picture and choose to see it in a new tab to view the original size.
For all these pictures of tigers are the quite simple rules: Do not overuse these tiger clipart and do not use them with a negative purpose (and of course do not claim that they belong to you). Read more about the rules on Homepage.
| | |
| --- | --- |
| Tiger photos | Tiger images |
| | |
| Tigris snarling | Close up of tiger |
| | |
| Tiger clipart | Tiger photos |
| | |
| Tiger looking for food | Two tigers resting |
| | |
| Tiger photos | Tiger images |
| | |
| Panthera | Relaxed tigers |
| | |
| Tiger images | Tiger photos |
| | |
| Tiger sniffing | Two Amur tigers |
As you look through these tiger pictures, you'll probably notice there are some slight differences between each of the animals.
Some are a little bigger – some have a thicker and lighter coat. Some have more stripes than others.
This is because there are actually nine different sub-species of tiger. They are found in different parts of the world, from the jungles of Sumatra to the frozen wastelands of Siberia.
The Amur tiger, otherwise known as the Siberian tiger and actually the kind of tiger that lives in Copenhagen Zoo, has a thicker coat than most other tiger sub-species.
This is because these tigers live in colder parts of the world, and usually live at a high altitude. They are often surrounded by snow. The Bengal and Sumatran tigers, by contrast, tend to live in hot tropical jungles, so they have a much thinner coat which is colored a darker orange and has more stripes.
Tigers are known for their impressive hunting skills, so if you're doing a school project on tigers it's worth including some tiger photos or tiger clipart showing these animals doing what they do best.
Tigers are excellent climbers, making use of trees as a place to relax in the shade or survey prey and threats in their immediate area.
You can use these great tiger photos for a lot of purposes: School projects, as illustrations on letters and mails, for catching the eye on your website or news letter.
They will also be great to use on gift cards, place cards, and for decorating boxes for the children's toy animals.
You can also make some beautiful place mats for the kids decorating them with these fantastic tiger photos.
More Tiger Pictures
| | |
| --- | --- |
| Tiger photos | Tiger images |
| | |
| Tiger in a tree | Tiger alert |
| | |
| Tiger photos | Tiger clipart |
| | |
| Tiger cub hiding | Hungry tiger |
| | |
If you compare these tiger pictures with pictures of lions, you'll notice the immediate difference: male tigers don't have manes like male lions. However, the impression that this gives is that tigers are a little smaller than lions – this is not actually the case.
On average, tigers are the biggest of the species of 'big cats.'
Many of the tiger pictures here show tigers in zoos.
The unfortunate truth is that tigers are becoming harder and harder to find in the wild, as their numbers have been steadily dropping for years.
The reasons for declining tiger numbers range from the loss of habitat to deliberate poaching. Many tigers lose their habitat as a result of deforestation – the clearing of jungle to turn into farmland or plantations.
You'll also notice the different postures tigers will assume depending on what they're doing or how they're feeling – for example, the slightly stooped head and pricked-up ears of the alert tiger.
You'll also notice how many of the movements and postures of the tigers in these photos is very similar to that of an everyday pet cat. Although they may be different in size and coloring, tigers and house cats still share many traits when it comes to the way they behave and hunt.
Make a Tiger Puzzle:
It is so easy and great fun to make a dramatic tiger puzzle for your preschool child:
Print this close up picture of the tigers head in 150 dpi, the size will be 6.3 x 6.1 in (16 x 15,6 cm).
Glue the photo to a similar piece of cardboard. When the glue has dried, draw some lines on the back of the cardboard, and cut following the lines.

You can make the puzzle very easy with only a few puzzle pieces or more difficult depending on the child's age and practice.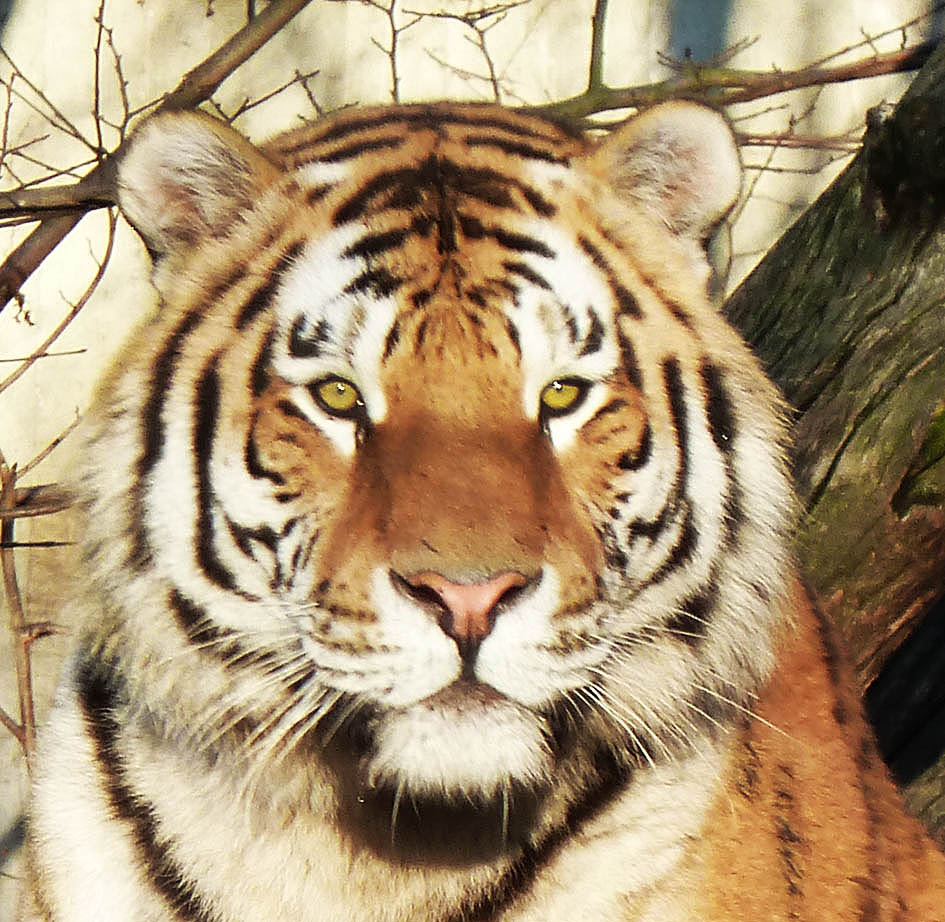 Even more Tiger Pictures
| | |
| --- | --- |
| Tiger photos | Tiger images |
| | |
| Tiger facing you | Tiger in zoo in tree |
| | |
| Tiger clipart | Tiger photos |
| | |
| Close head of tiger | Tiger lying on rock |
| | |
| Tiger photos | Tiger photos |
| | |
| Tiger standing | Two relaxed tigers in zoo |
| | |
Many kids love tigers, so these pictures can come in handy for creating personalized gifts. Think about how you could make use of these tiger photos for objects like mugs, t-shirts or or custom gifts. It's simple enough to take one of these photos and hire a print company to create such a custom gift for you – and it probably won't cost as much as you might think.
You might be wondering – are these tigers really happy in a zoo?
It's a question often asked about zoos in general. It's based on the idea that animals like to 'run wild' and be out in open spaces.
But in reality, there are some big advantages to being in a zoo. These tigers don't have to worry about being poached, having their habitat destroyed, or running out of food – so most of their desires are met already!
Also, captive tiger breeding programs are going to play an important role if we are to save the tigers from extinction.
And then some more fantastic Tiger Pictures
| | |
| --- | --- |
| Tiger photos | Tiger images |
| | |
| Two Amur tigers in zoo | Tiger sniffing |
| | |
| | Tiger photos |
| | |
| Tiger moving softly | Tiger alert |
| | |
| Photo of tiger | Tiger photos |
| | |
| Amur tiger | Close up photo of tiger |
| | |
| Photo of tiger | Tiger cub |
| | |
| Eating tiger | Tiger cub |

Finally here are some public domain tiger pictures:
| | |
| --- | --- |
| Tiger picture | Baby tiger |
| | |
| | |
| Tiger cub | You can see the tiger's tongue |
| | |
| | |
| Picture of white tiger | Beautiful tiger picture |
| | |
| | |
| Sleeping tiger | White tiger in water |
| | |
| | |
| White tiger resting | Tiger yawning |
| | |
| | |
| | |
If you want to stay in touch and hear about new pages, tips and ideas about arts & crafts, please sign up for my newsletter.
I will tell you about my new books, discounts on them and when I make something special for newsletter followers.
It is totally free, and you can unsubscribe any time!
Go to the top of the page Tiger Pictures, and visit these related pages on Clipartqueen:
| | | | |
| --- | --- | --- | --- |
| Homepage | Tiger Clipart | Animal Clipart | Animal Pictures |
| | Coming up soon! | | |