Easter Clip Art, Easter Graphic will be a page with all kinds of free Easter clip art. As you might already have discovered, there is also a page on this website called Easter Bunny Clipart, with lots of Easter bunny drawings.
On this page you will also find Easter bunny clip art, but also more than that. Like chickens, hens, sheep, lambs, eggs, flowers, indeed everything that I myself think of as connected to Easter.
The Easter images will be saved and presented in either GIF or JPEG. If saved and presented in GIF, the background is transparent, and the clipart will be great on e.g. colored backgrounds. On the other hand the quality of GIF images is not as good as the quality in JPEG format. With JPEG, though, the background is like you see it.
You can use my clipart for mails, letters, your website, scrapbooks and a lot more.
They will also be great to use for table place cards for your Easter dinner, and for invitations.
Take a look at the page with free Easter activities for kids,
Easter Coloring Pages
and
Easter Printables.
Later there will also be a page with Easter crafts, for children and for grown ups.
To help you choose, I will write the file format below each Easter graphic.
About the rules for using my clipart, please read on Homepage. The rules are quite simple, and made so that it is easy for you to use the images.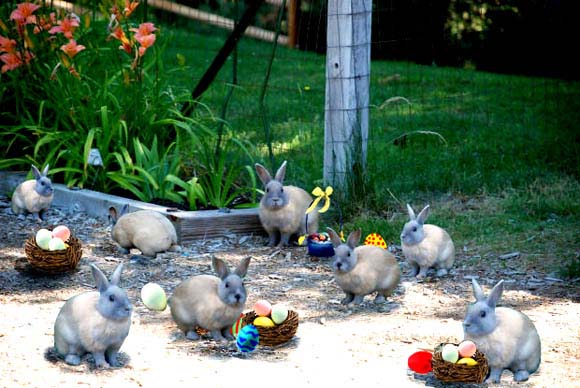 You can use the Easter Graphic for newsletters, mails, invitations, cards for the Easter dinner table, scrapbooks, school projets etc.
I have made a link here to Amazon.com, if you would like to take a look of all the things you can bey for Easter:
| | | |
| --- | --- | --- |
| Easter graphic | Easter graphic | Free Easter graphics |
| | | |
| Hare with Easter eggs JPEG | Cute Easter Bunny GIF | Easter Bunny with eggs JPEG |
| | | |
| Easter images | Easter images | Easter graphics |
| | | |
| Easter chicken GIF | Easter chicken GIF | Easter Hen JPEG |
| | | |
| Easter graphic | Easter graphics | Easter graphic |
| | | |
| Hen with chickens JPEG | Hen with easter eggs | Easter egg bunny flowers JPEG |
| | | |
| Easter egg | Easter egg | Easter bunny |
| | | |
| Papier mache egg | Easter egg papier mache | Easter bunny chocolate |
| | | |
| Easter images | Easter egg | Easter graphics |
| | | |
| Easter hen chocolate | Easter egg with wings | Crazy Easter egg |
| | | |
| Easter graphics | Easter images | Easter egg |
| | | |
| Egg made as Easter bunny | Egg, black and gold, flowers | Easter egg, home sweet home |
| | | |
Easter egg roll:
Every Easter my family gather in our common holiday house for a bith Easter lunch. Every member of the family brings a dish that is somehow connected to Easter. It can be a dish with lamb, eggs in mustard sauce, baked chicken - and sometimes strange dishes invented for the day :-)
After eating and talking we start decorating the hard boiled eggs, and it is always great fun. Children and adults use all their imagination, and the results are impressing (and sometimes very, very hopeless).
When the decorating is finished, we all go for a walk out to the grassland. We are so lucky that there are some very beautiful hills nearby.
As it is common for families to do the egg roll at Easter, the grassland is full of families, all searching for the best slope.
When we have finally decided for a good slope, the egg roll starts. We start with the youngest ones, and everybody is very enthusiastic about every result. After the first round we mark the position of the egg that was farthest, and everybody gets another round (if the egg is not smashed, which often happens in the heat of the competition).
Finally the winner gets a chocolate egg as a price, and of course the kids all get a small price as well.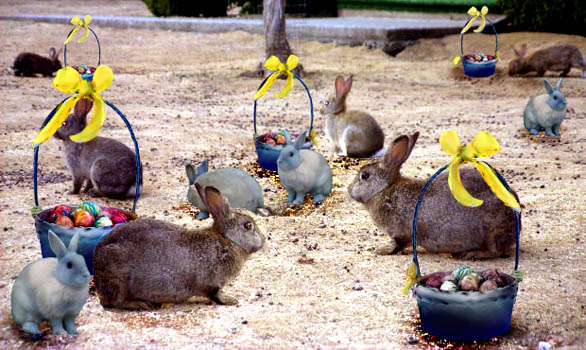 Some years ago my brother in law introduced a very beautiful way of decorating the Easter eggs:
You save the onion peels from the onions you use for the Easter lunch.
Then you wrap the eggs with the onion peel, keep it together with a string or rubber band, and boil the egg for approx. 1-2 hours. I leaves the egg with a beautiful colored surface.
If you want to make it even prettier, you can start with placing a few leaves or flowers under the onion peel. That will leave an even more beautiful pattern on the egg.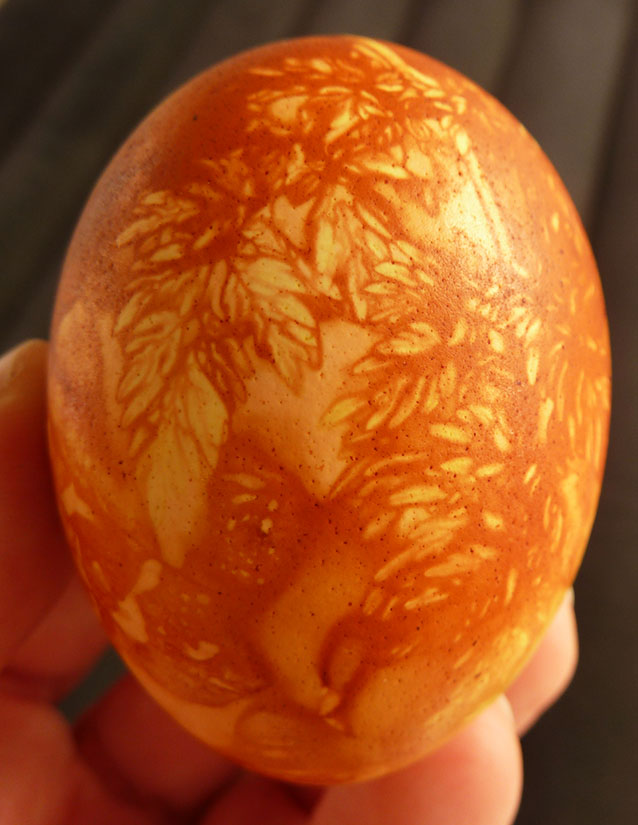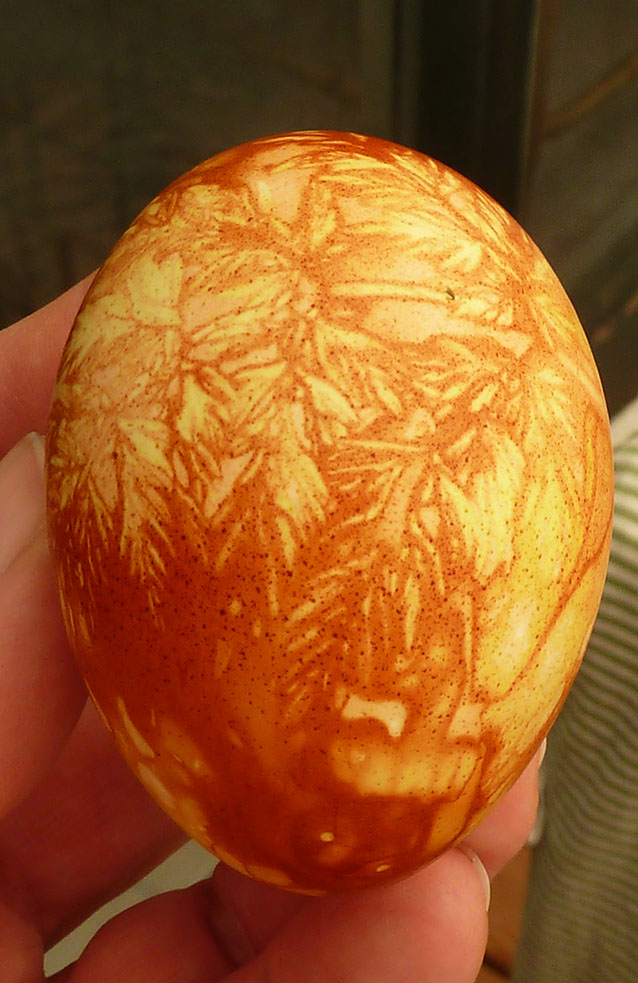 More Easter Images:
| | | |
| --- | --- | --- |
| Head of Easter bunny PNG | Easter chicken PNG | Child with Easter eggs PNG |
| | | |
| | | |
| Easter bunny and child PNG | Running Easter Egg PNG | Easter egg with flower PNG |
| | | |
| | | |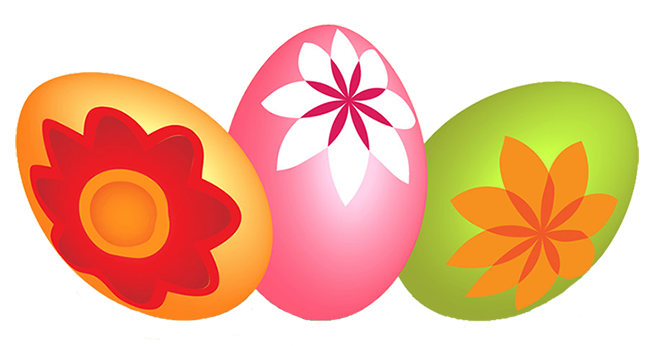 If you want to stay in touch and hear about new pages, tips and ideas about arts & crafts, please sign up for my newsletter. I will also tell you about the new designs (bags, mugs, accessories) I make with my drawings and pictures on them. It is totally free, and you can unsubscribe any time!
Back to the top of this page about Easter Clip Art - Easter Graphic
Visit also the page Easter Bunny Clipart with lots of Easter bunnies.
Back to the mainpage Holiday Clipart or back to Homepage
Visit the other pages about holidays: Easter Printables, 4th of July Graphics, Mothers Day Clip Art, Happy Fathers Day, Summer Clip Art, Christmas Clip Art, Free Christmas Clip Art, Graduation Clipart, Halloween Clip Art, Halloween Decorating Ideas, Halloween Pictures, Kids Valentine Cards, New Years Clipart, Santa Claus Clipart, Snowman Clipart, St. Patricks Day Clipart, Thanksgiving Clipart, Valentine Bear, 4th of July Graphics, Valentine Clipart, Valentine Day Roses, Valentine Greeting Cards, Valentines Day Cards, Valentines Day Hearts, Valentines Day Ideas, Groundhog Day Printables, Groundhog Day Printables, Free Mothers Day Cards.